Asian American studies movement rekindles "Williams Doesn't Teach Me" campaign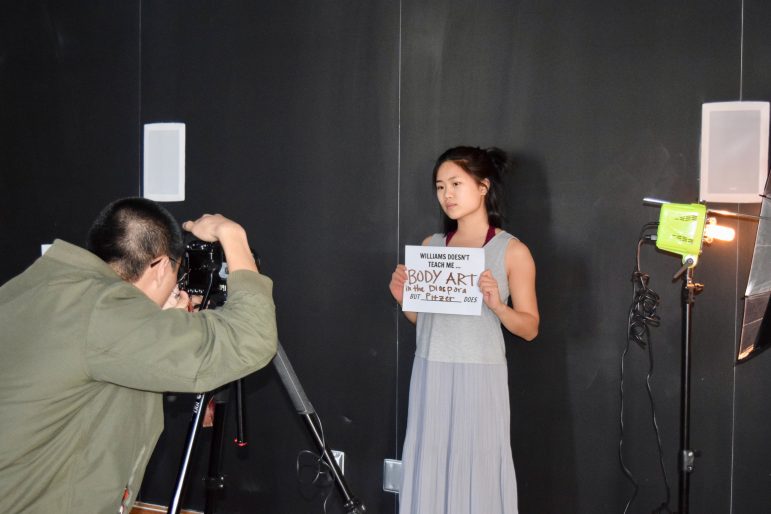 Student activists organized a photo campaign last Friday as part of the ongoing Asian American studies (AAS) movement on campus. Student participants had photographs taken of them holding signs that said, "Williams Doesn't Teach Me _____ But ____ Does," in which the blanks were filled in by the name of an AAS course offered at another institution and the name of that institution, respectively.
This campaign was the third iteration of its kind, following the "We Need Asian American Studies Because" campaign of the 2015–2016 school year and last year's "Williams Doesn't Teach Me" photo campaign. While the "Williams Doesn't Teach Me" campaign sought to raise awareness of the movement in general, this year's event tailored its aims to be more curriculum-specific, in light of the recent Curricular Planning Committee working group report's recommendations on tenure-track hires for the establishment of an AAS program at the College.
With staffing requests being reviewed this month, the campaign organizers noted the timeliness of the event. "I would say the context that we're in right now is very different from where we were last year," said Amber Lee '21, one of the students involved in the AAS movement and coordinating the event. "I think, for a while, it was about gaining more publicity – like outside attention – and putting more pressure externally. This year, I think it's a more targeted aim to really put pressure on the administration to not let this proposal fall through again."
Lee and Grace Fan '19, a student activist and photographer for the campaign, also highlighted the College's position among its peers and how the campaign aimed to draw attention to the College's curricular deficits in comparison to other institutions.
"It's a push for the administration to see that these are the faces of the students who need this … and they want to take these classes, but Williams doesn't offer them, and [how] maybe they should have gone to another institution because clearly their education is incomplete," Fan said.
While the campaign coordinators acknowledged the AAS courses already offered at the College, they agreed that looking at other institutions' catalogue offerings could help students more tangibly envision what a formalized AAS program could look like at the College.
"I think from the students' perspective, it's hard to imagine a program that doesn't exist [and] what that would feel like to have," Lee said. "One thing we wanted to be cognizant of was that there are AAS courses offered at Williams even if [they're] not listed under AAS, and there is a lot of important work done by faculty members to make sure these courses are offered, and we really appreciate that. Something that I think we wanted to show, though, was that while certain courses might touch on topics like mental health, family issues, gender and sexuality, etc., there are few courses that explicitly name those in their titles and explicitly focus on those issues for a semester long."
Over 160 AAS courses were selected for the photo campaign's list. Some of the titles included "Asian American Communities and Mental Health" at Hunter, "Asian-Black Historical Relations in the U.S." at Northwestern, "Sex Work in the Philippines, Korea, Vietnam and U.S.: Race, Gender, Nation" at Pitzer and "Zines in the Asian Diaspora" at Pitzer. The event organizers pulled from a variety of schools, including both state universities and private institutions.
The campaign organizers also emphasized the importance of visibility to the campaign, one in which viewers can see the faces of the students holding the signs they made. Because the College has a smaller student body, students are more likely to be recognized.
"I think there's something about numbers that is important and powerful, but what is more powerful is being like, 'Wow, that's a student that I know,' or from a faculty perspective, 'That's a student that I have a relationship with [and] this is something that's important to them,'" Fan said. "The reason why I think the photo campaign is especially important is because Williams is a small community, so seeing faces that you know really impacts you."
AASiA (Asian American Students in Action) and students with the AAS movement said that they intend to share the photo campaign on Facebook and other social media platforms. There are also ongoing plans to put the previous year's and this year's photo campaigns in the College archives.