Spring sports in the snow: Teams begin season, travel for break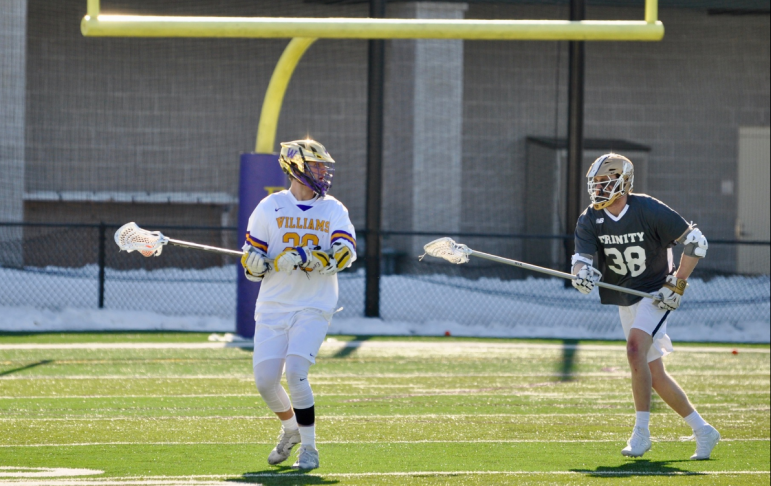 As the snow starts to melt and temperatures inch above freezing in Williamstown, spring is approaching at the College, and with it, the beginning of the spring sports season.
Some spring sports, in fact, have already begun competing. Men's lacrosse (1–1, 1–1 in the NESCAC) faced the nation's top-ranked team and defending champion Wesleyan, on the road in its season opener on March 3. The Ephs fell narrowly, 14-12, in frigid conditions. On Friday at Farley-Lamb Field, the men secured their first win with a resounding 18-12 victory over Trinity.
"Everyone in the program is excited to finally start our season regardless of the weather we've had recently," head coach George McCormack said. "It's a long wait since our last game compared to other conferences in Div. III, so [the] guys are always raring to go."
Although other conferences in the southern and western United States began their seasons earlier, few teams have the opportunity to open their schedule against the best team in the division.
McCormack said the game against Wesleyan, a closely contested match into the fourth quarter, was a chance to "see how we measure up and expose what things we need to work on." The men finished fourth in the NESCAC last season and are returning Second Team All-NESCAC selection Rock Stewart '20, a long-stick midfielder, and Kevin Stump '20, last year's leading scorer.
Women's lacrosse (1–2, 0–2 in the NESCAC) looks to bounce back from a ninth-place finish in the NESCAC last season, kicked off its season on March 2. In their second season under head coach Alice Lee, the women have dropped contests to No. 12 Wesleyan and No. 9 Trinity and defeated non-conference competitor Endicott.
The women return Claire Fitzpatrick '21, who was named to the All-NESCAC second team as a first-year, and leading scorer Kara Wollmers '20.
After an almost five-month break from competition, No. 4 women's tennis (1–1, 0–1 in the NESCAC) resumed its season on March 9 with a 5-4 victory over non-conference opponent Skidmore.
Tennis, like golf and crew, starts in the fall but plays the majority of its season in the spring.
Women's tennis head coach Anik Cepeda described the shorter fall season as an "orientation." The fall is a chance to "experiment with doubles pairings and get to know one another on a deeper level," she said.
The team's longer spring season, which concludes with NESCACs on May 3 and NCAAs from May 20–25 for the women, is the more competitive time of year. With the most important stretch of their season on the horizon, Cepeda said that the women are focusing on what is "completely within their control."
"Winning NESCACs is always a team goal," she said. "Competing for a national championship is also on our minds at the start and end of a season, but we're actually not talking about it at all. Our focus is currently on the details of day-to-day improvement and recovery."
After the departures of NCAA doubles champions Juli Raventos '18 and Julia Cancio '18, co-captains Korina Neveux '19, Leah Bush '19 and Chloe Henderson '20, an All-NESCAC second team selection last season, will lead the Ephs.
The women have won a record 10 national titles, including six straight championships from 2008–2013 and their most recent triumph in 2017. The Ephs are also the four-time defending NESCAC champions.
Yet before NESCACs or NCAAs, the women will have a six-match California road trip during spring break. Cepeda said the trip, which includes contests against No. 1 Claremont-Mudd-Scripps and Div. I opponent UC San Diego, is a chance "to pause and look up the mountain briefly."
"California will afford us consistency on the court and most importantly, matches," she said.
Women's tennis is not alone among teams traveling to warmer climates in search of games for spring break. Men's tennis will also head to California for eight matches. The men are hoping to best their 2017–18 overall record of 15–5 and second-seed NESCAC ranking to get back to the NCAA tournament after narrowly missing out in 2018. Returning member Austin Barr '21 won All-NESCAC First Team recognition as a first-year.
Coming straight off an NCAA title-winning indoor season, women's track and field will likewise jet to California for its first three meets of the outdoor season. Men's track and field will open its season with the same three competitions.
The women boasted eight All-Americans during the indoor season. Aidan Ryan '21 was awarded All-America honors for the men.
Staying on the East Coast are men's and women's crew, which will train in South Carolina. Men's crew is looking for its first New England title since 2014, and women's crew is hoping to match its most recent NCAA championship in 2013.
Baseball, which battled through a difficult 11-game California road trip en route to a 9-21 record last season, will fly to Florida for 10 games. The team will compete in Fort Myers, Fla., the spring training home of the Boston Red Sox, as well as in other sites throughout the state. All-NESCAC second team selection Mike Stamas '20 returns for the men.
No team, however, will play more games during break than No. 10 softball, which is scheduled for 16 games over the course of nine days in California.
"Going to California is a great part of our program's history and future," softball head coach Kris Herman. "We have a significant percentage of our players who are from the West Coast, and it's special for them to get to play in front of their families."
Although the trip is a rewarding experience for players, Herman acknowledged that "it's challenging because the home teams have been playing outside for months."
According to members of the team, the challenge has only increased this season with the unexpected construction delays in the reopening of Towne Field House. The team, which usually prepares in the field house during the winter, has resorted to practicing in the hallways of Lasell and Chandler Gymnasiums.
"We can't play softball in anywhere near a full capacity in the other indoor athletic spaces," captain Casey Pelz '19 told the Record in January. "None of us have been able to hit a moving ball in months."
Despite the adversity, Herman said that the team is ready for the season. "There's nothing we can do about the field house, so we're not concerned about it," she said. "We've been working hard in the gym, the weight room and on the road."
Like her colleague Cepeda in women's tennis, Herman stressed a distinction between "controllables" and "uncontrollables" in softball, and noted that the team has high hopes. "We'd like to be competing in the national championship tournament in late May."
The women have won three NESCAC titles in a row and have earned five consecutive NCAA tournament berths. Last season, the Ephs set a school record with 39 wins. First Team All-American Mackenzie Murphy '19 and NESCAC Pitcher of the Year Rebecca Duncan '20 return to the team.
Spring teams will work to clinch a 22nd Director's Cup out in 24 years. The Ephs placed seventh in the Director's Cup standings after the fall and will likely climb in the rankings when the women's track and field championship and quarterfinal finishes of men's basketball and women's ice hockey are incorporated.