Men's and women's cross country finish second at Saratoga Invitational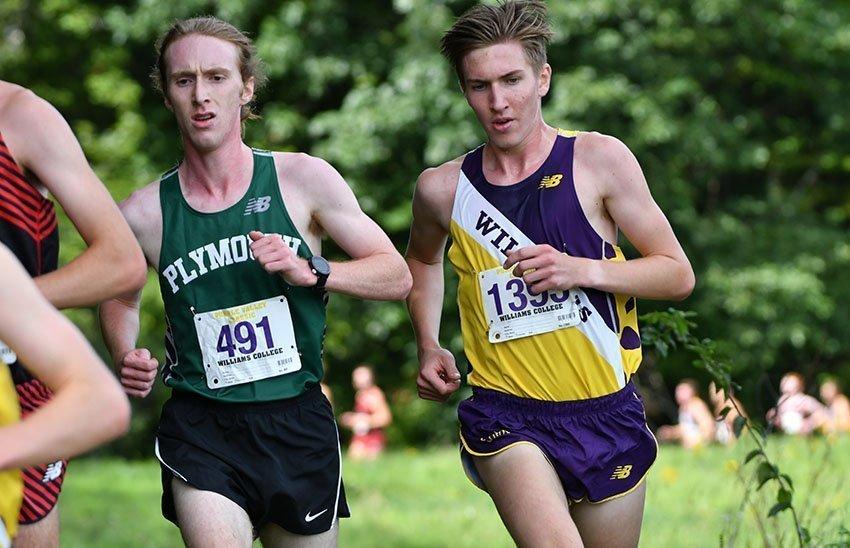 Last Saturday morning, 16 teams travelled to Saratoga, N.Y. to race in RPI's Saratoga Invitational. The Eph women raced over a rocky and hilly course, challenging both the puddles and competition in a great 5k race.
For the women, St. Lawrence took first place with a score of 54 points, with two runners placing in the top 10 and five in the top 20. The Ephs took second with a score of 63, with RPI close behind at 67 points. The overall winner was Christine Myers, a junior from Saint Rose, who ran a fast 17:50.
The women ran together in strong packs throughout the race. Emma Hermann '20 finished fastest for the Ephs, coming in fourth overall with a time of 17:55. Close behind her was co-captain Emily Harris '19, who placed fifth at a time of 18:01. Soon after, Grace Dailey '22 and Sarah Tully '21 came racing in, running 18:28 and 18:30, respectively, for strong 15th and 16th place finishes. Tully and Dailey rounded out the top 20 finishers for the Ephs.
Erica Barrett '21 and Brianna Bourne '21 raced in merely eight seconds later, both finishing at 18:38 for 23rd and 24th, respectively. Jaylan Fraser-Mines '21 kicked in at 18:48 to finish in 32nd.
Abigail Scott '22 led the next pack of Ephs, racing in at a fast 19:05. Janelle Gowgiel '20 and co-captain Lindsay Klickstein '19 followed closely behind Scott to finish at times of 19:11 and 19:20, respectively. Lilliana Wells '22 kicked in soon after with a time of 19:43 and was followed by Sarah Jane O'Connor '22 and Hannah Lebowitz '20, who finished their races at 19:51 and 19:56, respectively. Adrienne Banks '20 followed soon after, finishing at 20:27. Lauren Fossel '22 and Emma Tapscott '22 came in close behind Banks, both finishing strong races at 20:33 and 20:37, respectively. Avivah Malin '22 and Julia Gunther '20 rounded out the race for the Ephs, coming in at 21:43 and 21:53, respectively.
Head coach Pete Farwell '73 was pleased with the running conditions. "We were delighted to run at the Saratoga Spa State Park course with true cross country trails and hills and rivers, plus a great atmosphere amongst the historic mineral baths, and the RPI band playing throughout," Farwell remarked.
"[Although the competition was strong, the Ephs] responded to that [by] moving up quite a lot in the second half of the race, working the final hill and kicking well over the final 600 meters."
Farwell highlighted Herrmann and Harris, as well as the Ephs' top pack of seven who bring "depth closer to our front-runners." Farwell and the women look forward to their next few races. "We will now have a 10-day cycle of more challenging training as we prepare for the Connecticut College Invitational," Farwell said.
Similarly, the men continued a strong season at the Invitational. The team came into the meet after finishing second at last week's Purple Valley Classic, a resounding statement that saw Williams rocket up in the national rankings from 17th to sixth. At the Invitational, the men faced tough competition from No. 3 RPI and No. 26 St. Lawrence, among other schools. The men finished second to RPI. St. Lawrence came in third with 107 points.
The 8k got out to a hot start, with Aidan Ryan '21 and Ryan Cox '20 dueling with RPI's Sean O'Connor and Grant O'Connor up front. Ryan and Cox held strong through the last straightaway, finishing in third and fourth, respectively, with times of 25:14 and 25:17. William McGovern '20 and Sam Wischnewsky '20 also raced well among RPI's varsity packs, finishing in 14th in 26:08 and 15th in 26:17 respectively.
Sam Gilman '21 rounded out the top five for the Ephs with a fantastic performance, moving up relentlessly throughout the race, outrunning teammate Chris Avila '21 at the line to finish 26th in 26:24. Jack Wallace '22 ran a patient and intelligent race in his debut 8k, rounding out the top seven for the Ephs in 32nd, in a time of 26:31.
Farwell was pleased with how the men performed. "I thought we did a great job out there today," Farwell said. "We've had a tough week of training, and we're certainly not sharp right now, but everyone competed really strongly and a number of our guys had good races. It was great to see Sam Gilman and Chris Avila have such strong races, but I was also excited to see many of the runners farther down in our depth chart have big personal records and run really well. I think we're in a good spot as a team as we head into October and some of the bigger meets of the season, including Connecticut College and the NESCAC Championship."
Both teams will return to competition on Oct. 13 at the Inter-Regional Meet hosted by Connecticut College.