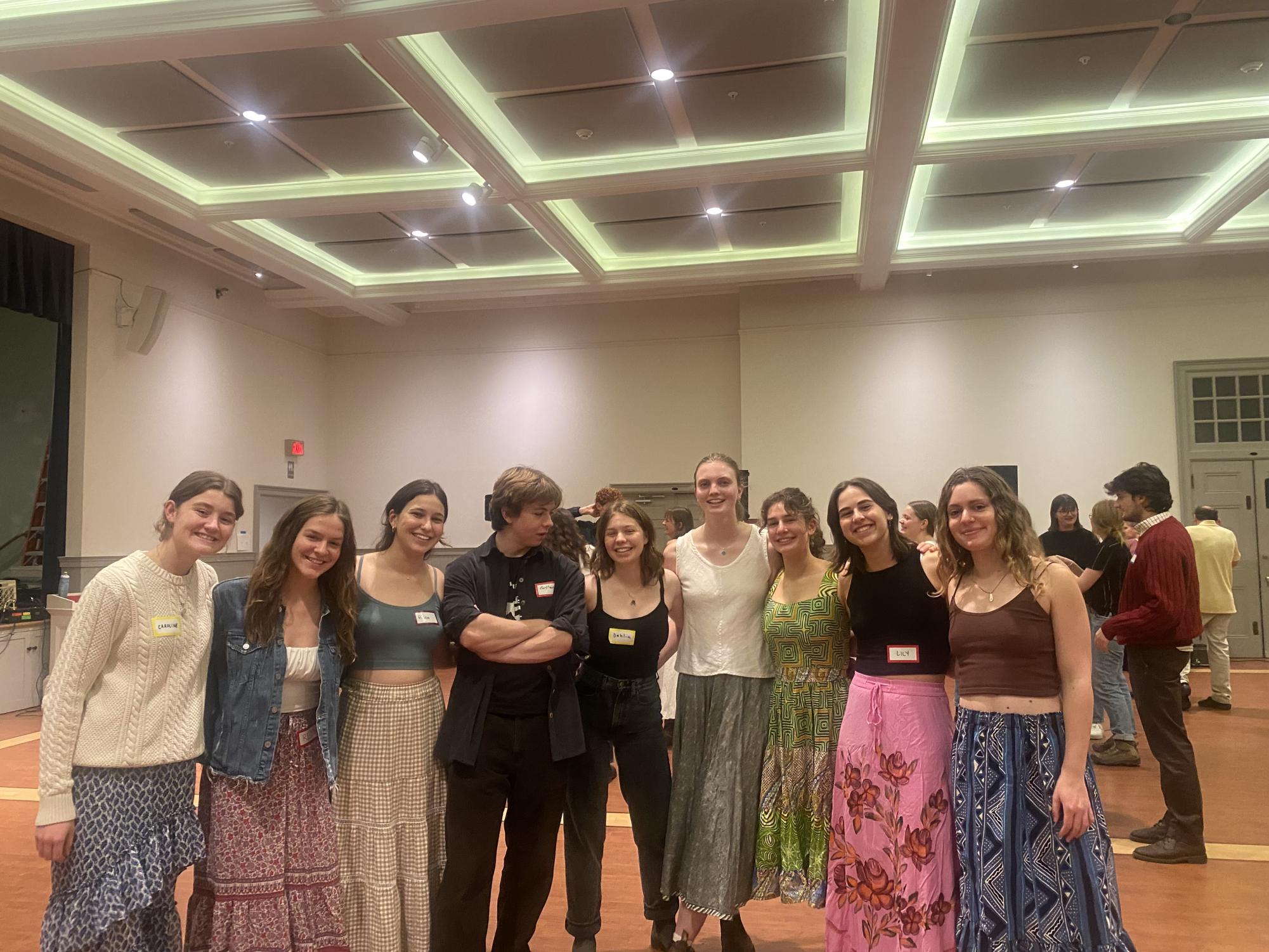 Folk dancing in a rural church may not be the most conventional Saturday night activity, but many members of the Williamstown community — students at the College included — eagerly await the monthly contra-dancing extravaganza at First Congregational Church. Contra dance, a form of traditional social dance, is practiced in pockets across the world. 
Kate Abbott '00, a member of the North Berkshire Community Dance board, spoke with the Record about her experience in the Williamstown contra dance world, which she said was founded by students at the College in the late '90s.  "It came in part out of a student group called Dancing Folk, a group of students who used to go to Greenfield, [Mass.] — but Greenfield was a long way to drive, so they decided to start their own," she explained. 
According to Abbot, contra dancing at the College did not always draw the crowds it does today, nor was it as formally organized. At its inception, contra dancing often operated as a spontaneous activity among friends. One student learned to call the dances, and others would play music, she remembered. "Especially when it started, we sometimes had around 15 people in the band and 10 people would show up and dance, and sometimes the band members would dance and play music at the same time," she said.
Over time, contra dance in Williamstown evolved into the structured event it is now: On the second Saturday of each month, North Berkshire Community Dance transforms the First Congregational Church into a sanctuary of social folk dance, complete with a live band and formal caller. 
This contra dance environment is distinctly inclusive — it is a room filled with students and locals, toddlers and grandparents, but there is no demarcation between these groups. This inclusivity is the very premise of contra dance, Abbott explained, and it's expressed both in the form of the dance and the spirit of the attendees. 
"The folks that I've known in the contra-dancing community tend to be very warm and very welcoming," Abbott said. "There's something about contra dancing that feels very easy to come to. You don't have to have a partner, [and] you don't have to know how to do it. I've always loved being able to just feel like I could come, relax, move on, and hang out with people in a way that felt very low pressure." 
Megan Karlen, a local weaver who has been coming to contra dancing for many years, shared a similar sentiment. "The community, the fact that young and old can do it together, that everybody's having fun, that the music is live, and the fact that you learn something and it's good exercise" — these were the reasons Karlen said she keeps coming back. 
Newcomers are common and eagerly embraced — though, of course, there is a slight learning curve when launching into the singular experience that is contra dancing. As Julian Speyer '24, a first-time contra dancer, put it: "I never knew skipping had so many rules." 
Over time, those newcomers become regulars. "Contra dancing brings together the craziest conglomeration of Williams students and Williamstown members," said contra dancing regular Elodie Griffin-Schmidt '26. "It creates an awesome, fun dynamic where you get to engage joyfully in a community you aren't normally able to."
"I think it was a really joyful form of proof that Willaims students and the community want shared spaces for interaction and dancing," Emma Nathanson '25 said. "There's such a long history of dancing in this region that one could easily miss even after going to school here for years, but it's an easy and literally embodied way to feel the history and current community in the Berkshires. It's also proof that Williams students want to dance — and are good at it."
Abbott, like Nathanson, said that she deeply appreciates the embodied history of contra dancing. "I enjoy the fact that it is a living, oral tradition, [and] that it's also contemporary," she said. "I think contra dancing can sound old-fashioned, but … I enjoy the fact that there are people [for whom] it's something that they do that's completely new, and I also love that there are dances people have been doing for 400 years." 
So, if you're looking to find yourself in the midst of this "living oral tradition" (or if you're simply looking to move, listen to live music on a Saturday night, and meet interesting locals in the process), look no further than contra dancing at the First Congregational Church. Prepare to be transformed.