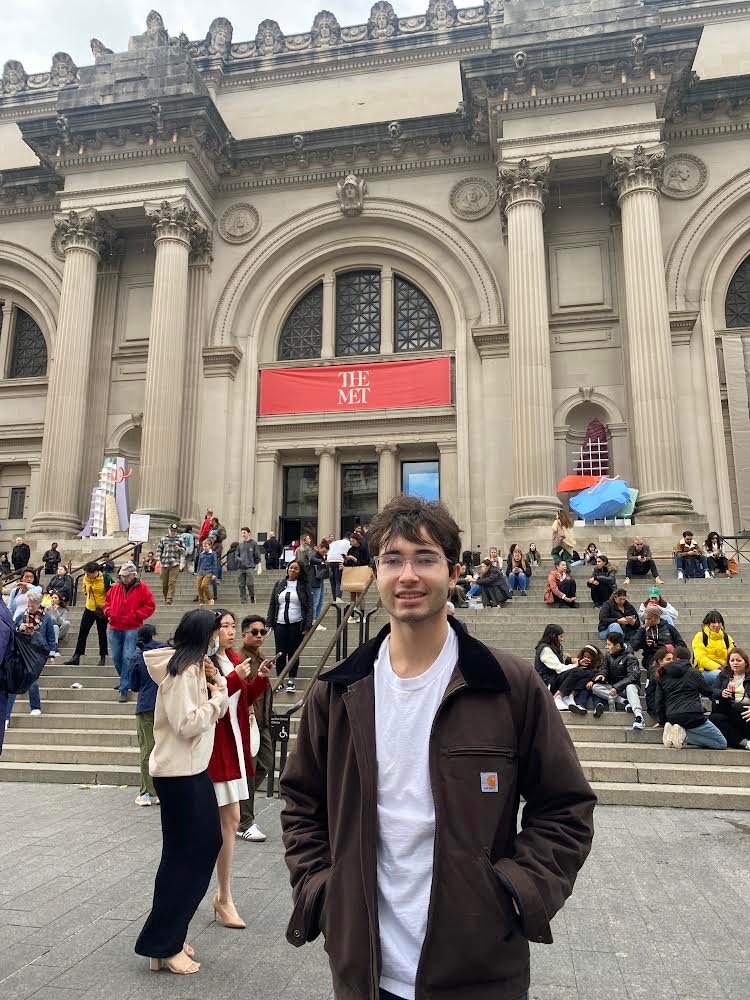 Each week, the Record (using a script in R) randomly selects a student at the College for our One in Two Thousand feature, excluding current Record board members. This week, Theo Duarte-Baird '26 discussed an unexpected favorite class, art on campus, and the many foods one can eat with a spoon. This interview has been edited for length and clarity.
Ella Marx (EM): How's your November been so far, Theo? 
Theo Duarte-Baird (TDB): It has been good. It's been busy, because I've had a lot of midterms, but they're done for now. I feel like I'm trying to just make it until Thanksgiving break, when I can go home. But yeah, this was my first free weekend in a while, and it feels good. 
EM: Nice. You're an econ and psychology double major — are you taking any good major classes this semester?
TDB: I'm taking all major classes this semester. I'm taking ECON 251, STAT 161 — which is a [prerequisite] for econometrics — and then social psychology and clinical psychology. So, it's a major-heavy semester, but my classes are all really interesting. 
EM: You're in your second year here, so what's your favorite class that you've taken so far?
TDB: Classics 101. I took it during my first semester of freshman year, and I didn't know much about what classics was. But I had an amazing professor — [Associate] Professor [of Classics Sarah] Olsen. She's really good, and I loved the class. 
EM: Who's your favorite classical author?
TDB: We read so many good authors. I liked when we were reading Sappho. It was very moving. I also liked a lot of the other things we read. I mean, Homer is obviously a classic, but you can't say "Just Homer."
EM: We met because you're a photographer for the Record, and you've taken some really cool visuals. When you're not taking pictures of buildings or events on campus, what do you photograph?
TDB: I don't really do a lot of photography during the school year, just because I'm so busy. But in the summer, I feel like it's the best time to be a photographer because it's light out for longer, so you can take photos most of the day. There's honestly something about the light in the summer that's different than in the winter, the fall, and the spring. I don't know exactly what it is, because I'm not a physicist or an environmental scientist, but I feel like the warmer air and the humidity make the light a lot softer. I think it's more fun to photograph then. Plus, everything's in bloom. I don't really photograph digital — except for the Record, [since it's] just convenient. I've done a lot more on film on my own, which I think is very rewarding, because it's a completely different medium, and it's very hands-on. Over the summer, I usually take many more photos, like on the East Coast when I go to the beach — it's just a great way to creatively express myself, which I think is what photography and all artistic mediums are really all about.
EM: You also mentioned that you like taking photos at home on film. If someone was going to Providence, R.I., for 24 hours, what would you suggest that they do?
TDB: There's a lot to do in Providence. There's a public art exhibit called WaterFire, which is in downtown Providence. I don't really know how to explain it, but there are these bowls, basically, that are floating on the water, and they have wood burning, and it's really beautiful. It's a great time to go down there, because there are a lot of shops and food trucks open. It's definitely a fun experience. In terms of other stuff to do outside of Providence — it's also fun to go to the South Shore and go to the beaches. That's what I would recommend: Go to WaterFire and go to the beach.
EM: Going back to artistic mediums, you're also in Good Question (GQ) a cappella. What do you do for GQ?
TDB: I'm the assistant business manager, and I'm also obviously a member. I love the people in GQ. They're amazing. They're all so friendly, like my best friends, and I love singing, too. It's great to be with other people who love singing and build a performance that we're very proud of.
EM: I love Shane Stackpole ['26] — he's the only person I know in GQ, and he's a GQ-tie. 
TDB: Yeah. He is the best. 
EM: What are you singing this semester? 
TDB: We just had our mid-sem[ester performance] on Friday. We sang Shane's song, which was "Erase Me" by Lizzy McAlpine. Then we sang "Complicated," then "Where Have You Been," which is by Rihanna. We're working on some new songs for our final concert in December, but those will remain undisclosed for now. 
EM: I have one last question for you. If you had to be one kitchen utensil, which one would you be and why?
TDB: I would be a spoon, because — I don't know. There are so many reasons.
EM: What's your top few?
TDB: I need to think for a second about why. I think I would be a spoon because you can eat a lot of great foods with a spoon. Cereal, ice cream, mac and cheese. Plus, who doesn't love spooning?