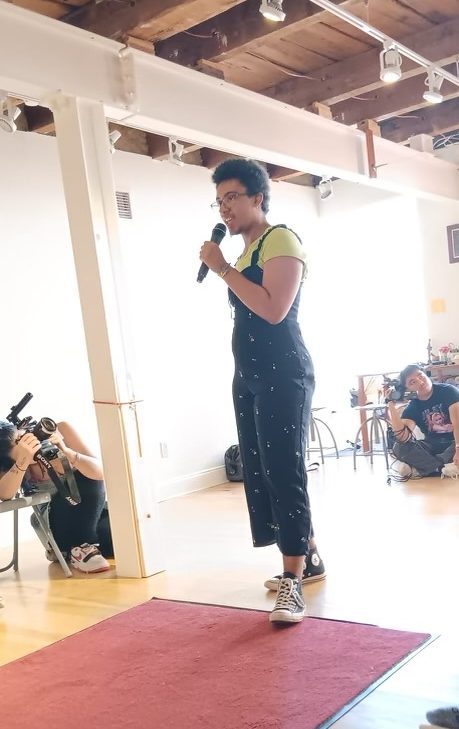 "History is being made today," Jayden Jogwe '24.5 said on Saturday at Berkshire Ballroom's Fall Ball — the first ball Jogwe knows of to be held in Williamstown. The event was organized, hosted, and emceed by Jogwe, who founded and leads the Berkshire Ballroom group. 
During the ball, student-participants walked, vogued, performed, and modeled to music provided by New York City-based DJ Belindzz (Ramon Amiama-Gomez). Students competed in different categories in pursuit of getting "10s across the board." Categories included "Decolonial School Boy," "Fall Foliage," "Christian Girl Autumn," "Queer Monstrosity," and "Borrowed." The ball was judged by New York City-based ballroom performer Mother Sājuan (Sājuan Scott), North Adams-based drag performer Jackie Legs, and Gabriel Mora '24, all of whom collectively chose a winner for each category and awarded them a trophy. 
Ballroom culture primarily originated in Harlem during the 1960s when Black and Latinx drag queens were experiencing racial discrimination at drag balls and decided to create their own. In 2002, the kiki scene, of which Mother Sājuan and DJ Belindzz are a part, emerged as a more fun, queer-youth-oriented take on ballroom culture. "Ballroom is a community where people from all walks of life who have shared experiences — usually traumatic experiences, maybe homelessness, hunger, being bullied, or any personal problems — can come together," Mother Sājuan said. 
"Ballroom culture takes everybody who's been on the periphery of society, who's been marginalized, and it kind of gives them a center, a platform to subvert norms and resist," Mora added. 
Berkshire Ballroom was founded by Jogwe in the hopes of bringing this culture to the College and surrounding community. "The mission of the group is to celebrate and participate in ballroom culture in the Berkshires, specifically Williamstown, where that hasn't really been present at all," Jogwe said. "That is, at least prior to the work of Venus Luisa ['21], who is currently in the House of Maybach in the kiki scene, and did an American studies senior honors thesis at the College on the sound exploration of Vogue Fem." 
Jogwe has sought to carry on Luisa's legacy at the College through his work with Berkshire Ballroom, which he said has been challenging to undertake by himself. "It hasn't been easy — there have been times when no one would show up to my events," he said. Nonetheless, Jogwe has continued to host vogue workshops and ball screenings throughout his time at the College, seeking to create a safe, inclusive space centered around Black queer folks that is also open to everyone. 
The Fall Ball was an idea Jogwe had in 2021 while conducting an independent study on ballroom culture. "I had been talking about it with my advisor, [former Mellon Postdoctoral Fellow] Margaux Kristjansson, and we were like, 'Wouldn't it be so cool if we had a ball?'" he said. "However, I didn't want to do the ball at that time, because people still weren't coming to educate themselves on ballroom culture. So I decided to work on the education part first, and then throw a ball, because then people would actually know how to do something at the ball and could be a part of it." 
This semester, Jogwe felt it was the right time to throw the Fall Ball. He began planning it this year with no funding or intention to bring in people from outside of the College community. Jogwe later decided to apply for College funding, and at the very last minute, found out that he got funding to put on the ball. "When I got funding, I reached out to see if we could recruit people from the ballroom scene like Mother Sājuan and DJ Belindzz to be a part of the event," he said. 
Students who attended the ball this past weekend said that it was an exciting and meaningful experience. "Despite it being a competition, the environment was so supportive and joyful," said Pauli Voelkel '27, who won the categories "Fall Foliage," "Christian Girl Autumn," and "Body." "I felt empowered and excited to walk categories and watch other people walk." 
Following the excitement of the Fall Ball, Jogwe said that he hopes that the ballroom scene he has established at the College and in the larger Berkshire community continues to grow and flourish. "I envision a full kiki scene in Williamstown one day — something that lives on when I'm gone from the College," he said. "But ballroom will only have a future here if people realize how important it is and that this is Black, queer labor that needs to be compensated." 
Jogwe expressed that he sees a particular need to create communal spaces like these because the College and Town are predominantly white, wealthy communities. "The constant anti-Blackness, homophobia, and transphobia in Williamstown is the reason why this space needs to exist," he said. 
"This is not just about coming to vogue — although that's a part of it," Mother Sājuan added. "The main purpose of these events is to create a family for people who feel like they don't belong or don't feel safe. It's a space for all of us to feel included — to feel that when life gets too rough and dark, we got ourselves a little light over here."