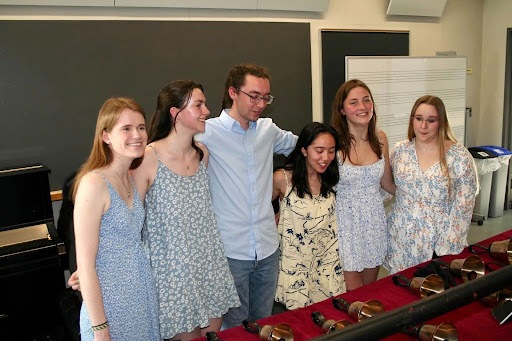 "It's kind of like a team sport —" said Ava Solis '26. 
"And we're the athletes," finished Maya Barr '26. The two students aren't, in fact, members of women's squash or lacrosse. Rather, they both perform with the College's Handbell Choir.
Handbells are exactly what they sound like: handheld bells, each capable of playing a single note when struck. "You can't play anything on your own," explained Rachel Schmidt '25, one of the group's leaders. "Rather than playing the melody or playing the harmony, you're playing a couple of notes, so you really have to be in sync with the people that you're playing with" — hence Solis's "team sport" descriptor.
The Handbell Choir's six members practice once a week for two hours and perform twice a year: once in December after the annual Lessons and Carols Christmas Service at Thompson Memorial Chapel, and again at a solo concert in the spring. They're currently hard at work preparing for the first of the two, which will be held on Dec. 2 at 4 p.m. and 7 p.m.
At Lessons and Carols, the choir performs traditional Christmas music, but in the spring, members choose their own repertoire. "A lot of people traditionally think of [handbell music] as exclusive to churches, but in our spring concert last year, we played Taylor Swift, we played Imagine Dragons, we played La La Land," Solis said. "We're modernizing handbells."
"We have a lot of creative liberty and fun together deciding what song to play," Barr added. 
Students of all musical backgrounds are welcome in the Handbell Choir. For Schmidt, the group has been a low-commitment activity to add music back into her life. "I played a lot of music very seriously growing up, and then I completely stopped," she said. "This has been a really lovely way to get back into being musically involved on campus in a way that's not adding stress to my life."
Barr was new to musical performance when she joined the choir. "I technically had a music background, but it was long, long forgotten," she said. The style of handbell music — where each member is only responsible for a few notes — is well-suited for beginners. "The handbells are not a difficult instrument to learn, and you don't need any sort of background in music to be able to read it," Barr said.
Neither Schmidt, Solis, nor Barr had plans to join the Handbell Choir when they first came to the College; all were persuaded by a hands-on demonstration of the bells at the Purple Key Fair.
"A lot of times, people who don't have a music background just highlight the notes," Barr said, referencing the sheets of music scores that members read. "If a C is blue, then they know [that] whenever the blue note comes up to play their C."
Playing handbells also requires a level of collaboration with fellow members. "You really have to be in sync with the people that you're playing with," Schmidt said.
"It's cool because, instead of one instrument that can play many different notes, the choir itself can play many notes," Barr added. "It's not an individual person or an individual bell."
Part of the beauty of the choir, said Schmidt and Solis, is that the group is entirely student-run and directed. This means that members of the choir source their own musical arrangements or arrange pieces on their own. Schmidt, along with co-leader Nicole Albright '25, are responsible for coordinating practice and performance times, as well as transporting the bells.
Handbell Choir is a unique musical space on campus — it's accessible, casual, collaborative, and maybe a little unexpected, Schmidt said.
"Last year, [the choir] was mainly upperclassmen, so it was a really nice way for us to get to know older people and ask them questions about classes and things like that," Barr said.
"It was a lot of fun when we first tried it," she added. "The rest has been history."