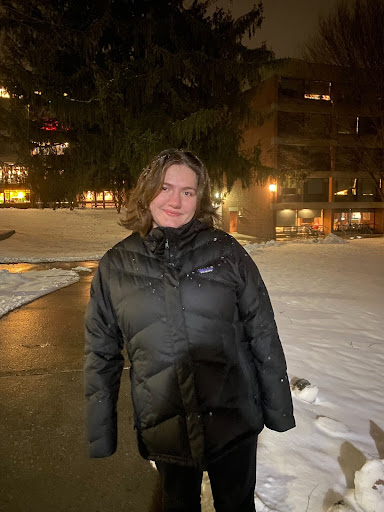 Each week, the Record (using a script in R) randomly selects a student at the College for our One in Two Thousand feature, excluding current Record board members. This week, Gabby Gonzalez '24 discussed her transition to College life, her room decor, and her role as a co-president of Margins Finance Club. This interview has been edited for length and clarity.
Beatrice Larzul (BL): Your parents immigrated to Miami, and you lived there your whole life. What was the transition to Williamstown like?  
Gabby Gonzalez (GG): Miami and Williamstown are both vibrant in their own ways. Miami [has] a lot of people, a lot of culture, a lot of different things that you can do. But Williams is  vibrant to me in terms of nature and being able to do a lot of things that I wasn't able to do when I was in Miami, like go on a hike or see deer right outside of my dorm room. I enjoy them both for different reasons, [but] I'm definitely more of a city person.
In terms of the transition, it was really hard because I was remote my fall semester of freshman year. I came to campus in February of my spring semester. I remember I stepped out of the Albany airport, and I saw snow for the first time ever in my life. It was really difficult in terms of getting adjusted to temperature and not having a lot of people around me. I've never been used to that. My family is very close-knit, and my friends are all Latino, so we're all very close. When I got here — primarily because of COVID — I had to deal with that isolation. 
BL: Right, that's tough. You also didn't get the fall transition into winter. I feel like the late fall's chilly weather will kind of prepare you for the really bad winter months, but you just went straight into it!
GG: I know! I was at home scrolling on Instagram and looking at Mountain Day photos, like, "OMG, it's so pretty and warm there. I want to go and experience that." It did look like Hogwarts when I got here the first day, though. It looked like a fairytale land. 
BL: You're going into your fourth year at Williams. Looking back, what have been your most memorable times here? 
GG: There are two instances that I'm thinking about. My entry was really close during the spring semester. I experienced snacks every single weekend. I tried to go to them as much as possible because, as I mentioned, I dealt with isolation in the beginning. A big part of me feeling like I was on a college campus and getting really involved with my community was definitely my entry — being able to talk to [and] hang out with them. My specific pod was also a really big reason as to why I ended up really enjoying Williams. Throughout freshman year, I was always contemplating how I [didn't] want to be here, but the people are what changed my mind. I cherish a lot of the memories that I made my freshman year. 
Looking back, I would say that coming into senior year,  the first couple days that I spent on campus were really important to me. I finally felt like I belonged. This is a place I've been [at] for three years, and it's somewhere I consider home. I know it's sentimental to say that, but I feel like I finally belong somewhere, I know what I'm doing, and I don't feel lost on campus. I feel like I always felt lost, and I didn't really know what was happening, but I feel very secure now. 
BL: That's awesome, I'm so glad to hear that! What co-op do you live in?
GG: I live in Doughty. It's really nice — a really good location.
BL: We're on Zoom right now. I see you have a lot of cool decorations in the background. How would you describe your room?
GG: Ok, three words: nature, warmth, and green. I spend a lot of time in my room studying, watching movies. It's a [place] where I decompress, especially on Sundays after my tutoring sessions at 10 p.m. I try to spend a lot of time decorating, too. You can't see, but — [slightly turns camera] well, my bed is not made. It's rough right now because, life. [Turns camera towards the walls.]
BL: It's so nice. Love the fairy lights. 
GG: I put up my favorite artists [like] Phoebe Bridgers. I also have a random racket that my friend gave me. And I bought a chair for the room — I just try to make it really comfortable. 
BL: You do tutoring sessions on Sundays. Is that writing tutoring or TA hours?
GG: I'm a TA, and I also tutor for stats. I've been a tutor for three years now. I tutor at the Math & Science Resource Center, 8 to 10 p.m. every Tuesday and Thursday. 
BL: What else are you involved in on campus? 
GG: The two biggest organizations that I can speak to are Margins, the finance club, and ADT, the Asian Dance Troupe. 
Margins was co-founded by a group of upperclassmen that just graduated. They were a big influence in terms of what I'm going to do with my career, what good companies I should be looking at, how I'm going to prepare for interviews, and what I should do once I get an offer. I consider a lot of them really good friends — they were a huge support for me the last three years. I love what the group does on campus in terms of providing support for students like me, who didn't have those resources to go into finance. 
ADT is a new thing for me. I used to dance a lot when I was younger — I did tap and jazz dance when I was in middle school and stopped when I got into high school. I just started again with ADT, and it's been really fun. I really enjoy being able to dance with people on campus and learn fun choreographies. I've met a lot of different new people. 
BL: That's so great. I'm a dancer, so I love all the different dance communities on campus. You said earlier that you love being surrounded by nature here. Tell me more about that. 
GG: I've gone on hikes. They haven't gone too well for me. I don't know if you could consider Stone Hill a hike — I definitely wouldn't — but I try to go [there]. I take a lot of walks [and] pictures of trees and the fall, [which] I've incorporated into my room. [Nature] is just something that I'm not used to, coming from Miami. Coming here was the first time I ever experienced seasons. So, I'm really fascinated by, like, a yellow tree! [Laughs.] It gives me a sense of calm. 
BL: You said you want to pursue finance. Do you know what your plans are for after college? Any dream place to live in?
GG: I'm a Northeast gal through and through, I've realized. I will probably set up my life in either Boston or New York — I love New York — or maybe somewhere in the Washington, D.C. area. But also Seattle. I love Seattle. Those are the four main areas I'm considering. In terms of my dream career, I definitely see myself becoming an investment analyst. That's something that, hopefully, I see myself achieving in the next five to 10 years. 
BL: You mentioned that music is a big part of your life. What music do you listen to? What are your favorite genres and artists?
GG: I listen to a lot of different music. I'll listen to pop, K-pop, and rock music. I'll listen to country music sometimes if I'm really feeling it. Right now, I've been liking alternative-indie music. I listen to a lot of Phoebe Bridgers, Chappell Roan, and The Wrecks. I've been listening to a lot of Bad Suns, and, although controversial, a lot of Dominic Fike. Honey Revenge is another one. I listen to a lot of FINNEAS and Jeremy Zucker. My all-time artist, though, is Lewis Capaldi. He's amazing. And The Aces! There's so many!
BL: If you had to listen to one song for the rest of your life, what would it be?
GG: [Laughs.] Omg, wait. Can I pick two? Because they're different moods. 
BL: Ok, yes. I don't think I could decide, honestly. 
GG: "Did I Make You Up?" by half•alive. No words. And "Scott Street" by Phoebe Bridgers. That's a song I listen to whenever I'm in a mood, whenever I'm sad and need to let some emotions out. That's the song.