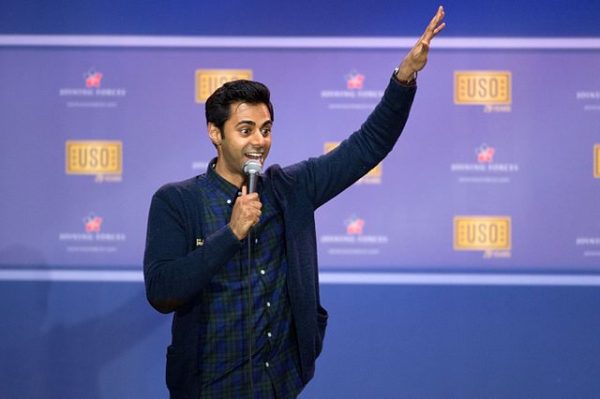 This July, months before a controversial New Yorker article accused Hasan Minhaj of fabricating much of his stand-up material, the South Asian American comedian came to Williamstown for a showcase of a new work-in-progress. Last week, he released a response video, stating that the New Yorker distorted his interview and that most of his material did in fact happen. Some students were able to attend his performance at the Williamstown Theatre Festival (WTF). In light of the New Yorker article, as well as his Oct. 26 response, the Record spoke with them about their experiences with his comedy.
"He had one very serious and sincere segment about his father," Yoon said of Minhaj's show. "That segment was presented as if it were impromptu, heart-to-heart content — more storytelling than comedy." When asked about whether recent developments changed her perception of the bit in question, she said, "I'm not sure if that story was one of the made-up ones, but if it turned out to be, I think I would be disheartened."
"Much of his [material] never happened to him," claimed the New Yorker article in its subheading. Three bits were implicated. First was a story he told about being rejected at prom by a white girl because her parents did not want her prom pictures to have a Brown boy in them. In his response video, Minhaj claimed that the incident did happen a few days before prom and that it was only the rejection occurring on the steps of her house on prom night that had been fictionalized. 
The second incident named in the article was Minhaj's story about an encounter with "Brother Eric," who he said was an undercover FBI agent at his local mosque sent to spy on young Muslims after 9/11. Minhaj said in the response video that, while he did have interactions with undercover FBI agents growing up, the character of "Brother Eric" was fictional. His intention in fabricating this character was to spotlight stories like these in his comedy shows, particularly that of Hamid Hayat, a member of Minhaj's community, who spent 14 years in prison after being wrongfully convicted of terrorism. 
The third bit — which was partly fabricated — was Minhaj's account of white powder (which he assumed at first to be anthrax) being sent anonymously to his apartment. Upon opening an envelope, some of the powder fell on him and his young daughter, and they were subsequently rushed to the hospital. Minhaj said that he did in fact have white powder sent to him as a threat in February 2019, and his daughter was close by, but the hospital visit did not take place.
Shenba Vairavan '24, who said that Minhaj is one of the comedians who inspired her to begin comedy, drew a distinction between the fictionalizations of character comedians and Minhaj's fictionalizations. Character comedians are those who create a fictional onstage persona that is often divorced from their own person, she said. "At first glance, [the New Yorker piece] seems unfair because people lie in [stand-up] comedy all the time," she said. "But Hasan is also a comedian in a political sense…. He's in a weird spot, because he does both."
"You can't lie about politics, but if you connect the politics to an analogy that might not be true, it's kind of hard," she continued.
In his response to the New Yorker article, Minhaj stated that he felt that he had to navigate competing expectations of his work: one in which he assumes the role of a storytelling comedian, and another in which he assumes the role of a political comedian. In the latter role, Minhaj added, the facts are supposed to come first.
When asked whether Minhaj's identity plays a role in her evaluation of the controversy, Yoon said, "[Minhaj's comedy is] the kind of humor that contributes to a collective consciousness that we desperately need," particularly referencing immigrants in America. "I felt a really strong bond forming between Minhaj and his POC audience members," she said.
Students said that Minhaj has become a source of inspiration and a cultural beacon for the South Asian community, and indeed, the wider immigrant community. His rise led him to be one of the frontrunners to host the Daily Show in Trevor Noah's absence, though the New Yorker piece may have changed this. Some have argued that his heritage made his fabricated stories feel like a betrayal. "[Minhaj's stories] are the types of stories we are usually fighting to get recognized … in white American society," Yoon said. 
Vairavan, however, did not share this sentiment. "[I don't] see as much of a race element to this… This seems to be more about the stakes of going into a news-oriented comedy space," she said. "[News] requires a level of honesty that [regular] stand-up does not."
"False stories can undermine real stories, and I am sorry I added to that problem," Minhaj said in his response statement.