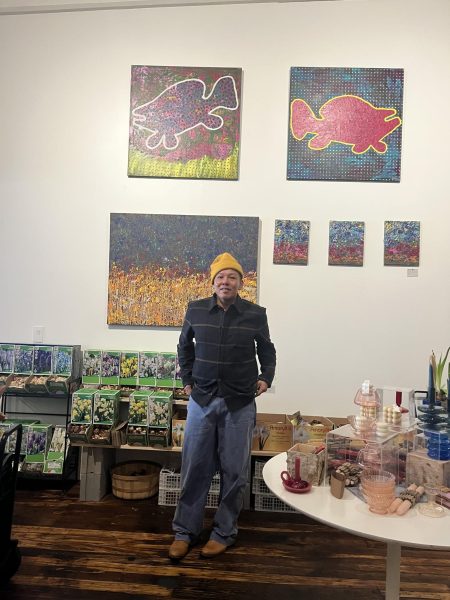 A few weeks ago, I had the chance to attend 328North's monthly pop-up restaurant at Tourists, a hotel located in North Adams. 328North is a multidisciplinary business — with a farm in Williamstown as their foundation — owned and operated by artists Tu Le and Matt Bertles. I briefly sat down with Le that night after indulging in a pork banh mi and comforting vegan pho. 
I initially asked Le for an explanation of the "pop-up business," unaware of the plethora of mediums he explores in his practice. 
"I feel like I'm a storyteller — food is just one medium I'm working with," Le said. He has refined his skills in design, sculpture, management, and farming, though these are just a few routes his art practice has taken. He was startled to find me under the impression that cooking was the only avenue of his craft and immediately offered a visit to his studio at Greylock WORKS. "Going to the studio will give you a better sense of what I do, rather than meeting me here as a stranger," he said. 
Le discussed that it is hard to revel in any mode of art without reckoning with identity and the self. "I think my very existence is challenging the notion of what someone like me should be doing, and I think I lean into that unicorn aspect of who I am," Le explained. 
"My American culture, my Vietnamese culture, and my queer culture — it's a constant straddling for me," he added. "I don't fit into one [culture], but I belong to all. It's that mentality." 
Le's family migrated from Vietnam to the United States, and he lived in San Diego, Calif., during the '70s and '80s, until he turned 18. Le emphasized that he rejects the limitations of assimilation and pressures to give up all but one aspect of his identity. "We know better," he said. "You don't have to make a choice — giving one up is just the white supremacy of it all."
Intentionality is at the core of Le's philosophy. He curated the 328North studio, which also assumes the role of a mini-market, to only stock products by businesses he has patroned or artists he appreciates. Le's presence and practice in Williamstown is not merely a diversifying of the landscape; he is also creating a framework for other artists of color to understand the value in their work.  
"Black and Brown people's food is always relegated to 'cheap and fast,' and I'm trying to take the stance that [this] is farm-to-table," Le said. "I'm working with a local farmer to buy a whole animal and have it butchered the way I want it."
I was given a sampler of the pop-up menu, which was a Vietnamese pho and a pork banh mi with cilantro, cucumbers, and carrots on a French baguette. The drop in temperature that week made this meal feel even more warm and comforting: The freshly toasted baguette contrasted the chilled vegetables, and the pork was cooked to perfection. Complimentary chili oil and basil from Le's farm added a wonderful hint of spice to the banh mi. The vegan pho introduced a new flavor with each sip — the potency of the basil shone through, but it still allowed the other elements of the dish to really flourish. Similar to Le's own philosophies, the basil in this dish existed in harmony with the ginger, daikon, and other root vegetables — no single "identity" of the dish set back its other ingredients, because they all had their respective purposes. 
I caught the pop-up on what Le called a "slow night," though patrons were lining up over several hours. The "pop-up" dining system creates space for people to simply get a taste and wish they had more, which feels in tune with the transience of my first conversation with him. It was a Monday night, my ride was waiting impatiently for me in the parking lot, and I felt on the cusp of knowing Le.
As I was seated in the corner of a dimly lit Tourists, I couldn't help but overhear the bartender, Max, praising Le's culinary skills. In a brief conversation with Max, I was able to get a clearer sense of Le's impact on Williamstown. Prior to my formal meeting with Le, Max told me that he was the "best chef in this region" and said that he "listens to his surroundings instead of bending for them." 
It is quite challenging to synthesize all that I learned from and about Le. After meeting him, I began to see him as his "unicorn" self-descriptor — he has an ability to impose his multidisciplinary onto anyone that interacts with him. "When people in this community think they have me figured out … I'm gonna juxtapose that and completely surprise them," he said.