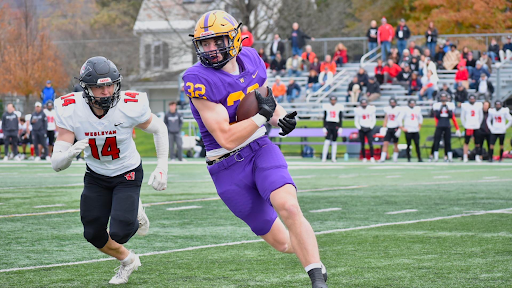 Football (2-5) lost to Wesleyan (6-2) in a 30-22 heartbreaker on Nov. 5. Despite building a strong advantage heading into halftime, the Ephs could not quite maintain the momentum in the second half of an idyllic Homecoming Weekend. 
The Ephs' season up to this point has been a challenging one. After beginning the year with a home victory over Colby (3-4), the team has now dropped five of its past six games. "Overall, we're a pretty young team, so we've had plenty of growing pains," linebacker Ethan Scott '25 said.  
However, the team retains a sense of optimism about its growth. "[Practice] has been going well this year," starting quarterback Owen McHugh '27 said. "The offense and defense are pushing each other to get better, and we have been gaining more chemistry on offense as we practice more." 
Scott agreed, emphasizing the team's room for growth. "We haven't played to our potential yet, but as a group, we work day in and day out, so it feels like we are building something," he said. 
Also fueling the team on Saturday was the excitement around Homecoming. "The Homecoming atmosphere was incredible," Scott said. "It was great seeing former teammates, and the students did a great job showing out."  
Wide receiver Paul Harshbarger '23.5 emphasized the support of the Homecoming celebrations. "We all know that one day, it will be us coming back to support the younger generations of players, so there is a bit of extra motivation to put on a good performance for those who come back to watch and support us," he said.
For much of Saturday's game, it appeared as though this motivation was going to lead to a Homecoming win. After the Ephs were forced into a first-possession punt, punter Tim Brown '24 pinned Wesleyan at the two-yard line, and Ryan Levrault '24.5 stuffed a Wesleyan run to force a safety, giving the Ephs an early 2-0 lead. This set the tone for a dominant performance from the Ephs' defensive line, which had eight sacks on the day and forced four fumbles, recovering two of them. In particular, Scott stood out, with three forced fumbles and 3.5 sacks on the day. "Ethan and the entire defensive line played a great game," Raymond said. "Their effort and physical play was outstanding." 
McHugh, a first-year adjusting to starting at the collegiate level as a quarterback, exemplified the youthful energy of this particular team. "For me, [the season] has been a learning experience, and I have been working to get better every day," he said. In the first half, he put together a strong showing, using his legs multiple times to elude defenders and gain yards on the ground. McHugh added 73 rushing yards to the Ephs' 3-3-5, leading the Ephs. His running ability, combined with some accurate passing on the drive after the safety, led the Ephs to a field goal from kicker Ivan Shuran '25, making it 5-0. 
On the ensuing kickoff, the Ephs forced and recovered a Wesleyan fumble, leading to another field goal from Shuran and extending the lead to 8-0. "Our special teams units made some huge plays that helped set up the offense to score early and put the defense in positions to bring pressure and stall Wesleyan's offense," Harshbarger said.
However, with the Ephs in control and close to the end zone twice, the team couldn't finish off drives with touchdowns, which allowed Wesleyan to hang around. "It hurt that we did not capitalize on our early trips inside the 10-yard line," he said. "If we [had] come out of there with touchdowns instead of field goals, it would have taken a lot of pressure off of our defense." 
Still, by halftime, the Ephs held a 22-8 lead, with McHugh having tossed second quarter touchdowns to Brady Stahelski '27 and Harshbarger. "It was a tactical first half in all facets of the game and propelled us to a good lead," Harshbarger said.
However, after a scoreless third quarter, the tide turned in the fourth. "I can't really pinpoint one moment where the momentum flipped," Scott said. "It was really that Wesleyan executed in the fourth quarter, and we didn't."
After a three-and-out from the Ephs, Wesleyan quarterback Niko Candido began hitting his stride, leading Wesleyan to a nine-play touchdown drive and adding a two-point conversion to make the score 22-16 with 9:15 in the game to go. After a fumble by the Ephs, Candido threw a 20-yard touchdown, and the extra point gave Wesleyan a 23-22 lead. Another Ephs fumble led to another Wesleyan touchdown, making it 30-22, and a final Ephs drive ended in a game-sealing interception in the red zone. "We did not take advantage of some really good field positions, and it is tough to win when you turn it over three times in the fourth quarter," Raymond said.
Although the Ephs left Homecoming with a loss, they maintain their belief in the adaptability and strength of the team, according to Scott. "This game was extremely frustrating for us, but we have to learn from it and move on," he said.
"As always, I was very proud of this group," Raymond said.  "They played with phenomenal effort and energy. We just did not do enough to come away with the victory."
Football's season is far from over. Next week, the team travels to face Amherst (3-5) on the road. Last season, football upended Amherst 20-10 to set off the Ephs' Homecoming celebrations. This year, Scott said, the Ephs are headed on the road with a comeback in mind. "Our complete focus is on improving each and every day and preparing for Amherst," he said.
"We're gonna prepare for Amherst the same way we do for everyone, but with a little extra vengeance in mind knowing we can spoil their Homecoming the same way Wesleyan did to us," Harshbarger added. "This is not a group we're particularly fond of."