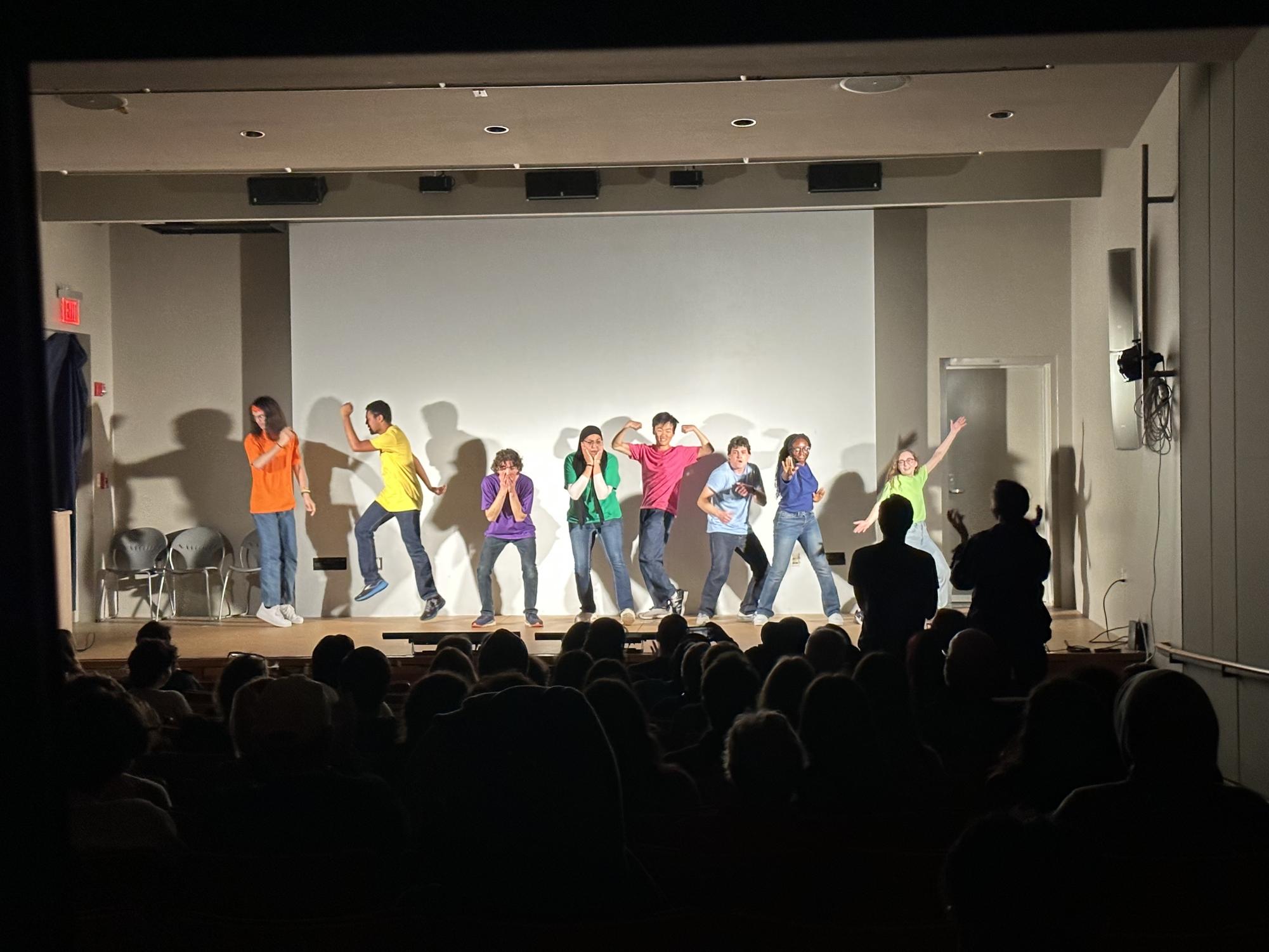 This weekend marked another performance of Frosh Revue, the annual sketch comedy show put on during Family Days. This year's production, titled The Hitchhiker's Guide to the Frosh, featured a cast of eight first-years: Madison Rozic '27, Kez Osei-Agyemang '27, Ben Zobian '27, Jason Xia '27, Shaza Mousa '27, Wyatt Smith '27, Sebastien Narayanan '27, and Izzy Weitzman '27. It was directed by Cassie Aretsky '26, Thomas Huckans '26, and Cían McCarthy '26.
The show is intended to be a comedic commentary on the first-year experience at the College, and highlights included an Oppenheimer parody called "Wachenheimer," a sketch about Dining Services's legendary Boom Boom Sauce, and a Seinfeld parody that warned of the dangers of the Sage Hall couches. (From the laughs in the audience, it's clear that the perils of going "all the way in" between the cushions resonated with much of the Class of 2027.) 
There were also dance numbers — FRance the FRight (inspired by Dua Lipa's "Dance the Night"), for instance — as well as a two-part reimagining of Sweeney Todd called "Sweeney Maud: Mr. Frosh Guy and FRirlfriend."
Auditions are held shortly after the first-years arrive on campus, so the quick turnaround and complexity of the show required a major time commitment from the entire cast: The intense schedule involved between eight and 14 hours of rehearsals and meetings for each of the six weeks leading up to the shows, which took place during the last weekend of October during Family and Friends Weekend. 
At rehearsal, cast members brainstormed, wrote, and rehearsed the sketches, and participated in improv exercises to encourage creativity and help each other determine how to celebrate the uncomfortable."
In an interview with the Record, Weitzman, a Frosh Review cast member, said that the time commitment contributed to his "unique" first-year fall. "I'm in the Frosh Revue 'creating weird stuff' mode," he said. "There's a lot of us hanging around after rehearsals still in that mindset and being ridiculous in public."
It is perhaps this combination of zaniness and rigor, along with the relative secrecy of the process, that has earned Frosh Revue an almost cult-like reputation at the College. Everyone has heard stories, but few outside of it know exactly what Frosh Revue really entails.
Aretsky, one of the directors of Frosh Revue, described a "collective understanding" among members of the cast about what to share and what to keep secret. She qualified her answers to certain questions as "what I can tell you."
On "Cursed Day," cast members must come to rehearsal in their interpretation of a "cursed" outfit There are also the famous auditions, in which prospective members are asked to "just be ridiculous," according to Weitzman. His audition involved making up a story on the spot for about 10 minutes, using information he tried to glean from the directors. 
But as to the origins of Frosh Revue's notorious traditions? 
"I don't think anyone really knows," Aretsky said. "The secrecy is part of what makes it feel like such a strong community, because you have that shared experience and shared lore."
"Cult has such a negative connotation," Weitzman added. "Sure, there's a lot of somewhat ridiculous traditions, but I feel like they're approached in a thoughtful way."
The role of the directors is to organize rehearsals and help facilitate the writing process for the cast. They also provide some material themselves, but directors are "facilitatory rather than dictatorial," Aretsky said. 
"It's for the frosh," said Huckans, another director. "It's for them to get to be goofy, which you don't always get to do on this campus. We get so caught up in academics, you lose that zaniness, that craziness, that joyful way of life."
Huckans emphasized that many Frosh Revue cast members join the show without prior comedy experience, and rehearsals are designed with that in mind. "We're not expecting greatness right away," he said. "We're instead making them feel celebrated."
This environment lends itself to a strong community, and Weitzman said he has not only grown close to his fellow cast members but now also feels connected to a larger network of past cast members as well. 
Aretsky, who was a member of Frosh Revue last year along with this year's other directors, called Frosh Revue a "formative experience."
"It's a celebration of the Williams first-year experience," said Huckans. "It's a really special space of both vulnerability and joy."