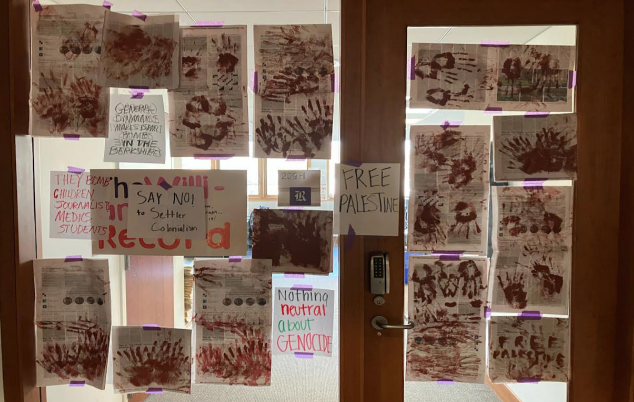 Copies of the Oct. 18 issue of the Record, covered in dark red painted handprints, and signs with statements about the war in Israel and Palestine were hung throughout all three floors of Paresky Center and outside its lawn on the night of Oct. 18. The handprints specifically covered the page that included Jonah Garnick's '23 op-ed, "What the 'Free Palestine' movement gets wrong." The other signs in Paresky featured statements such as "Free Palestine," "Gaza is an open air prison," and "Nothing neutral about genocide."
One student, who requested anonymity due to concerns about their safety, said that they and around 15 others created the posters. "We wanted to articulate that the Record has blood on their hands — the blood of Palestinians — in printing that article," the student said. "It was a thought-out response to show collective anger at the Record's failing."
The Office of Campus Life (OCL) removed the posters on the morning of Oct. 19 because they failed to comply with the College's poster policies, Dean of the College Gretchen Long explained in an all-campus email on Friday. Members of the College's senior staff requested that OCL do so, she added in an additional email to the Record.
Posters must include valid contact information for the person or group that posted them, Long wrote in the all-campus email, so that the College can communicate with any parties involved if issues related to the posters arise. She added that the policy prohibits posters in specific locations — such as on glass doors, like those in front of the Record office — for safety purposes.
"As a college, we aim to provide maximum space for debate, protest, and dissent," she wrote. "Materials that comply with the policy will be allowed."
"I remind everyone that actions or speech that foment hatred or intimidate individuals, including via doxxing or personal attacks, violate our code of conduct," she added.
After Long's email, students posted orange signs on the first floor of Paresky that read, "Until we are all free, none of us are free. Free Palestine" and "If you're not careful, the newspapers will have you hating the people who are being oppressed & loving the people who are doing the oppression," a quotation from Malcolm X. A third poster, hung off of the balcony of Paresky, states, "Wake up Williams!!! Fight against genocide!
Students also hung posters in other campus buildings, including Hollander and Schapiro Halls, with statements such as "Free Palestine" and "Shame on AmeriKKKa."
These new posters are attributed to Students Against Genocide and cite [email protected] as their contact information. The posters do not, however, reference or take credit for the initial signs in Paresky, and it is unclear whether the same students were responsible for both rounds of posters.
Rabbi Seth Wax, the College's Jewish Chaplain and one of the first staff members to discover the printed copies of the Record and accompanying signs in Paresky, addressed them in an email to Jewish-identifying students on Oct. 21.
"I will say that… I felt intimidated," Wax said. "It was very overwhelming to find so many of these posters and the abundance of print-covered copies of the Record all over the entrance of its offices."
Another sign later appeared outside of Paresky that read "I STAND WITH YOU" and featured a Palestinian flag. A nearby cup contained markers, and community members signed the poster with messages such as "Keep fighting!" and "Free Palestine!" The poster listed [email protected] as its contact.
On Tuesday morning, "STOP SLAUGHTER OF INNOCENT ISRAELIS" and a Star of David were drawn across the poster. Later that afternoon, "STOP SLAUGHTER OF INNOCENT PALESTINIANS" was written on top of the poster, and signs were taped to it, including one that said "This is what white fragility looks like."
Maya Prakash contributed reporting.