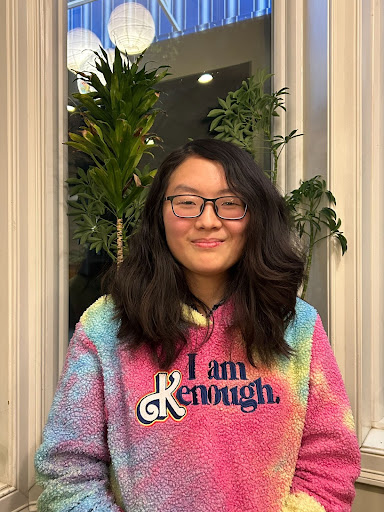 Each week, the Record (using a script in R) randomly selects a student at the College for our One in Two Thousand feature, excluding current Record board members. This week, Abby Shen '24 discussed her "I Am Kenough" sweater, Yale Divinity School, and the merits of Kierkegaard versus Kant. This interview has been edited for length and clarity.
Lindsay Wang (LW): First, ever since you've gotten the "I am Kenough" sweater, I have not seen you not wearing it. How do you feel about it?
Abby Shen (AS): I got the sweater the day after the [Barbie] movie came out, which was the night that I saw the movie. It was already sold out, so when I bought it, it was a pre-order, so I had to wait until it was restocked in September. That meant that I only recently received this sweater, which was a while after the movie had already been out in theaters, but I do still get lots of comments. One thing that has been slightly annoying, but in a good way, is when I'll be walking down the street — and I usually have my headphones on — people will compliment me on my sweater, but I won't be able to hear them. I have to take [my headphones] off and smile awkwardly at them. So that is an inconvenience, but I think it has been very useful thus far, because it's eye-catching.
LW: I asked around for what to ask you, of course, and for some reason, Sarah [Ling '24] told me to ask, "Where do you see yourself in the next year?"
AS: [Laughs.]
LW: I'm assuming there's something interesting going on.
AS: Hopefully at Yale. I've been applying to Yale Divinity School. That was the decision I came to after lots of thought, but I am applying right now, and I'm pretty sure that's where I want to be.
LW: Why? I know you were considering law school.
AS: Now that's my Plan C.
LW: C? So, divinity school is your Plan A?
AS: Well, actually, divinity school includes both Plan A and B.
LW: Please tell me what Plans A and B are that both include divinity school.
AS: Plan A — I'm currently in the discernment process with the Episcopal Church, so if this all works out, I'll go to Yale Divinity School, and then I will be ordained as a priest. If Plan A doesn't work out, Plan B is that I will go to divinity school and become some sort of chaplain. If that doesn't work out, I will go to law school.
LW: Hopefully also at Yale? [Laughs.]
AS: Oh, yeah, hopefully. It's a great place for both things.
LW: Well, that's exciting! How did you end up deciding that you wanted to be ordained?
AS: Long journey, a lot of self-reflection, especially about my journey through Williams for the past three years, going from being a pre-med biology and psychology double major to being a psychology and philosophy double major to just being a philosophy major, and then deciding what I valued in life. So that's where I came to. It was just a lot of self-reflection and a lot of thinking about my values and talking to people and annoying people with my indecision.
LW: Paige [Anna Busse '24] said to ask what you think about Kant.
AS: I like Kant's ethics — I took [a class on Kant] my sophomore year, and it was a difficult class, but I enjoyed grappling with it. However, now that I'm taking [a class on] Kant's aesthetics, I agree with him much less, and now, I am frustrated by Kant more often than not. But I also like making fun of him — and to make memes about Kant is one of my favorite things to do.
LW: Kant's very meme-able?
AS: He is, because he takes himself too seriously, and that makes him funnier to make fun of.
LW: Are most philosophers like that?
AS: I think he's especially rigid and repressed. Not in a fun, angsty way, but in a boring way, so that makes him more fun to make fun of, because the other philosophers are too funny by themselves, like Nietzsche. Nietzsche kinda went crazy oftentimes, and it's too easy to make fun of him, but Kant is the boring, Type A, normal person. He's a smart guy and writes really boring stuff, so that's why he's fun to make fun of.
LW: I love this take. I'm glad that's what you're learning in your aesthetics class.
AS: That is what I'm mainly learning, yeah.
LW: And I guess Kazi [Raleh '24] wants me to ask about your thoughts about Kierkegaard, as you're writing a thesis on him.
AS: I think Kierkegaard is a lot cuter than Kant. He's a lot more attractive, both in terms of his mind and his alleged appearance.
LW: [Laughs.] We don't know what they look like, do we?
AS: There was a sketch of him, but we don't know how much that was altered. I think every time I read Kierkegaard, I spiritually connect with him. We think in very similar ways, and we struggle with a lot of similar things, like existential angst, anxiety, and despair. "Anxiety" and "despair" are technical terms that Kierkegaard uses, and he has whole books about them. So I really relate to Kierkegaard, and I think he's cute. As for Kant, I don't relate to him at all. His ideas about beauty — I don't relate with at all. And he's just less interesting, so that's why I'm doing my thesis mainly on Kierkegaard.
LW: What's your thesis on?
AS: It's on the flaws of Kant's conception of human nature and the way that practical reason works in our lives. It is also about how Kierkegaard provides a more integrated and true-to-life picture of human nature, and how he fills in a lot of gaps left by the way we usually do philosophy in academia, because a lot of philosophy that is done in academia is less about the meaning of life and how we find meaning and how we actually live. A lot of academia is about very abstract situations that are very far removed from our real lives, and I think Kierkegaard kind of corrects that in that he really looks at those important questions in a grounded way, rather than coming up with super abstract principles that really do not affect your life at all.
LW: And then, last thing — what do you want all of campus to know about you?
AS: My favorite tree on campus is the tree next to Schapiro next to the First Congregational Church parking lot, and it's really red right now.