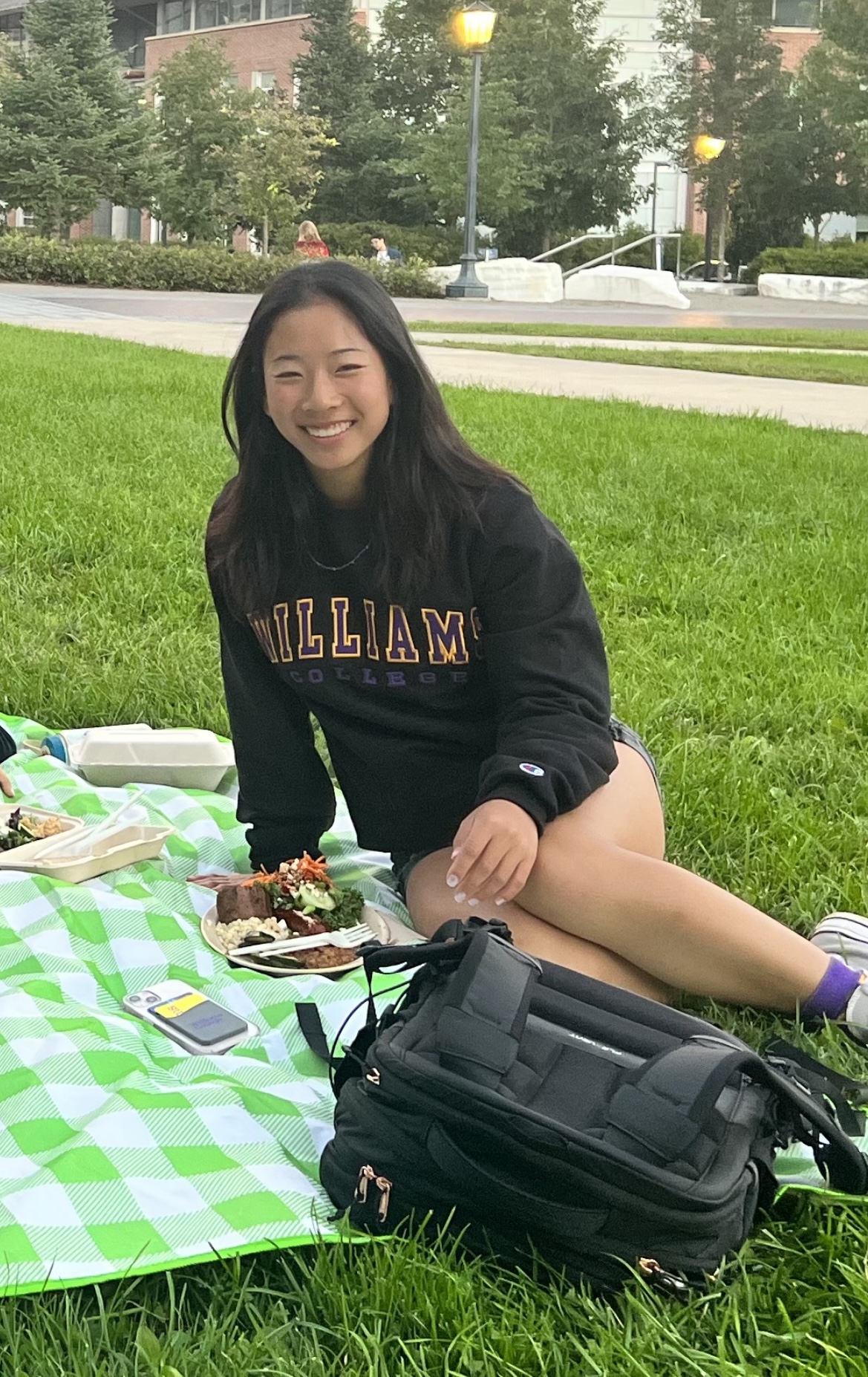 Each week, the Record (using a script in R) randomly selects a student at the College for our One in Two Thousand feature, excluding current Record board members. This week, Charis Woo '27 discussed being a coxswain, playing the harp, and her love for Taylor Swift. This interview has been edited for length and clarity.
Shane Stackpole (SS): So, you've been a first-year for about two months now. If you could travel back in time and talk to yourself during First Days, what would you say?
Charis Woo (CW): Just try and keep in touch with people more, and don't be as worried about finding people to hang out with because it will happen pretty naturally. And also to not be so stressed out about classes because, while it has been a lot of work, the exams I've had so far have not been as bad as my anxiety going into them. 
SS: You're a coxswain for the women's crew team. What has that been like for you so far?
CW: I was a coxswain for men's crew all four years of high school. I really loved the men on the team, and my coach was amazing, but I felt like one thing I was missing from the men's team was a sense of community. So when I was reaching out to coaches for recruitment, I reached out to women's teams. I've found a better sense of community here on the women's crew team than I ever could have imagined. Everyone has been so supportive, and the team culture here is so positive — everyone is really a family. 
SS: What was the recruitment process like for you?
CW: It was interesting because a lot of my rowing career during high school was affected by COVID, so I wasn't able to be in boats and go to competitions as much. The recruiting process for women's rowing typically starts junior year, so I had hardly any recordings or results to submit to coaches. I did get to go to nationals as a junior, which definitely helped. But I ended up basically reaching out to coaches and saying I have good academics and will get a lot more experience over the next two years of high school. 
SS: What was it like going to nationals?
CW: I had fairly low expectations going in and was just excited to go. The boat I was in was warming up for a race. We were going pretty fast, and there was a boat that I didn't see because I was sitting behind all the rowers, wasn't looking around enough, and it was pretty crowded. I ended up hitting a boat from another team right before the race started. It was probably the worst experience I've had rowing, but I learned how to be more aware and how to function better in very high-pressure scenarios. 
SS: I stalked your WSO profile, and it says you're from California. Could you tell me about your experience growing up there? 
CW: I was born in Orinda, California, and have lived there my entire life. It's a really quiet, small town in the suburbs, and it's a little over half an hour away from San Francisco. I feel like I definitely wanted to go to college as far from there as possible, not because it was a bad experience living there — I just really wanted a big change for college. I'm interested to see and experience the winter here. 
SS: [Laughs.] Yeah, it can definitely be intense. How have you been enjoying Williamstown so far? 
CW: It's so beautiful. We have mountains in California, but everything is so brown. Coming here, there's just so much greenery. Watching the leaves change color has also been amazing because that doesn't happen in California. I also think being in a small town far from any big city has been a big change. 
SS: Yeah, the rural setting can definitely be tough at times. You also mentioned to me that you like to play music. What instruments do you play? 
CW: I have been playing the harp since I was 5 years old, and I used to play at a fairly high level. I did competitions before I started rowing. I still think the harp makes one of the most beautiful sounds an instrument can produce. However, I'm generally a pretty social person, so having to practice for three hours a day alone would have probably driven me insane at a certain point, which is why I switched over to sports my freshman year of high school. But music has and always will be a really important part of my life. It's always been a good outlet for me to express my emotions and process things. 
SS: That's so cool. Can you tell me more about the competitions you performed in?
CW: They were mostly local competitions. I was 7 years old during my first competition. I think I played "Amazing Grace," and I won, which was pretty cool. But then, as I got older, it became pretty clear that I didn't have a high enough level of focus or attention to detail needed to master songs, and I didn't particularly want to fight to develop that. The last competition I did was interesting because, rather than being a harp competition, it was for any instrument. I ended up winning second place, and all the winners were invited by the people who ran the competition to perform at a Christmas party. We were paid a couple hundred dollars to perform for only 30 minutes or so, which was pretty cool. 
SS: Who are your favorite artists that you like to listen to?
CW: I really like Taylor Swift.
SS: OK, she's literally my favorite artist ever. 
CW: She is so good. She has a song for everything. I saw this Instagram post talking about how she's been in the industry from such a young age and has really been able to chronicle her perspective of growing up into a woman. 
SS: I have to ask — do you have a favorite album or era?
CW: I feel like it totally depends on my mood, but Speak Now and 1989 are the most nostalgic for me and have the most songs that I'm attached to. But I also love a lot of songs from Lover such as "Cornelia Street" and "Death By A Thousand Cuts." I especially love the live, acoustic versions of those songs that she recorded in Paris. And, of course, I love "Enchanted" and "Sparks Fly"  — you know, the classics.