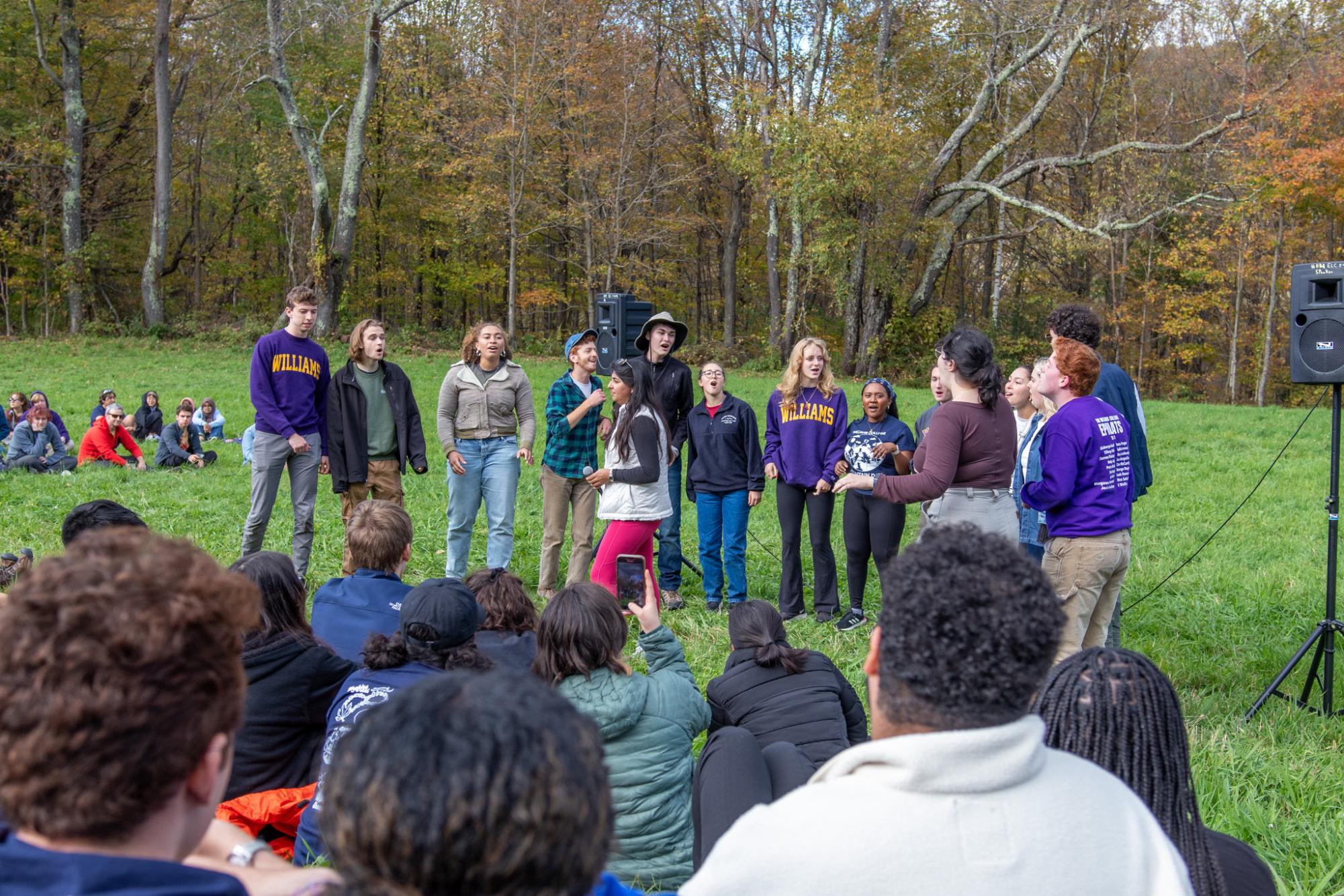 Ephlats President Josh Kirschner '24 found out it was Mountain Day with the rest of campus early Friday morning, when President of the College Maud S. Mandel sent out her annual email canceling classes and encouraging students to hike, indulge in apple cider donuts, and watch an array of student performances. For many students, the email meant a day off, but for Kirschner, it meant he and the rest of the Ephlats were being tapped to perform a song at Haley Farm Meadow on a few hours' notice.
Like fall foliage and the morning bells, student dance and musical performances are a hallmark of the beloved College holiday. But, given the uncertainty of its exact date and a quick turnaround for preparations, performance groups are under a time crunch to prepare for their Mountain Day showcases. 
After the senior class graduates in the spring, Kirschner said, the Ephlats typically elect its new leadership. But as soon as elections are over, the group's attention turns to its Mountain Day performance.
"Our first order of business is selecting our Mountain Day song," he said. The goal, he added, is for the song to be arranged completely before the group begins rehearsing at the start of the next academic year.
The same is true for the Springstreeters, who selected and arranged their Mountain Day song — the Dion hit "Runaround Sue" — during the summer before group members returned to campus, said co-Music Director Cooper Johnson '26.
But even with the early preparations, the lack of rehearsal time still brought challenges, especially after new members were inducted in mid-September. Despite the crunch, Johnson said the Springstreeters's song was "performance-ready" before Oct. 6 — the first potential Mountain Day — but the extra week gave the group an opportunity to tighten the performance.
"When it wasn't the first Friday, it allowed for us to work on it a little more, clean it up, and add choreography," he said.
Unlike their a cappella peers, music groups ¡Vive! and Cello Shots pulled from last year's repertoire for their Mountain Day performances this year. "We don't really have enough time to arrange a song," said Cello Shots member Gus Demerath '25.
¡Vive!, which put on a three-person arrangement of "La Llorona," a song they performed last year, changed some of the instrumentation to include a new first-year member who was interested in performing, said the group's co-president Olivia Helfrich-Tapia '26.
Mayor Watts '25, co-secretary and social chair of the hip-hop dance group Nothin' But Cuties (NBC), said she finds Mountain Day stressful yet fun. Because it's so heavily attended, the performance serves as a preview for the rest of the season, which makes the stakes feel high for NBC.
"We have practices every Thursday night of October on top of a pretty tight schedule for learning our dances for Mountain Day," Watts said. Group members have to sacrifice time they could spend studying for midterms or rouletting — the tradition where students party the Thursday before a potential Mountain Day in the hopes that classes are canceled — in case they have to perform the next day. 
Latin dance group Ritmo, on the other hand, uses Mountain Day to experiment with improvisation, performing choreography that includes staple moves of various Latin dances while leaders call out the instructions throughout the show. 
"The dance isn't something we need to plan for," explained Yoyo Feliz '26, a member of Ritmo.
The jazz group Purple Note prepares — or doesn't prepare — similarly. "With jazz music, there's a lot of standards that most musicians just know, and we tend to play those," said Purple Note member Michael Ma '26. 
For Mountain Day, Purple Note performed the common jazz standard "Autumn Leaves," which Ma noted was on theme for the event. "Most people will [already] know the chords, so you can perform it without having ever played it with someone before," he said. As a result, Purple Note needs little preparation.
For some performers, the stress of Mountain Day lies less in the element of surprise or the lack of rehearsal and more in the logistics of the day itself — performing outside, sometimes after hiking — which are hard to recreate during practice. 
Demerath, for instance, noted that cellos can quickly go out of tune if they are kept outside, and if the temperature drops too low, it can be hard for cold fingers to maneuver the instrument.
For a cappella groups, recreating the sound they've perfected on the top of a hill at 10 a.m. leaves a certain amount up to chance, given that factors as unpredictable as wind conditions can affect the performance. 
"It's a very unserious kind of stress," said Jules Gaskin-West '24, a member of Purple Rain. "I think it's cruel and unusual that they make us hike before we're supposed to sing really long notes."
But, Johnson said, the Mountain Day performance is by no means a make-or-break for an a cappella group's year. "I personally feel like it's very low-stakes," he said. "Singing outside is never going to sound good, so being able to successfully get through the song itself I see as a success."
"It's hard to feel like we're showcasing anything because nobody can really hear anything," said Yona Kruger '25, co-music director of the Ephlats. "We go warm up in the woods, and then we sing. It's fun."
Despite the stresses, Helfrich-Tapia said that she appreciated the opportunity to showcase her group's talent to a broad audience. 
"When there's an amalgamation of different groups that have different audiences coming together, you get to see performances you maybe wouldn't make time to see individually," she said. 
For Laura Sabino '24, a member of African dance group Kusika, it was a memorable first performance. "It was so much fun," she said. "It was fun making eye contact with the other people I was dancing with and with the crowd. I was like, 'Oh, we're all outside sharing this.' It was a good feeling."