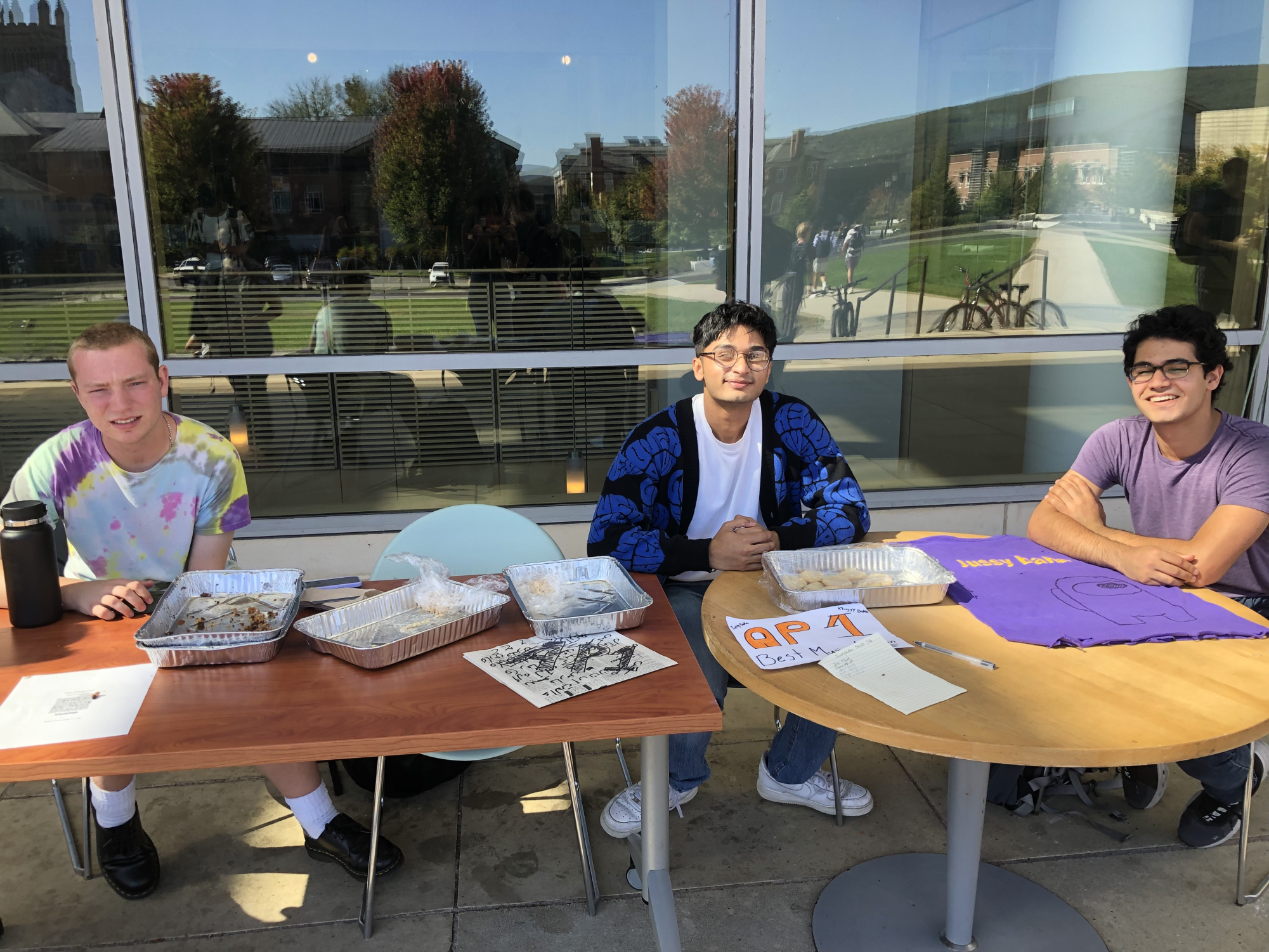 Students near Paresky Center on Oct. 2 might have noticed an unusual sight: a bake sale run by Junior Advisors (JAs) and first-years from the Mission Park entry AP1. 
The entry sold rice crispy treats, "brookies," and sugar cookies, raising over $200 to spend on entry snacks and end-of-year merch after their first day. 
[Editor's note: Pat Klugman '25, JA for AP1 and co-president of next year's Junior Advisor Advisory Board (JAAB), is a podcast editor for the Record and was not involved in the writing of this piece.]
According to Associate Dean for First-Year Students Christina Walsh, the change in available funds for entries was a direct result of budget cuts for the 2024 fiscal year. 
In previous years, Walsh wrote in an email to the Record, while entries were allocated roughly $50 per student for the academic year, entries were allowed to overspend up to twice that amount.
"Because of clearer budget oversight, the JA budget is only allowed to be spent to its actual amount, not above," Walsh wrote. 
For Nyamekye Akosah '25, a JA for Willy 3, the news was an abrupt start to the year. Despite overspending by past JAs, Akosah said he did not have the impression that the entry system had particularly generous budgets. 
"I've jokingly said that we were broke before we even started," Akosah said. "It's not like I thought that we were going to have copious funds just coming through on the daily, but I also didn't think it was going to be so stringent." 
Jaskaran Singh '25, a JA for AP1, had a similar reaction. For entry snacks, Singh and his cohort have allotted $15 each week to purchase food for all 25 members. 
Such a strict budget, he said, feels at odds with the mission of the entry program. "It's weird because the College puts so much emphasis on the entries," Singh said. 
When brainstorming ways to bolster entry budgets, the idea of a bake sale was suggested by JAAB, which was met with mixed responses. 
In an email from Walsh regarding the prospect of running a bake sale in order to raise funds, Singh and Klugman were told that entry fundraisers were common before COVID-19. Still, Singh wondered how the student body would react.
"Imagine the reception from upperclassmen," Singh remembered thinking. "Like — why are the entries running bake sales for their frosh?"
As time went on, though, the idea stuck and began to gather steam. 
For Abed Togas '25, a JA for AP3,  the stricter budget meant more responsibility on the JAs to decide what is most important for the entry experience.
"We're trying to set aside a lot of money for our merch at the end of the year, but that may cut a lot of funding for some of the events that we want to have throughout the year," Togas said. 
Singh felt the same. "We were talking about what entry merch we should get this year, and all we can really get is, like, a tote bag and socks," he said. 
Such trade-offs may impact first-years in different ways. For Harry Ferreira '27, the entry system experience has been somewhat underwhelming, and a smaller budget has exacerbated the issue. 
"I don't put that much energy into meeting my entry because it's just entry snacks and that's it," Ferreira said. "It doesn't feel like there's any other way to interact." 
He also noted that he feels hesitant to ask for amenities for common spaces like a Brita water filter, for the entry common room. "I don't feel comfortable asking for things like that, because I don't know what the budget is," he said. 
At the same time, the tightened budgets have fostered a sense of camaraderie that has formed from the new budgeting. "We're trauma-bonding in Stop & Shop over trying to figure out what will fit in the budget," Singh said.  
Despite these changes, however, some JAs said that the core of the entry system remained intact. "If we had a larger budget, maybe we'd be balling out," Akosah said. "But things like snacks — they're more about providing a space for people to meet each other, and I feel like, honestly, you can do that with any amount of money."
Singh echoed this sentiment. For him, cementing an environment of mutual trust and respect, as well as fostering growth for first-years, are the foundation of what makes entries important.
"As a JA, I've been taking a lot more time designing what I want and what values I want to cultivate for the freshman class," Singh said. 
"Things like saying hi to each other, singing happy birthday to each other, showing care, knowing how to forgive people when they've caused harm, and how not to cause harm," Singh said. "All of those different things that make a community what it is."