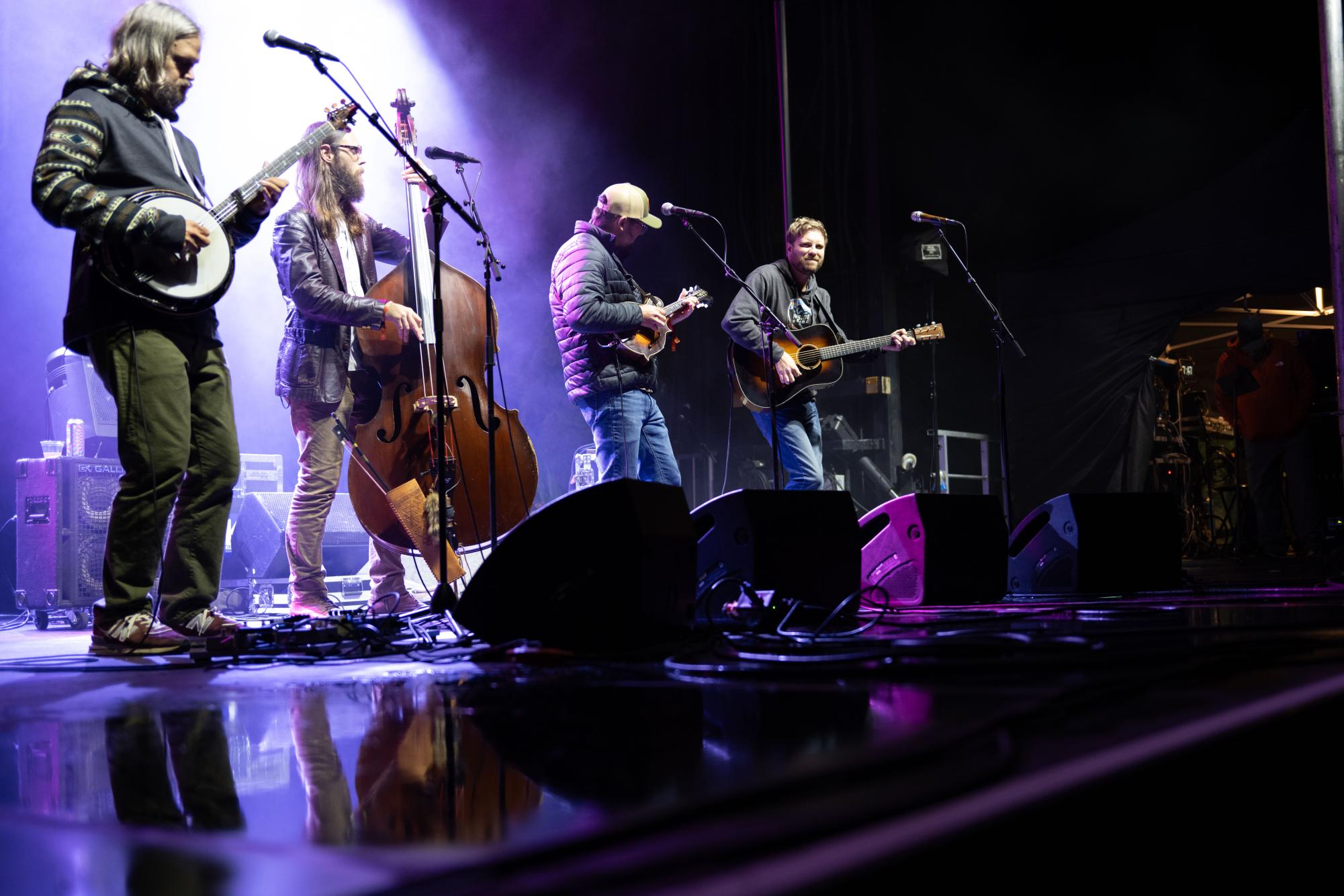 I have now seen trampled grass and facial hair of widely ranging hues. I have seen enormous upright basses. I have smelled wet man, wet child, and locally brewed beer, all distributed somewhat evenly across the backlands of MASS MoCA. I have seen several thousand bluegrass fans jumping and stomping, muddying their cowboy boots and Carhartt pants. 
I have seen a lot of really big bratwurst sausages. I have seen two-fifths of the Purple Valley Yoga Club, the entire leadership team of the Prison Book Club, and both presidents of the Williams College Democrats. I have been yelled at by old men while weaving through the crowd, and I have been praised by an old woman for interviewing Ric Robertson of the Sam Grisman Project because he's "really something." 
This past weekend, FreshGrass, a bluegrass music festival, returned to MASS MoCA for its dozenth year. The festival annually draws thousands of visitors to the Berkshires, including some lucky students from the College who get to attend the second day of the festival for free, courtesy of tickets purchased by the Residential Life Team. 
This year's lineup boasted Sierra Ferrell (back for the second year in a row), Arkansauce (who are, in fact, from Arkansas), the Sam Grisman Project (four guys around one microphone), and, as the festival's somewhat off-brand pièce de résistance, the Dropkick Murphys (Acoustic). The MASS MoCA courtyards were filled with various food vendors — come for the brats, stay for the sushi tacos — and vintage clothing sellers. 
My fellow student attendees and I were somewhat deterred by Saturday's rainy weather, but we eventually rallied and made it to the festival around 4 p.m. This was my second year attending FreshGrass, and while my memories of sitting on a sunny hill encountered no reiteration in this Saturday's misty landscape, the festival's twangy tunes still warmed my damp, flannelled shoulders. 
Upon arrival, I immediately encountered familiar faces. Tahlia Gerger '27 told me that coming to FreshGrass made her better understand how her experience at the College fits into the greater Berkshire community. "It's weird to only be around young people," she said. "It's also really fun to learn about the place you are [in] and the people who live there and the things they like to do."
I then ran into Elka Longstreth '25 and Liv Chambers '25, who were coming from Aoife O'Donovan's performance, where the singer had been accompanied by a chamber orchestra and choir. Longstreth and Chambers waited 45 minutes for the performance and were both moved to tears. Unfortunately, they were unable to give cohesive statements.
After a rousing set from Tuareg singer-songwriter Bombino, I wrung the rainwater from my hair and made my way over to the Sam Grisman Project performance. Sam Grisman, some research revealed, is actually bluegrass royalty. His father is David Grisman, close friend and musical partner of Grateful Dead co-founder Jerry Garcia. Sam had some big shoes to fill, but I was more than satisfied with his band's performance — they've mastered a certain LA-hipster-meets-oldie-bluegrass charm. 
Isabelle Sanderson '25 also found Sam Grisman's performance similarly compelling. "I thought he was smiling right at me!" she said. Unfortunately for Isabelle, I also thought that Sam Grisman was staring right at me, so maybe that's just his schtick. 
I got the chance to speak to another charming member of the Sam Grisman Project: the aforementioned singer-songwriter Ric Robertson. When asked why live music is important to him, Robertson responded in his smooth drawl, "It's everything. It always has been. Music was just the path … Live music is my life, my love, and my work." 
As the sun set over North Adams, we made our way over to see Arkansauce. The band has that classic bluegrass twang — as they plucked their respective instruments, audience members circled left and do-si-doed.
"There's nothing like Arkansauce," Sasha Snyder '25 told the Record. I couldn't help but agree. 
Headliner Dropkick Murphys closed out Saturday night. The band — notably punk and not bluegrass — was an interesting choice for a headliner, but I quickly learned that they had released a cover album of folk hero Woody Guthrie songs, hence their presence at FreshGrass and the parenthetical addendum to their listing on the schedule. 
Many students from the College had already fled the stormy scene, but I stayed a bit longer to see whether the Dropkick Murphys would play arguably their most famous song, "I'm Shipping up to Boston." Alas, after a few loud, harmonica-heavy songs, none of which were "I'm Shipping up to Boston," I had become too saturated to endure the rest of the set. The day was done, and campus beckoned me back. 
I'll probably be attending FreshGrass next year, if weather permits. At any rate, I'll think back fondly on my conversation with Robertson. "Good for you for going to a music festival and supporting live music and keeping your minds open in a time where there's a lot of distraction," he told me. I blushed. As for the rest of you: "Stay present. Be good to each other." 
[Editor's Note: This article was updated online on Tuesday, Nov. 28, at 3:36 p.m. ET. A previous version of this article incorrectly stated that Sam Grisman's father is "the late" David Grisman. David Grisman is still alive. The article has been updated for accuracy.]