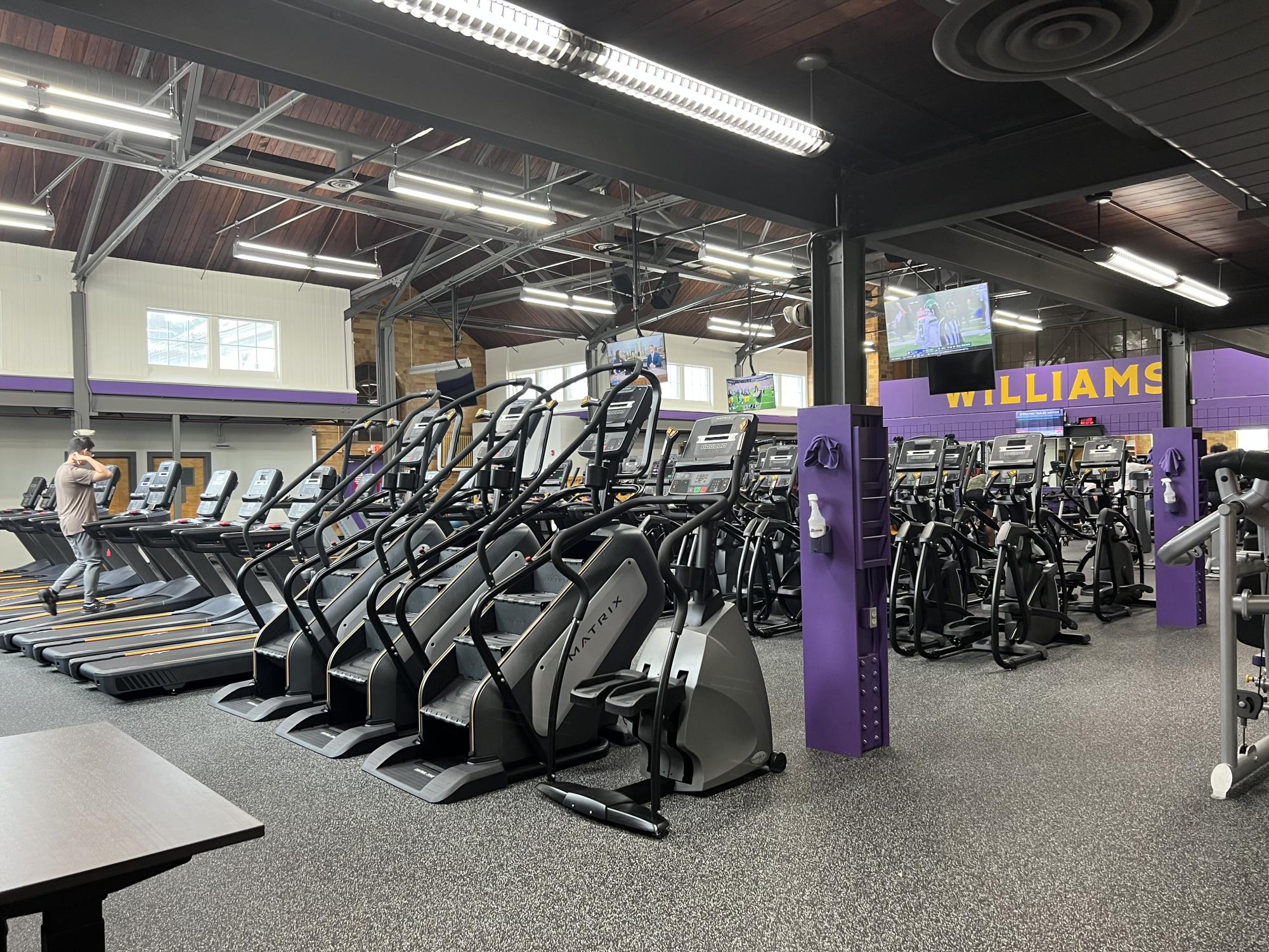 On Sept. 7, the remodeled Upper Lasell Fitness Center opened for the 2023-24 academic year following its closure on June 5 and a summer of renovations. The modernized space features updated equipment, single-user bathrooms, and the Pasture, a new snack bar for varsity athletes. 
In a message to students, faculty, staff, and other community members last spring, the College announced that the renovations were made possible by an anonymous donor family. "It has been many years since a reset on that space has happened and is long overdue," the College wrote. 
During the remodeling, Lower Lasell Fitness Center remained operational, and equipment from Upper Lasell was temporarily installed in Lasell Gymnasium to support users' training and exercise over the summer.  
In its first two weeks since opening, the new and improved Upper Lasell has gained a lot of traction among new and returning students. Sofia Leaf  '26, who uses the gym for cardio and strength training, said she was impressed with the new equipment. "The addition of new machines gives me more options during my workout," she said. "The space doesn't feel cramped anymore, and it is getting utilized more efficiently."
The new fitness center is not the only upgrade to the College's athletic facilities: The Pasture, a new snack bar in Chandler Gym, opened on Sept. 11 to varsity athletes. This addition comes without any extra charge to athletes, who can obtain snack items by using their ID cards, with a limit on three total snacks per week. 
The dining option was built in response to growing concerns from student-athletes and coaches about limited grab-and-go food options on campus, according to Carolyn Miles, associate director of student-athlete services. "We were finding that folks were hungry and short on time," she wrote in an email to the Record. "They were running from class to practice or from practice to study and didn't have the time they needed to stop by the dining hall to have a meal."
The Pasture offers a wide selection of energy-packed snacks including protein shakes, bars, fruit leathers, yogurt, chocolate milk, pretzels, and fresh fruit. Open from 3 to 5 p.m. on weekdays, this dining option aims to accommodate athletes' busy schedules between classes and practices. "The goal is to be easy to grab and quick to eat," Miles wrote. "This is not a meal replacement but a pre or post-practice snack to get folks to their next meal." 
While the Pasture has only been open for two weeks, many athletes said they are already appreciating its impact on their day-to-day nutrition and athletic training. Audrey Riddle '26, a member of women's crew, acknowledged the Pasture's expanded food accessibility and affordability. 
"It really shows that Williams cares about every athlete's nutrition and … is thinking about where students come from and who is actually able to afford healthy snacks," she said. "I think the Pasture makes access to healthy snacks much more equitable for students, especially considering how expensive the options are on Spring Street."
Miles, who has helped behind the counter with other athletics staff at the snack bar, noted an enthusiastic reception from athletes. "We've heard several comments, like 'This is a game changer,' in just the first two weeks," she wrote.
However, its growing popularity has already put a strain on the Pasture's snack supply. In an email to student-athletes on Monday, Miles noted that the snack bar was already seeing several hundred visits a day. Just last week, several menu items such as protein bars and shakes were completely out of stock. Miles addressed this concern and announced in her email that a limit will now be placed on all snacks: one item per week. This change will be in tandem with a limit of three total items per week. 
Despite constraints on snack supply, the Pasture remains a valuable addition to athletes' training and nutrition. Hudson Hansen '26, a member of men's basketball, noted the added flexibility it has given his schedule. "The Pasture has been a move in the right direction for fueling athletes up, especially before or after working out or practicing," he said. "I appreciate it because it does fill the gap of grabbing a quick snack a whole lot more conveniently, especially during times when the dining hall isn't open."
"I actually love the Pasture," said John Pagano '26,  a member of men's golf team. "It's sick."