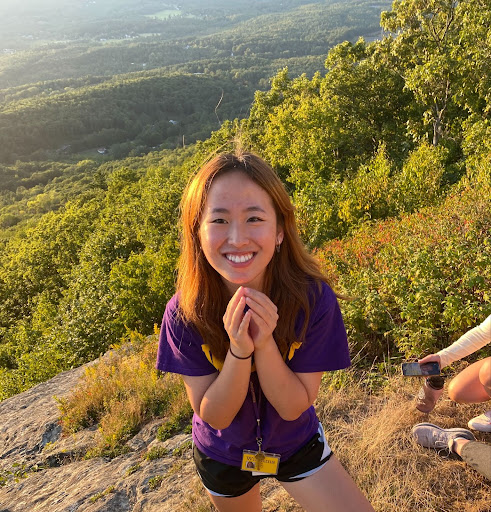 Each week, the Record (using a script in R) randomly selects a student at the College for our One in Two Thousand feature, excluding current Record board members. This week, Yuling Lin '26 discussed feeling at home at the College, a new RSO that works to make food more meaningful, and her involvement with the Chinese department. This interview has been edited for length and clarity.
Pat Klugman (PK): Now that you're a sophomore, do you feel like you've created a home at the College?
Yuling Lin (YL): Yeah, I think so. In New York City, I never felt like I had a room or space in my life that was completely mine, so when I got a single last year in Frosh Quad, it was so nice because I never had the space at home for a desk in my room.  I literally had a small bedside table where I would crouch over to do my work. I remember thinking, "I finally have this place that is completely mine."  I think it's so funny that I call Williamstown "home." It's a very subconscious thing.
PK: [Laughs.] I also call Williamstown "home" now. Are there communities on campus that have fostered your sense of belonging here? Which ones?
YL: One of the first things I did here was join club volleyball. I used to hate exercising, but during volleyball, I'm running around all the time, being so active, and I love every second of it. I'm also on the Questbridge board this year as the treasurer and am a Science Fellow at Greylock Elementary School. Currently, a few of my friends and I are trying to create this RSO [registered student organization], and it's hard to fully describe our vision of it, but our general purpose is to make food more meaningful on campus.
PK: Awesome! Can you tell me more about the RSO? How are you all trying to make food more meaningful?
YL: Making food more meaningful obviously comes with diversifying the food we have on campus but also putting our faces and labor behind the food we make. We hope to sell these foods with swipes to students. Then, we could donate the proceeds to different causes. 
PK: What inspired you and your friends to start planning for this RSO?
YL: At Williams, food is so easily accessible, but also because of that reason, we trash it or tend to not think too deeply about it. Part of our mission is to redefine people's relationship with food and draw our attention to the monetary as well as labor aspects that go into making food.
PK: That sounds really interesting. I'd love to get involved. What were you up to this summer?
YL: I did a remote internship with this telemedicine company that focuses on medical second opinions. We acted almost as a broker, so we would connect patients to research partners. Our partners would include research hospitals that could conduct top-tier research on very specific subfields of medicine. We're kind of like a business-to-business company. 
PK: Do you want to work in the business sector once you graduate in a few years?
YL: Coming into college, I was very focused on either doing pre-med or going into research. I really appreciated how social this internship was, though. I was able to see directly how this aspect of healthcare could directly apply to my everyday life. The difficulty with going into biotech, though, is I have no idea what the path looks like. I guess that could be an exciting thing, though, poking around. But it's also fear-inducing. 
PK: That makes a lot of sense. In addition to chemistry, what else are you academically interested in?
YL: I'm really into learning Chinese. I know the language, so it's more about learning the culture using Chinese — I think there's a lot of things that get lost in translation. I often feel that I can't fully convey a concept in one language in another language. 
PK: Have you taken any other Chinese courses?
YL: I took Chinese 401 and 402 last year, just to see what the Chinese department feels like. It feels like a big family rather than a department, and I feel really seen. This semester, I'm taking a tutorial called "Reading Spring Grass." It's really nice to read about complex issues in Chinese — I can have a better context of my parents' lives because they came from the villages. I mean, I did too, as we immigrated here when I was 6 years old, but it applies more to them. 
It's been a really long time since I've gone back to China, though — 2014 was the last time I went, and obviously, it has changed so much in the last decade. Learning about current events or cultural context surrounding China in Chinese feels more authentic. I feel more connected.
PK: That's great. What are some other points of connection you've felt at the College that you want to highlight?
YL: I'm also a TA [teaching assistant] for Chinese 200 and 301. Chinese 200 is for heritage speakers. I was kind of nervous because I didn't know what to expect. However, after meeting the students, I realized I feel more comfortable correcting their Chinese because I know where they're coming from. I feel like I can directly see myself in them.