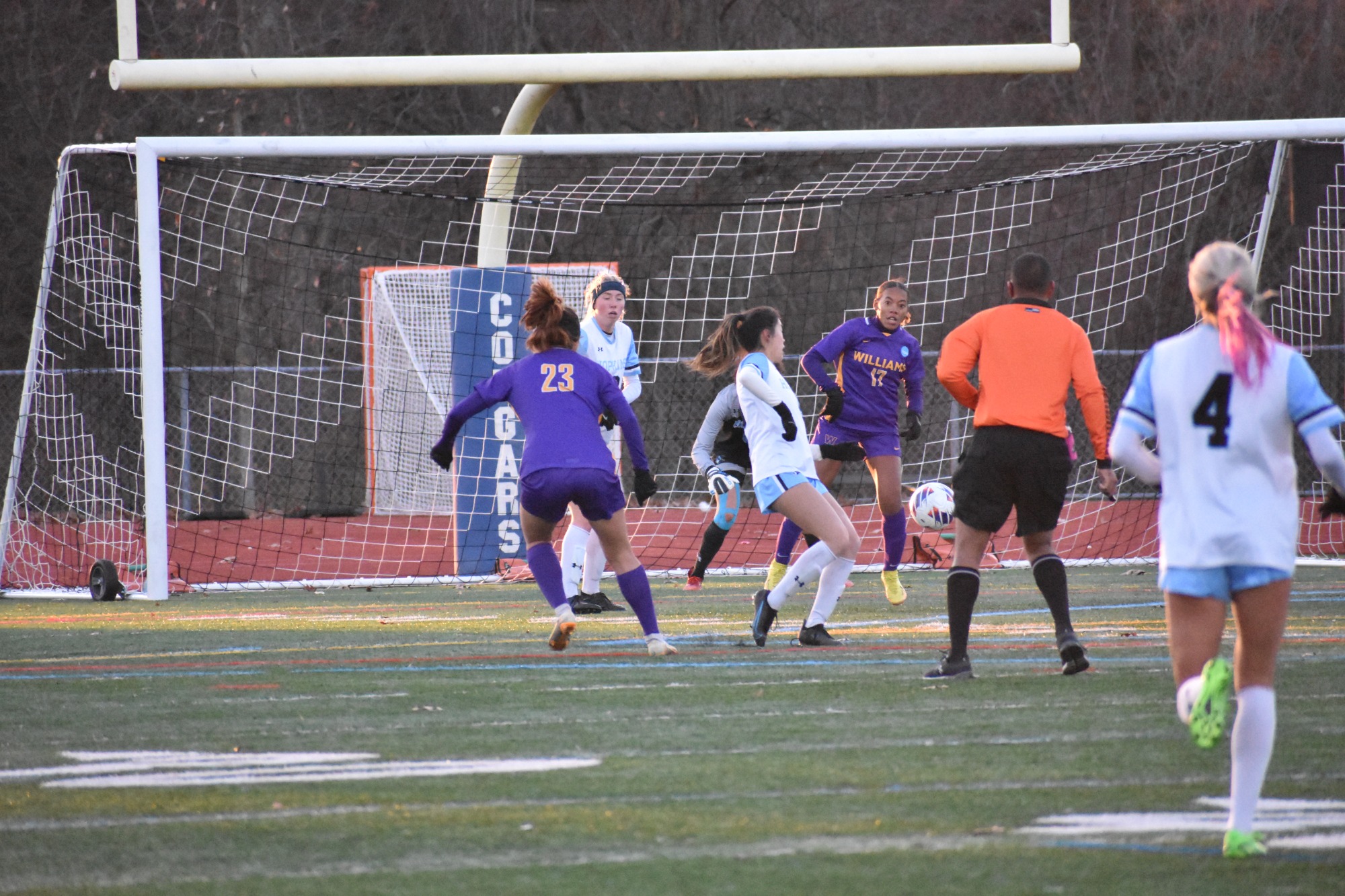 Women's soccer (4-0-1, 1-0-1 NESCAC) beat Bates (1-2-1, 0-1-1 NESCAC) 2-0 on Sunday, remaining undefeated at the outset of  this year's season. Blakeley Buckingham '25 scored her first goal of the season — and the first goal of the game — just five minutes into the match. Bria Abbiati '27 contributed another at the end of the first period with an assist from Ansley Burns '26. A strong defensive effort from the Ephs and great saves from first-year goalie Ana Bozzi-Mackay '27 in the second period kept Bates scoreless and helped secure the Ephs' fourth win of the season. 
Head coach Sarah Raymond commended the depth of the Ephs' roster this year, emphasizing significant contributions from first-years competing in their first collegiate matches. "We are strong in every position and that has been reflected in the number of players contributing to every game," Raymond wrote in an email to the Record. "I have been impressed with the freshmen stepping in straight away to the level of the college game and know that they will only grow in confidence as the season goes on."
The Ephs ended the first match of the season with a scoreless draw against Hamilton on Sept. 5, with the midfield and defensive lines holding up against a barrage of counterattacks from Hamilton. But that weekend, the team bounced back with an 8-0 victory against Castleton University (1-2-0) on Sept. 9 and a 2-1 win over Babson College (1-2-1) on Sept. 10 to win the Manchester Women's College Cup. 
Burns saw the first match against Castleton as an example of how much promise the team has this season. "An 8-0 score, with multiple scorers, makes a big difference and shows us that everyone can score and have those opportunities," she said.
Parker Harnett '25 added that winning the College Cup early in the season had a significant impact on the team. "Against Babson, when we went down 1-0 to start the game, it showed a lot of resilience because we came back to win that game 2-1," she said. "I think it shows the energy that we bring."The Ephs followed their sweep with a 3-0 win over Springfield College (3-1-2) in their Sept. 13 home opener on Cole Field.   
Looking ahead, the Ephs will face their next NESCAC contender at home against Colby on Sept. 23 to continue what players characterized as another competitive conference season. "I am most looking forward to our conference games," Harnett said. "Obviously, there are no easy games in the NESCAC, and I think we all know that."
Raymond echoed the sentiment, adding that the team culture of resilience cultivated over many years has prepared the team for adversity. "I love working with this group, and I feel confident that we will deal with whatever setbacks we might encounter along the way in constructive ways so that at the end of the day, we will succeed in creating an incredible and meaningful experience for each other," she wrote to the Record. "I have no doubt we will win many more games as well, but regardless of where we finish, I know we will have put in the work to feel very proud."