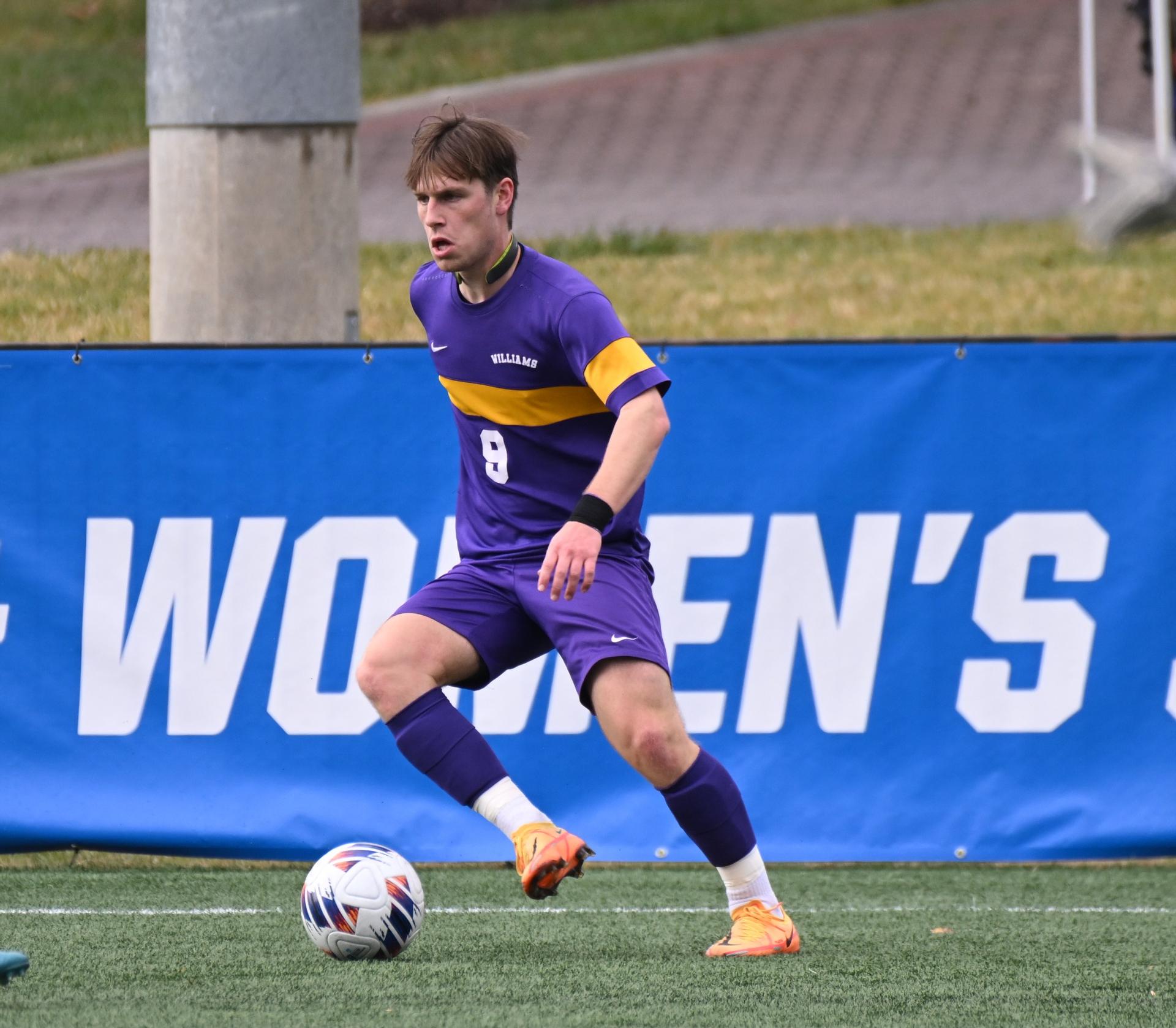 On Sept. 17, men's soccer (5-0, 2-0 NESCAC) defeated Bates (1-3-0, 0-2-0 NESCAC) on the road, maintaining  its undefeated season.  The Ephs have yet to concede a goal, and the win against Bates marked their fourth consecutive shutout. 
The Ephs opened the lead in the 12th minute when Dylan Kelemen '25 snared a pass from a Bates midfielder to its defensive line, chipping it in from the 30-yard line. The Ephs' strong defensive flank kept Bates scoreless for the remainder of the first period, interrupting several counterattacks. In the second period, a cross by striker Evan Vasquez '26 found Spencer Mix '27, who lept over a Bates defender to convert on the header. Just nine minutes later, Mo Keussom '26 scored his second goal of the season and brought the final score to 3-0. 
Midfielders Keussom and Andrew Coelho '27 gave a joint interview to the Record and expressed their thoughts on the season so far. "The season has started really great," Keussom said. "Last year, we had a tremendous run, [and] we started [this] season way better than we did last year … Everyone is buying into what [head coach Steffen Siebert] is doing. Everybody has the same goal, [which] is to be great, which I think is really cool." 
 Coelho — who scored his first collegiate goal in last week's 2-0 win against Western New England University (2-0) —  attributed the fact that three first-years have already scored their first varsity goals to the team's welcoming energy. 
"As a freshman, it's been cool to come into a program where everybody is bonded [to] the same idea, and everybody is trying to achieve a common goal," he said. "All of the upperclassmen [made] us incoming freshmen feel very welcomed… There isn't much of a hierarchy on the team. If you're a freshman, you're kind of treated the same way you'd be treated if you were a senior, [which has] made it a lot easier for us freshmen to transition into being a part of this team." 
Keussom said that one of the highlights of his season so far was watching Coelho convert on a shot from 30 yards out, cementing the team's 2-0 lead over Western New England. "My face was in shock — I was so happy," Keussom said. 
When asked about the team's camaraderie, Keussom said, "The group of guys we have is what makes the team the most special. We spend time … together when we're not playing soccer, which also creates a stronger bond on and off the pitch because we love each other. Coach will never say you guys have to spend time with each other — it's just a natural thing we do."
Last season, the Ephs earned an at-large berth in the NCAA Div. III tournament and fought to the Championship round in a Cinderella run. They ultimately fell  2-0 to the University of Chicago, but not before upsetting three nationally ranked teams and securing a spot in the Championship game for the first time since the team's NCAA tournament win in 1995. Reflecting on the loss of last season's fifth-year players, who helped propel the team's postseason run, Keussom emphasized that the technical abilities of the new players made up for the physical strength that the seniors brought last year. 
"The major difference [from last year is that] … we have new personnel," he said. "We also brought in new players who come from more technical backgrounds, in my opinion … Because we're not as big physically, it makes up for [it in] technicality." 
Next weekend, men's soccer will compete against Colby and Bowdoin in home matches. Remaining undefeated, the Ephs are hopeful.