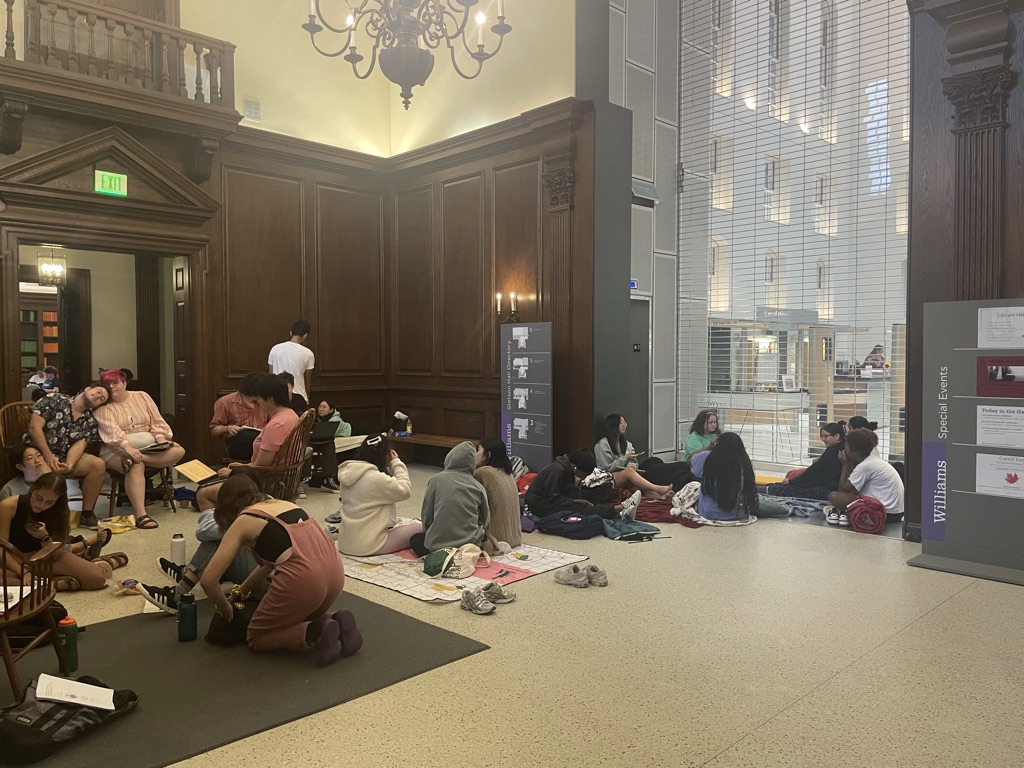 It's not uncommon to see students milling around Sawyer Library late at night or early in the morning, but last week, one may have noticed more students in their pajamas than usual. This was thanks to what Lee Benzinger '24 called "a cutthroat competition to the death" — the wait for a senior library carrel. Last Monday, Sept. 11, senior thesis writers waited to claim one of Sawyer's 120 carrels as their own for the year, some staking their spot in line by sleeping in the library's foyer overnight. 
Sawyer Library's Head of Access Services Nadine Nance said the first-come, first-served tradition for carrel registration existed long before her arrival at the College six years ago. "It's completely student-driven," she said. "It's fun for students to have that entry into their senior experience and celebrate the start of a very long road to writing a thesis."
I'm writing an Asian studies thesis this year, and I decided that I could not miss out on this College tradition. Unable to conjure the energy to stay the night, I, along with my suitemates Ashrita Iyengar '24 and Gwyn McLear '24, woke up early to arrive at the library by 7 a.m., one hour before registration for carrels began. At Sawyer, we found roughly 30 students already waiting.
In the line, which extended from the shuttered library gates to the 24-hour room, I waited behind Dani Galvez-Cepeda '24, who was finishing readings for her psychology senior seminar. "I'm all coffee-ed up," she said, noting that she had spilled some in her hurry to arrive.
Like me, Galvez-Cepeda did not stay the night at Sawyer — but Jules Gaskin-West '24 did. She was part of the first group of students in line. "It's senior year," Gaskin-West said. "When else can you do this? And if I got a bad carrel, I was going to make it everybody's problem."
Gaskin-West, along with Hannah Bae '24, Sunny Hu '24, Jahnavi Kirtane '24, Bella Nadel '24, and Daniela Sanchez '24, arrived at Sawyer at around 10:30 p.m. the night before  the big day with a collection of sleeping bags and blankets. The group noted the number of stares from both students and the custodial staff once they were settled.
"We watched people walking out, and there was a group of frosh that must have done a quadruple take," Nadel said. "I slept on one of the [24-hour] room couches for a bit, and I made eye contact with the one frosh who was there at 2 a.m. I was like, 'You have no business being here right now,' as if my business were any better."
To pass the time, the group watched The Princess Diaries, painted their nails, and completed crossword and sudoku puzzles. Nadel solved the day's Wordle in five guesses. "Not my best day," she said.
Alison Zhang '24, who arrived around 4:30 a.m., used her three-hour wait to finish her homework, which was due that afternoon. "My thinking was, what is one night for the entire year of a view?" she said. "At least that's what I'm telling my thesis advisor when I meet with her later today and I can barely speak."
Zhang noted the camaraderie she felt between the seniors who were pushing through the final stretch of waiting. "I appreciated the brief, communal reflection at 5 a.m. where we were like, 'What are we doing?'" she said. "This is what a personal desk at Sawyer does to someone."
The desire for a carrel also inspired creative ways to pass the time as comfortably as possible. Theo Detweiler '24 considered hammocking overnight, while Jack Davis '24 and Cooper Desmond '24 brought a lawn chair and an inflatable inner tube. "There wasn't much thinking this early in the morning," Davis said. "We just didn't think there would be any places to sit."
"I used [the inflatable] until my blood flow got constricted," Desmond said. "And then I became very uncomfortable."
Luckily for Davis and Desmond, who arrived a little after 6 a.m. and soon switched to chairs from the 24-hour room, the time passed relatively quickly. I found my own hour of waiting to be filled with laughter, questions about the opening time of Spring Street Market, and a steady flow of seniors who continued to join the line.
Cheers erupted one minute after 8 a.m., when the library gates rose. As we slowly inched forward, I grew more nervous about my options, though all I wanted was to be near a window. On the other hand, some seniors had specific carrels in mind.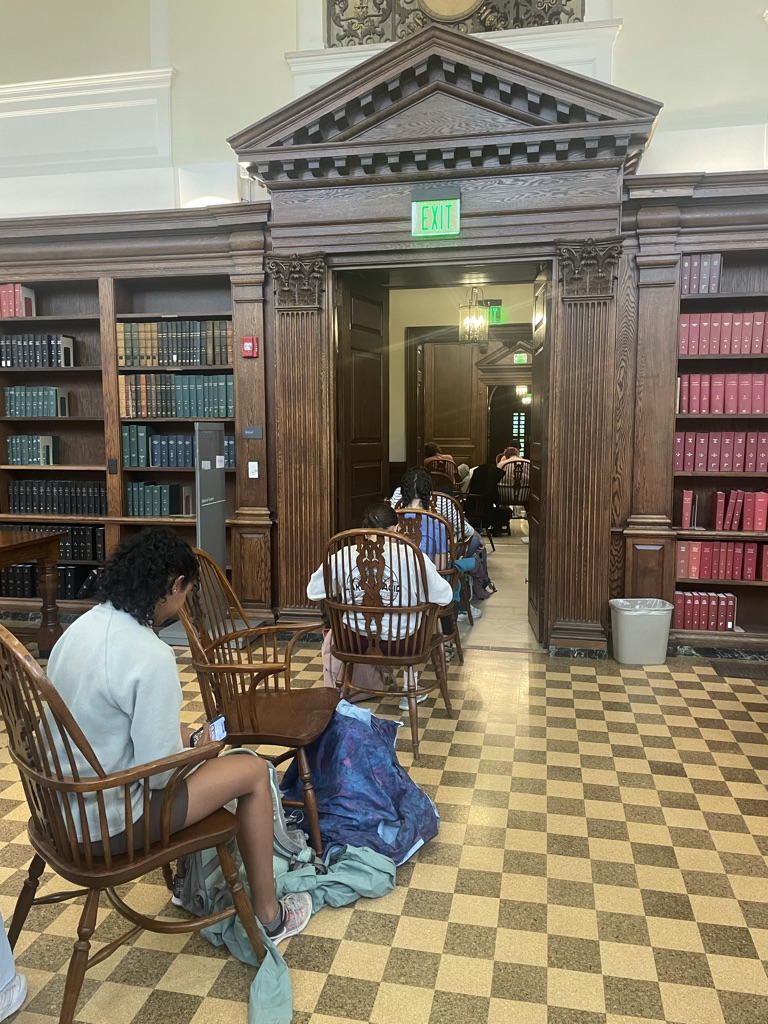 Hu said her group toured the library the night before. Sanchez hoped for a good view-to-privacy ratio, Nadel wished for a lockbox, and Kirtane planned to prioritize a carrel on the fourth floor. "I want to be in a more public space," Kirtane said. "I like working around other people."
"I just want a tree [outside of my carrel]," Galvez-Cepeda said. "I want to watch it change colors as the year goes by." 
Thirty minutes later, Galvez-Cepeda's wish came true: She chose a second-floor carrel facing multiple trees. I happily claimed a carrel on the third floor by  the big windows.
The third- and fourth-floor carrels are always the most popular, according to Nance, as well as desks with a view. "The first floor seldom gets completely claimed, and the cocoons — the ones with the backs to the windows — are always last to go," she said.
Nance said that "Carrel Day" is one of her favorite traditions at the library. "You look at [the students in line], and you think, 'Oh, this was a rough night because that's a hard floor out there,'" she said. "But I have never seen a grumpy student, even though they might have slept [there] all night long. They are so happy to have that space… It's just as much fun for me to be able to celebrate that with you all."
For future senior classes, Nance suggested scoping out the library beforehand and preparing a list of possible choices. "Evaluate what you are wanting to accomplish in this space and embrace it," she said.
And for those committed to sleeping overnight: "Bring a pillow, bring a blanket," Hu recommended. 
"Bring two blankets," Gaskin-West said.