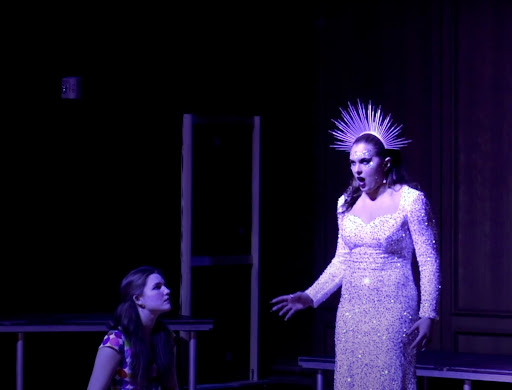 Until she received an email about auditions for voice lessons, Molly Arts '24 expected to dedicate her time on campus to her computer science and math double major and the swim team. She has since dropped the math major and left the team, instead prioritizing her voice and pursuing a career in opera. 
With encouragement from her voice teacher, Paul La Rosa '02, Arts decided to audition for La Bohème in January of her sophmore year and was cast as one of the lead roles, Musetta. During the rehearsal process, Arts contracted COVID-19 and had to remain quarantined until the day before her performance. Despite having to learn the part mostly on her own and barely having the opportunity to rehearse, Arts said her first performance was crucial in helping her decide she wanted to pursue opera. 
"Quite frankly, I blacked out most of the performance because of how blissful it was," she said. "I just felt so powerful and happy. Then I went into a spiral realizing I wanted to do this professionally."
To improve her opera skills, Arts decided to spend the fall semester of her junior year abroad in Vienna, Austria, through the International Exchange Service music program. In addition to studying opera history, Arts took performance-centered classes, including an advanced music performance workshop. The workshop encouraged students to practice their acting and critique each others' vocal technique.  
She noted that it was initially difficult to receive feedback from her peers, but she came to understand its value. "Honestly, it's really helpful to take advice from your peers because they're at similar learning points to you than teachers, who have way more experience," she said. "Your peers can resonate a bit more with how your brain processes things or how your voice is working."  
Arts's formal training and understanding of how to give and receive feedback on vocal technique has helped her serve as a leader of a capella group Purplexity. "A couple of people in the group have asked me for particular singing advice," she said. "It's a little weird because I don't feel experienced enough to be a voice teacher at this point in time, but I am able to translate what I've been taught myself to help other people." 
Beyond developing her ability to teach and assist other singers in Vienna, Arts also noticed a change in the quality of her voice. She said having a more critical vocal instructor and the opportunity to practice opera greatly improved her skills. "I had a voice teacher who focused more on hard criticism than constructive criticism," she said. "But when I tried out for the opera workshop in January, I realized the pieces I had been working on for Williams had improved a ton by the time I got back." 
After returning from Vienna, she performed as Queen of the Night in the College's Winter Study production of Die Zauberflöte. Arts then applied to the Mediterranean Opera Studio and Festival, an opera program in Sicily, Italy, where students performed in 24 showings of three separate operas: Lucia di Lammermoor by Donizetti,  La Traviata by Verdi, and La Cenerentola by Rossini. Arts was given her roles before attending the program and had to learn all of her music before arriving. 
Through vocal lessons and coaching, she came to a crucial realization during the program about her particular soprano voice. While at the College and through most of her program, Arts had learned the repertoire of a "lyric coloratura soprano" — a type of soprano with a light, fluttery voice who sings at a fast tempo, such as the part of Queen of the Night. Arts learned from her teachers in Italy that she is actually a "dramatic soprano."
"Dramatic soprano essentially means a heavier, darker soprano sound that doesn't move quite as fast because of the actual makeup of their vocal chords," she said. "It's not something you can train; either your voice is meant to be more lyric or dramatic. I was told by many teachers that my voice was dramatic — and while getting a vocal massage, I was told the muscles around my vocal chords felt thicker, as a dramatic soprano would have." 
Arts said she is excited to focus on more dramatic soprano repertoire in the future. "I'm glad that I have a dramatic voice because it's actually a very rare voice," she said. "It will make me stand out more in a crowd of sopranos." 
Arts has found strength in learning to adapt her voice to different genres. For example, when working on Cap & Bells' Pippin last spring, she noticed that the placement of her voice could help her blend with the ensemble and match the musical theatre style. "I didn't feel like I had to change much technically, but I recognized if something became too loud or too vibrato, I had to orient my voice a bit more into the front — in my nose — rather than creating the space above and behind my head, which is usually how you're supposed to think about it classically," she said.
Arts also recognized where her vocal skills still needed improvement. To help her learn music faster, she decided to take music theory this semester. Arts said she is eager to continue strengthening her voice and technique at graduate school programs for opera  and then, eventually, as a professional opera singer.
"A lot of people are asking me why I want to do [opera] when I could do something else to make more money first, but I want to pursue what I love right now," she said. "We work too hard in life to put aside what we love too early. If it doesn't work out, it doesn't work out, but I want to try to pursue opera because it's what I love."