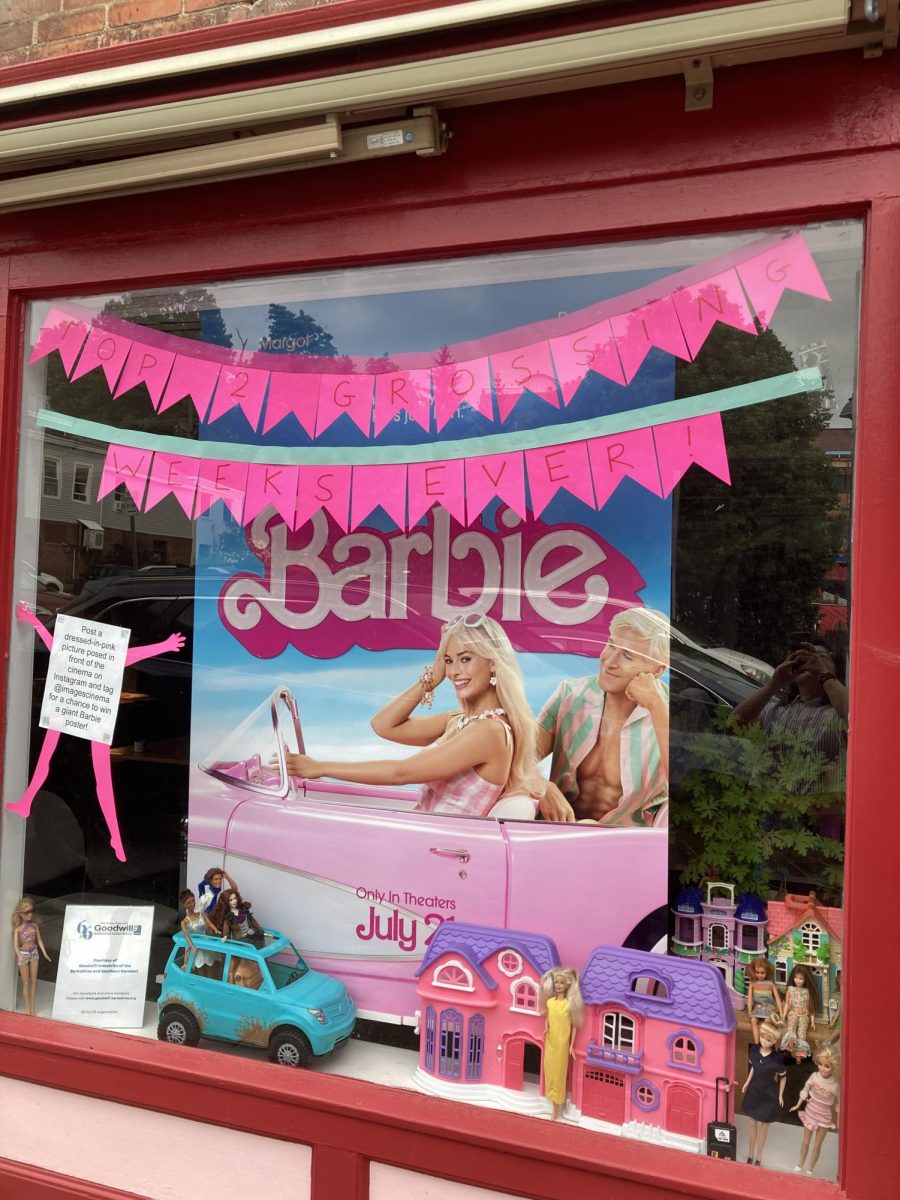 For over half a century, Barbie has dominated the toy industry, with approximately one billion dolls having been sold since her release in 1959. This summer, she took over the big screen in Greta Gerwig's eponymous original blockbuster film. Viewers, dressed from head to toe in pink, flocked to the cinema for weeks on end, earning Barbie the status of highest-grossing film by a female director in the U.S., and one of the highest-grossing movies of all time. The effects of its popularity could be felt in Williamstown, too: The film also inspired the highest-grossing weeks at Images. 
"The first two weeks of Barbie were our two highest-grossing weeks in Images Cinema's history," Images Cinema Managing Director Janet Curran said. "It felt amazing, and watching the film in a packed house was incredible but also stressful. Everyone on staff was exhausted after our four-week Barbie run."
Barbie, starring Margot Robbie as Barbie and Ryan Gosling as Ken, follows the two characters as they leave Barbie World for the first time and learn that the real world is governed by misogyny and bigotry. "Barbie was initially a wonderful escape — and quickly became an important wake up call," Hailey Brown '24 said. "It is the greatest and most intelligent advertisement I have watched in a long time."
The movie also examined the lived experiences women in a patriarchal society. "I think it does a good job of portraying how women constantly feel like they have to perform and fulfill so many different tasks and roles for men," Mariel Baez '26 said. 
One scene in particular struck watchers: Gloria (America Ferrera), mother of rebellious teenage daughter Sasha (Ariana Greenblatt), delivered a passionate monologue about the impossible standards of being a woman. "I was sitting in a theater in New York City, and the whole audience started applauding," Brown said. "Tears just started pouring down my face."
However, some students noted that not all viewers found the film to be inspirational and positive. "I've seen many men take the movie's message as a personal attack," Baez said. "[However], the movie is not attacking them; it's attacking the system of patriarchy in which we're all implicated. The end is all about making people feel empowered, not about tearing men down." 
While many agreed that Barbie depicted these feminist ideals, some also noted that there were nuances that it failed to highlight. "[The movie made it seem like] Barbie power and Ken power cannot coexist," Brown said. "I wish the writers had found a way to give the Barbies the power they deserved without it needing to come from a place of manipulation of the Kens." 
Baez added that she thought Barbie explored the intersectionality of womanhood poorly, which she said impacted her ability to relate to the characters emotionally. "Typically for women of color, daughters don't rebel against their mothers, and rather, they turn to them for relief from the outside world because they are not only dealing with patriarchy — they are also dealing with racism," Baez said. "Despite being Latina women, Sasha rebels against her mother Gloria [in the movie], which doesn't accurately represent a Latina family. This made their relationship a little less relatable because I would never talk to my immigrant mother [like Sasha does]." 
While weighing what Barbie does and does not accomplish, some still expressed that they thoroughly enjoyed the movie. "I think it's the most direct commentary on gender roles in today's society that Hollywood has seen in a long time," Brown said. 
Curran added that she sees Barbie having long-lasting effects on the movie industry and beyond. "I hope that the success of Barbie leads to more women directors having more opportunities on films of all budgets and more stories about women's experiences being taken seriously," she said.