A cut above the rest: Carrigan's Cuts opens for business on Spring Street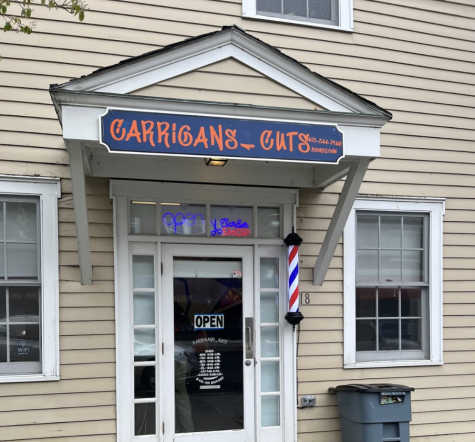 Nick Carrigan's mom usually cut his hair when he was a kid — but sometimes he could convince his father to take him to a real barber shop. They went to Man's World Styling Salon in North Adams, which was run by three brothers before the shop shut its doors in 2021. 
"My dad would always make a joke," Carrigan said, "'How cool would it be if you and your brothers opened a barber shop?'" 
Now the owner of Carrigan's Cuts at the top of Spring Street — which opened in early April — Carrigan has made this childhood dream a reality.
Carrigan learned to cut hair at a young age, practicing on his four younger brothers and later clipping his friends' hair in the high school locker room. 
After graduating from Mount Greylock Regional High School in 2014, Carrigan lived in South Carolina for five years. There, he pursued other business ventures, though he continued cutting his friends' hair on the side. "It started making sense that I could probably make a little bit of money off this," he said.
Carrigan got an apprenticeship in South Carolina and later came home to Massachusetts to attend barber school in Worcester. While in barber school, owning his own place became Carrigan's  long-term goal. "I was listening to everybody and finding out ways to chip in and get my own barber shop one day," Carrigan said.
Following barber school, Carrigan worked at MR Barbers in Pittsfield, where he served about five students from the College who would regularly travel 30 minutes each way to get their hair cut. Carrigan noticed that they often complained about the lack of reliable barbers near them, he said. 
Carrigan did the math and began planning how he would bring his services to Williamstown. 
After 12 phone calls inquiring about a space, Carrigan heard back. "It was all white walls and a couple chairs," he said, describing the small room that now hosts three haircut stations. "I saw my dream come true."
The space served as a barber shop before, but Carrigan wanted to make it his own. "We just threw some tape on the wall and painted, and this is what it all came to be," he said. "That was all in one day."
Carrigan was giving Jack Davis '24 and Jackson Anderson '24 haircuts as we spoke. "Two of our friends just got haircuts," Davis said. "I used to go to Supercuts in Bennington, but I thought it would be nice to be able to walk."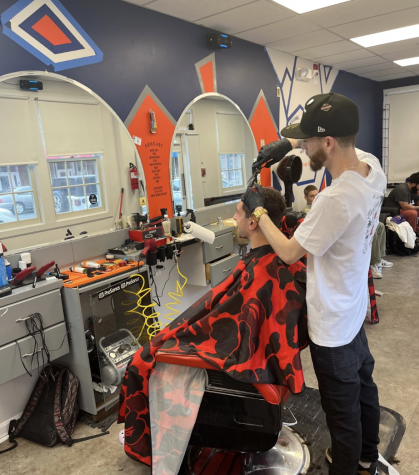 With the arrival of Carrigan's business, students at the College have a more diverse range of hair cutting services available to them, since Carrigan brings an experience of working with a variety of hair types from his time in Worcester. 
According to Amir Jeudy '26, Black students often struggled to find easy access to a barber experienced with cutting Black hair in Williamtown before Carrigan's Cuts opened. "There's not really anywhere I feel comfortable getting my hair cut around here," he said. 
Previously, some Black students who needed their hair cut would get together and call in a barber from Pittsfield to do as many haircuts as possible in a day, Ellington Fagan '26 explained in an interview. "[It was] a lot of work because you needed to ensure that you have enough people who want to get their hair cut for him to come," Jeudy added. 
Recently, Jeudy was hoping to get a haircut at one of these house calls, but he didn't make it before the barber left. Instead, he walked to Carrigan's, and although he didn't have an appointment, Carrigan fit him into a busy schedule. "He's great," Jeudy said. "Super nice guy."
 "Spring Street definitely needed a barber space because it's a really big part of neighborhood culture, especially for people of color," Fagan said after a positive first experience going to Carrigan's. 
For Carrigan, returning to Williamstown felt like coming home. Though he grew up in Pittsfield, some of his best childhood memories were made with his friends in Williamstown. "Williamstown was always the place," he said. 
Fahlin Power, Carrigan's wife, comes to the shop every day, supporting the shop through receptionary and administrative work. Carrigan's 17-year-old brother also has plans to go to barber school and join his older brother at the shop. 
Though Carrigan has achieved a dream that has been a long time coming, he still holds aspirations for the future. The shop is focused on providing service to shorter hair, but Carrigan hopes to hire someone to cut and style longer hair, as well as do braids and coloring. 
With the arrival of warm weather, Carrigan even hopes to host live music, comedy, and slam poetry events at his shop. 
While just a few doors down from The Clip Shop, Carrigan isn't worried about competition. "I would actually kind of like other barber shops to open up," he said. "It makes me want to be better."
Carrigan hopes his shop will become a staple of the Williams community. "Don't be afraid to come in no matter who you are," Carrigan said. "It's a barber shop — you're supposed to be able to come in and relax."