The psychology of individual sports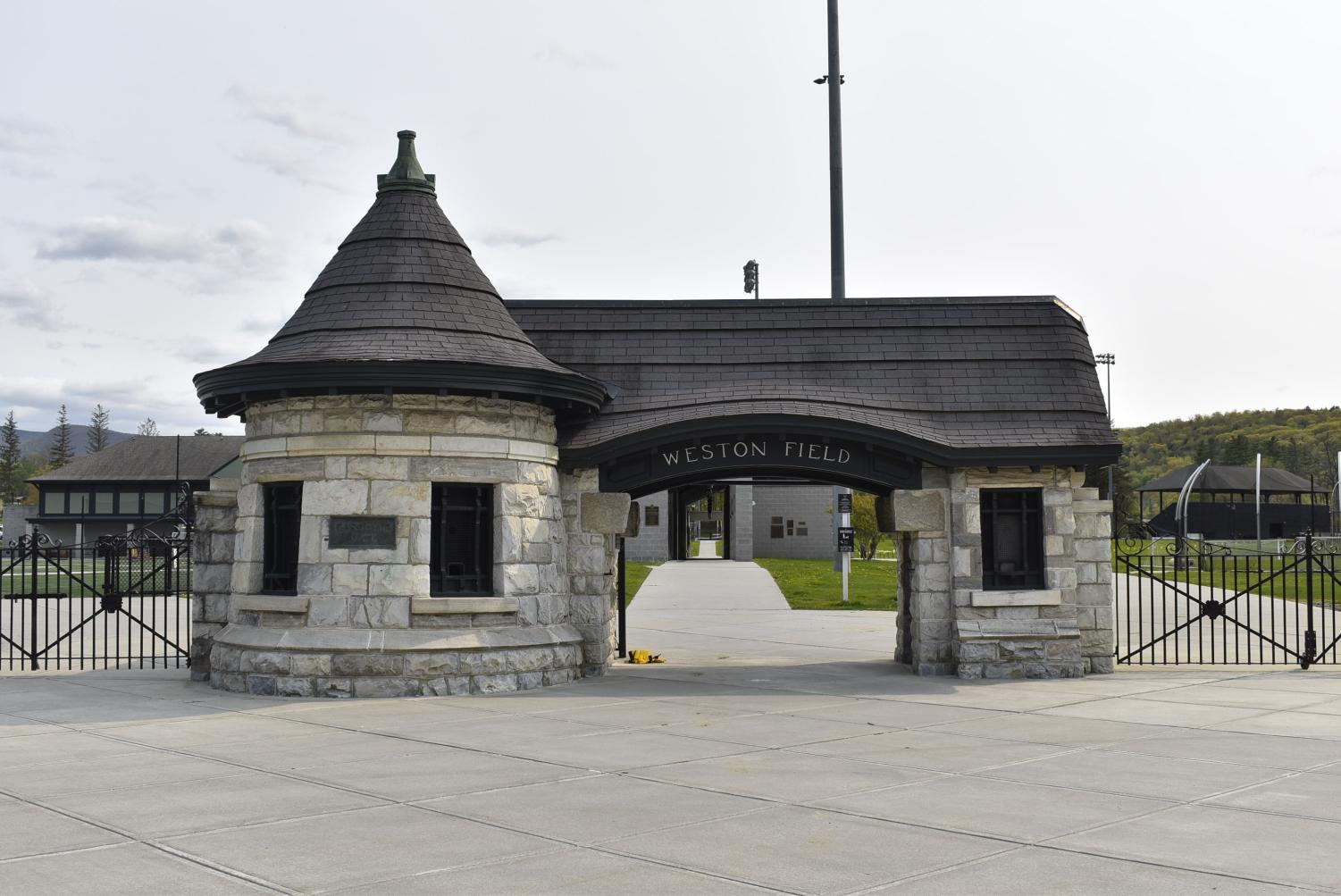 A medley swimmer, an alpine skier, a heptathlete, a sprinter, and a pole vaulter. Though their events differ in terms of season, sport, and content, these athletes share the distinctive quality of competing for their teams individually, save for any relays. They all seek to earn points that contribute to an overall team victory. But for the modicum of time afforded to each athlete to contribute to that team score, they must look no farther than themselves to find success.
To Riley McHugh '26, a member of the women's Alpine team, the main difference between individual and synchronous team competition is the added flexibility that competing together allows. "I'm [definitely] part of a team [during skiing], but when you're on a field, you can rely on other people to fix your mistakes," McHugh said. "When you're skiing and you make a mistake, [it] could cost you a second — and that's the difference between first and 30th [place]."
Last season, Sophia Verkleeren '25 brought home national titles in the 200m individual medley and 200m backstroke for the women's swim team and was named CSCAA Division III Swimmer of the Year at the NCAA Championships. For her, competing individually protects against uncontrollable variables that are introduced in simultaneous team competition. "In some ways, it's nice to know that your individual success is purely a result of what you are doing, and it's not [as] affected by what other people are doing."
Sam Riley '23, a pole vaulter for the men's track and field team, echoed a similar sentiment, emphasizing that individual results provide some objectivity. "[In track], it's less ambiguous as to what the problem is [when it's just you]," Riley said. "It makes the challenge of how to get better a little more clear and controllable."
However, the cut-and-dry nature of results can sometimes be counter-productive, according to men's track heptathlete Jackson Anderson '24, who won the event on the national stage at NCAA Div. III Indoor Track and Field Championships. "Because the results are so clear cut, it can get easy to get caught up in the numbers," he said.
Results can also lead to feelings of disappointment when a performance is not up to an athlete's standards. Fellow men's track sprinter Jack Davis '24 spoke to the disappointment he felt after not performing as well as he had hoped he would at the Spring NESCAC Championships at the end of April. "Even though you're competing individually, there's still a team goal [to win NESCACs]," Davis said. "That definitely made it frustrating when I felt like I couldn't contribute as much as I wanted to, but the biggest thing I learned was acknowledging that disappointment and moving on to the next [race]."
For some athletes, the walkin hours allotted to them at Integrative Wellbeing Services (IWS) provide a space to work through stress surrounding the quality of their performance. Psychotherapist Paul Gitterman, who helped pioneer athlete-focused services at the College, underscored the unique challenges of those who compete in timed individual sports. "Those timed events are part of a larger team effort," said Gitterman. "But in some events, only individuals will actually progress; the team isn't necessarily always represented fully."
To combat performance anxiety, IWS applies a two-fold strategy. First, Gitterman encourages athletes to harness pre-competition nervousness and repackage those nerves into an intrinsic motivational tactic. "Imagine that feeling in your core of the butterflies," said Gitterman. "Instead of it being out of control and disorganized, imagine that energy consolidating so that you have this energy tank in your core."
The second part involves shifting the athlete's focus away from a purely quantitative, results-oriented grounding and back to a fundamental appreciation for the sport. "There's something about [the sport] that they love that sometimes they lose touch with," Gitterman said. "I often try to get athletes to think about an image that conceptualizes what they love most about the sport." This reframing of mindset can make it easier for some athletes to repackage their anxiety and more easily enter the vaunted "flow state," characterized by a level of extreme focus, he said.
All five athletes echoed Gitterman's strategy of avoiding a results-oriented mindset. For McHugh, this looks like selecting one area of racing to focus on, such as having patience while competing. "I [usually say], 'Do your best and forget the rest,'" she said. "It's just a matter of going out there and executing." Another constant among all five athletes? The bonds they form with their teammates ensure that they never feel alone while competing individually. Verkleeren highlighted a strong team culture as a motivating factor for success. "When I'm behind the blocks at NESCACs or NCAAs, my thought process is, 'I need to do well for my team,'" Verkleeren said. "I think that that is something that is pretty unique to Williams."
Riley agreed, noting that the support Williams teammates show for each other sometimes is unjustly overshadowed by perceptions of timed sports' inherent individuality. "Having a community that's there for you — not just on the runway, the throwing circle, or on the track — is incredibly helpful," Riley said. "It creates a space where you feel like you can take requisite risks that are going to actually be the things that produce success."
Davis expressed his gratitude for the track community as a source of grounding during competition. "I walked on my freshman year, so I feel a lot of gratitude to be able to be in this position," he said. "I get to run in these races and be with these people. And so no matter what the stakes are, [I try to] boil it down to, 'This is something fun that you do.'"