Making the Williams image: The man behind the College's famed Instagram reels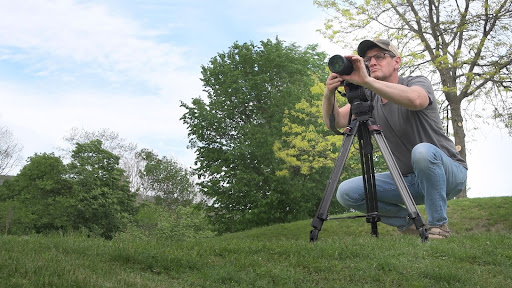 As the College's satirical publication The Haybale wrote last week in its post "Students Happy, Never Sad, Reports Williams Instagram," the College's Instagram often paints a bright and lively picture of student life. Whether it's a classic seasonal post of a blooming tree outside of West College or photos of unsuspecting students eating their Fresh 'n Go orders on marble blocks, Jay Corey, the College's in-house videographer, captures it all. 
Before he began his tenure as the College's director of videography, Corey worked at an ad agency and then moved to the Johns Hopkins Hospital's communications department. Although he comes from an advertising background, Corey's job is not to sell the College, he emphasized. "I don't falsify anything," he said. "But I am going out and showing people having a good time." 
His proclivity to shoot seemingly stress-free and jovial students is not a part of an agenda to paint the College as perfect, he said. Rather, his cheerful videos are a reflection of his attention to photographic aesthetics. "If you watch the video, [ask yourself], 'Is it a good picture?'" Corey said. "The rules of composition that apply to taking a great photograph, apply [here]."  
Beyond Instagram aesthetics, however, Corey said that his desire for the perfect shot contributes to  his own enjoyment on the job. "I want to make shots look special — for myself," he said.
Corey pays meticulous attention to composition — a dedication to detail that necessitates great patience. The four-second clip of the sun hitting the railings of Jesup Hall in his "An Introduction to Williams" video, for instance, was five years in the making. He first noticed the unique way that the sun hits the rails one-by-one as it moves throughout the sky — but it wasn't until five years later that he finally had the opportunity to take the shot.
"In July, I'm walking back from a meeting — it's like 11:55 [a.m.]," Corey remembered. "I had about 10 minutes to get over to Hopkins Hall, get my camera, get back, set it up, and shoot the time lapse… So that's a shot that took five years and three hours to take, because you've got to wait for the moment." 
Corey's talents extend beyond videography — he also composes the music for most of his videos. How does he balance composition and videography? By playing smarter, not harder. 
Corey said he often slightly adjusts  pop songs to evade copyright claims. His prized musical accomplishment was composing an original classical orchestra piece for Commencement — despite his lack of formal training in music theory. 
The man of many talents still manages to make time to take aspiring videographers under his wing. Over his years at the College, Corey has hired several student interns. "Periodically, a student will see me out filming or something and just come knocking on the door," he said. "They've gone on to be professional videographers, and that's really nice." 
Corey expressed a love not only for those that work alongside him, but also for all students at the College. When Corey described the process of filming Tasan Smith-Gandy '24 playing cello on Pine Cobble, he didn't discuss how long it took to transport videography equipment up the mountain or to perfect the lighting of each shot —  he explained how he tried to create a special moment for Smith-Gandy. "I want to make shots look special," he said. "He deserves that… This is for him."