College community reflects on season 15 of RuPaul's Drag Race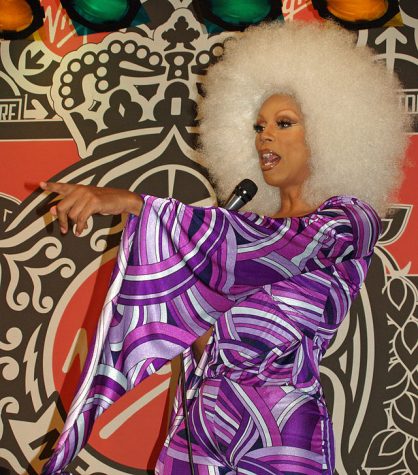 Season 15 of RuPaul's Drag Race ended on April 19 and crowned its winner: drag performer and beauty pageant competitor Sasha Colby. At the College, student and faculty watchers of the show have been discussing the finale and reflecting on the season as a whole. 
RuPaul's Drag Race is a reality competition series that first aired in 2009 and is exhosted by renowned drag queen RuPaul. The show tasks contestants with design and performance challenges, after which they give a runway performance and are judged for their work in the week's challenge. The show's popularity has helped normalize drag performance and expression in mainstream culture. 
Fans at the College expressed their overall satisfaction with this past season. "I think this was one of the great seasons in terms of the quality of performances and the variety of performers that we had," Associate Professor of Music Zachary Wadsworth said. 
"I definitely think that season 15 was much better in terms of the talent that was offered on the show," Cooper Johnson '26 added. "I had a fun time watching everyone's drag on a higher level than in seasons past." 
Before taking the crown, Sasha Colby had been in the drag industry for almost 20 years and won the Miss Continental pageant competition in 2012. Because of this, some fans expected that she would win from the start. "From the very beginning of the season, I think everyone knew she was miles ahead of the other contestants," Josh Kirschner '24 said. 
While some viewers of the show have begun to question whether future seasons of the show should prevent well-established queens in the industry like Sasha Colby from competing, fans at the College argued that this exclusion would undermine the purpose of the show. "I love that RuPaul's Drag Race is going to show you the diversity of drag from all over and from different experience levels," Wadsworth said. "The show should not exist solely as a forum for the youngest of the young or the oldest, most experienced queens." 
"I think my problem with [excluding well-established queens] is that I don't think RuPaul's Drag Race should be the way for drag queens to become validated in their careers," Johnson added.  "I feel like making RuPaul's Drag Race only for lesser-known queens would be doing just that." 
In spite of the predictability of her victory and debates about the future of RuPaul's Drag Race, fans at the College explained that they thought Sasha Colby deserved to take the crown this season, a shared sentiment amongst most fans of the show. "It was really nice to see a trans queen win," Wadsworth said. "It seems like in the earlier seasons, there wasn't as much of a sense that trans people could be drag queens as there is now, which I think Sasha Colby's win really contributed to." 
This past season notably had many diverse queens. In addition to its trans representation, season 15 highlighted a greater number of queens whose primary performance platform is social media. Most notably, TikTok-based queens Sugar and Spice competed on the show and were questioned by fans and fellow contestants about their lack of live performance experience. "When I was first coming out, drag was performance; it was public and interactive," Wadsworth said. "So when Sugar and Spice showed up with little live performing experience, I felt that same impulse to question their drag, and I had to interrogate that in myself as a generational effect." 
The rise of social media queens has challenged traditional definitions of drag and prompted debate on whether a live audience is necessary for drag performance to be validated in the public eye. "I really do think there is a lot of value in recognizing that the art form and the craft of drag has expanded past the club scene," Kirschner said. 
"This is not the time to divide the drag community based on little hang ups that people might have with performing drag on TikTok," Johnson added. "What Sugar and Spice do makes drag more accessible and normalizes it more within mainstream culture." 
Fans of the show expressed its particular importance right now given a recent rise in anti-drag rhetoric across the country. "From the musical they did about anti-trans bills and anti-drag bills to statements made at the finale about drag not being a crime, I think [the season] made a really meaningful comment on the political moment," Wadsworth said. "Hopefully, the show is galvanizing support for free speech and free expression, which is what drag so often is all about." 
Fans at the College encouraged members of the community to watch future seasons of the show. "There's no reason not to watch it," Kirschner said. "There's something for everyone in it; it's funny, it's campy, it's fashion. There are really beautiful story arcs in the show, and each queen brings a lot of themselves to the show in a really beautiful way."