'Don't let us become art in a museum': WCMA celebrates Tibetan, Indigenous cultures through tattoo performance art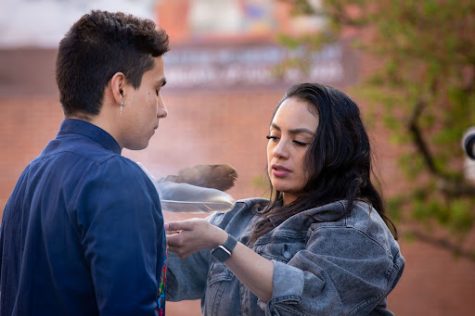 Perhaps the first person to ever be tattooed inside the Williams College Museum of Art (WCMA), Isaac Rivera '26 received a tattoo during a performance piece as part of the museum's Across Shared Waters exhibit. 
Buddhist monk and artist Lama Tashi Norbu designed Rivera's personalized tattoo based on Tibetan astrology, before applying it while chanting a personal Buddhist mantra. 37 people applied to receive the tattoo, a pool from which Rivera was selected by Norbu.
Although tattooing is not a  traditional part of Tibetan culture, Norbu is invested in using art to highlight Tibetan traditions while incorporating multiculturalism. For both Rivera and Norbu, the performance was a personal mission in preserving cultures that have historically been and are currently being erased. "I think we both carry this obligation to honor our people and remember our traditions, our cultures, especially since there has been intentional erasure," Rivera said. 
At the request of Norbu, Rivera initiated the performance with smudging — a Native American practice of burning tobacco, sage, cedar, and sweetgrass with the intention of cleansing  negative feelings and thoughts. Cleansing was a common feature between the two cultures. The personal mantra that Norbu read while Rivera was tattooed was intended to cleanse.   
"If you recite [the mantra], it purifies your mind, your ignorance, your sufferings that we have due to our mental ailments," Norbu said.
Rivera also received a reading of his astrology. The Tibetan tradition of astrology is traditionally read at death. Astrology reveals when and where the person's next life will be. Based on astrology, a personal Buddha, which is linked to them for many lifetimes, is found. 
According to Rivera, Tibetan Buddhism serves as a huge spiritual foundation in his life. He was first introduced to Buddhism by a teacher he had in high school. "It was at a crucial point in my life when I was trying to figure out what I wanted to do, and who I was," he said. "[Buddhism] was really just something I could grasp onto." 
Rivera feels that only a few religious traditions have visibility at the College. "As a Native student at the College, I feel there isn't a lot of recognition of alternative spiritualities outside of the main religions," he said. "Even within the Thompson Chapel, we don't have a Native American spirituality room." 
For this reason, the ceremony at WCMA represented an important and empowering display of spirituality to Rivera. "It's very powerful for me and my own spiritual traditions to be able to practice them in a space in which I live," he said. "Having this whole ceremony has been a real blessing for me." 
During the ceremony, which was put on in collaboration with Alexis Rosasco, owner of AR Designs Fine Art & Tattoo in North Adams, Norbu drew connections between America's history of Native American genocide and the gravity of the political repression in Tibet. "[Much of] Native American culture was lost, and America will never recover their culture," Norbu said. "That's going to happen to Tibet." 
Following the Revolution of 1949, China's People's Liberation Army invaded what is today the Tibetan Autonomous Region and established military control over large swaths of territory. 
In 1951, Chinese and Tibetan representatives signed the 17-Point Agreement, where China promised to keep Tibet's traditional government and religion intact. However, due to widespread sentiment that the agreement had not been honored, the Tibetan uprising of 1959 occurred. It was quickly and violently quashed, and as a result, the Dalai Lama — the  spiritual leader of Tibetan Buddhism — fled to India, where he still resides today.
Since then, China has been accused of repression, censorship, and human rights violations. Human Rights Watch and the U.S. State Department describe arbitrary detention, extrajudicial killings, unlawful encroachment on privacy and restrictions on religious freedom, such that Tibetan Buddhism has been brought under government control, at least within China's borders. "China is materialism [to Tibetan spirituality]," Norbu said. "It is taking over everything, and history is repeating."
"Right now, you can still visit Tibet," he continued, "but in the next 50 years, you will only see it in a museum. This has happened already in America. Help Tibet so that we do not end up [only existing] in a museum."