Hot Tomatoes closes after 29 years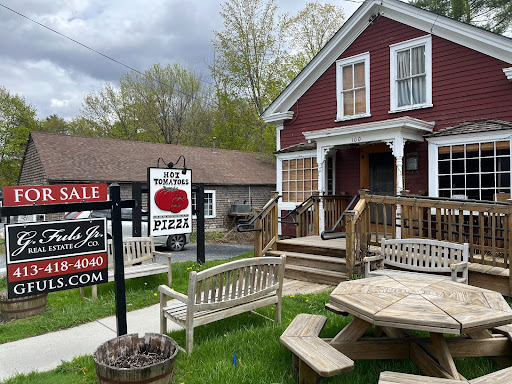 The family-owned pizzeria Hot Tomatoes closed permanently on April 24 after nearly 30 years of service on Water Street. According to a Facebook post by the restaurant's owner Angelina England, the former Hot Tomatoes building is currently for sale, and, if interested, the new owners of the building can continue the Hot Tomatoes brand. 
Hot Tomatoes opened on Water Street in 1994, founded by Angelina and her late husband John England. According to its website, Hot Tomatoes was known for its thin crust, chunky tomato sauce, whole milk mozzarella cheese, and creative topping combinations, as well as a variety of salads. Hot Tomatoes was a family-owned business, with the Englands' sons Matt and Riley helping run the restaurant. In 2019, the family expanded the restaurant by opening a riverside back patio and bar, allowing for additional bar seating at picnic tables along the river and a rentable venue for private events. 
Both the Williamstown and Pittsfield locations of Hot Tomatoes have suffered from lack of staff, mechanical issues, and shortages of products since the beginning of the COVID-19 pandemic. In response, the Williamstown location reduced its hours throughout 2020 and 2021 and closed from Nov. 14, 2021, to April 15, 2022. On Sept. 10, 2020, the owners permanently closed their Pittsfield location after 12 years of operation, due to staffing problems caused by the pandemic. 
In an interview with The Berkshire Eagle, Angelina cited difficulties hiring as the main reason for the business's closure. "You get a few people you can keep year-round, but usually it's 80-percent high school kids or college students," she said. "Paying someone $20 an hour to sling pizzas and having to train them is pretty difficult for just a couple months, and having to do it year, after year, after year, after year, it just gets really tiring."
Throughout its 29 years of operation, Hot Tomatoes has been a staple of Williamstown. On the Facebook post announcing the closure, more than 70 Williamstown residents offered their memories and best wishes. "The best pizza in the Berkshires, hands down," one commenter remarked. 
This sentiment is shared by students at the College. "Hot Tomatoes was present at every birthday party, graduation, and major life event," recalled Williamstown native Emma Sandstrom '26. "Many pizzerias have come and gone over the years, but Hot Tomatoes has remained unmatched. It is an irreplaceable institution, and will be missed."
In the 1990s, the Record frequently asked students profiled in its One in Two Thousand interviews, "Hot Tomatoes or Colonial Pizza?" Even with the introduction of Mission pizza in 1998, Ed Joy, the assistant manager of Hot Tomatoes said in an interview with the Record that "Hot Tomatoes is one-of-a-kind pizza, so I don't think it will affect anything."