Alum couple travels cross-country with 'busload of books'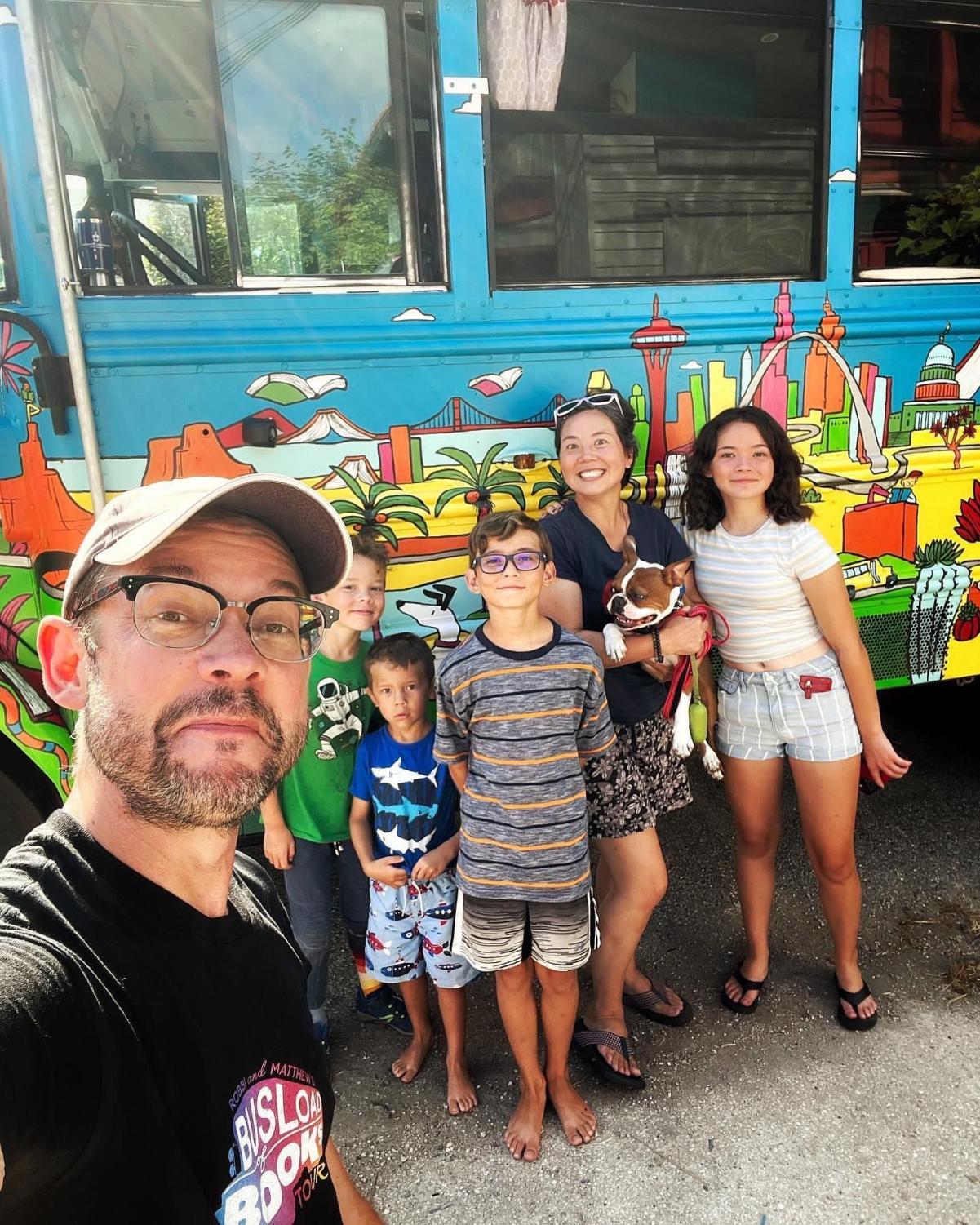 Matthew Swanson '97 and Robbi Behr '97 logged into their Zoom interview with the Record from bed. It's not that they overslept, Swanson quickly explained. "We don't have a couch." 
The couple is traveling the country in a vibrantly painted bus, equipped with a kitchen, TV, and beds for their four children and two dogs.
The purpose of the adventure? To give away books. 
Swanson and Behr, both published authors, saw firsthand the ills of education inequality when they started doing paid author visits. "We were only getting invited to private schools [or] to some public schools that were very well funded," Behr said. "We saw what an impact meeting an author makes on kids."
Swanson and Behr, as well as their children, attended Title 1 public schools, a designation given to schools that serve high percentages of low-income students. "We started saying, 'Look, our school would never be able to afford having two presenters come in, so why don't we do that for free, and we'll raise money so that every kid in the school can get a book,'" Behr said.
After Swanson and Behr's first event — which was held at the school their children attend — the school's principal reaffirmed their commitment to the cause. "[The principal] said, 'Look, there's a kid who's in trouble in my office almost every day … Today, he came to my office with his book, and he said, 'I just need a quiet place where I can read,'" Behr said. "[The principal] was like, 'I'd never seen that kid with a book in his hand.'"
"We saw the impact that this made in one school," Swanson said. "So why not do it across the country?"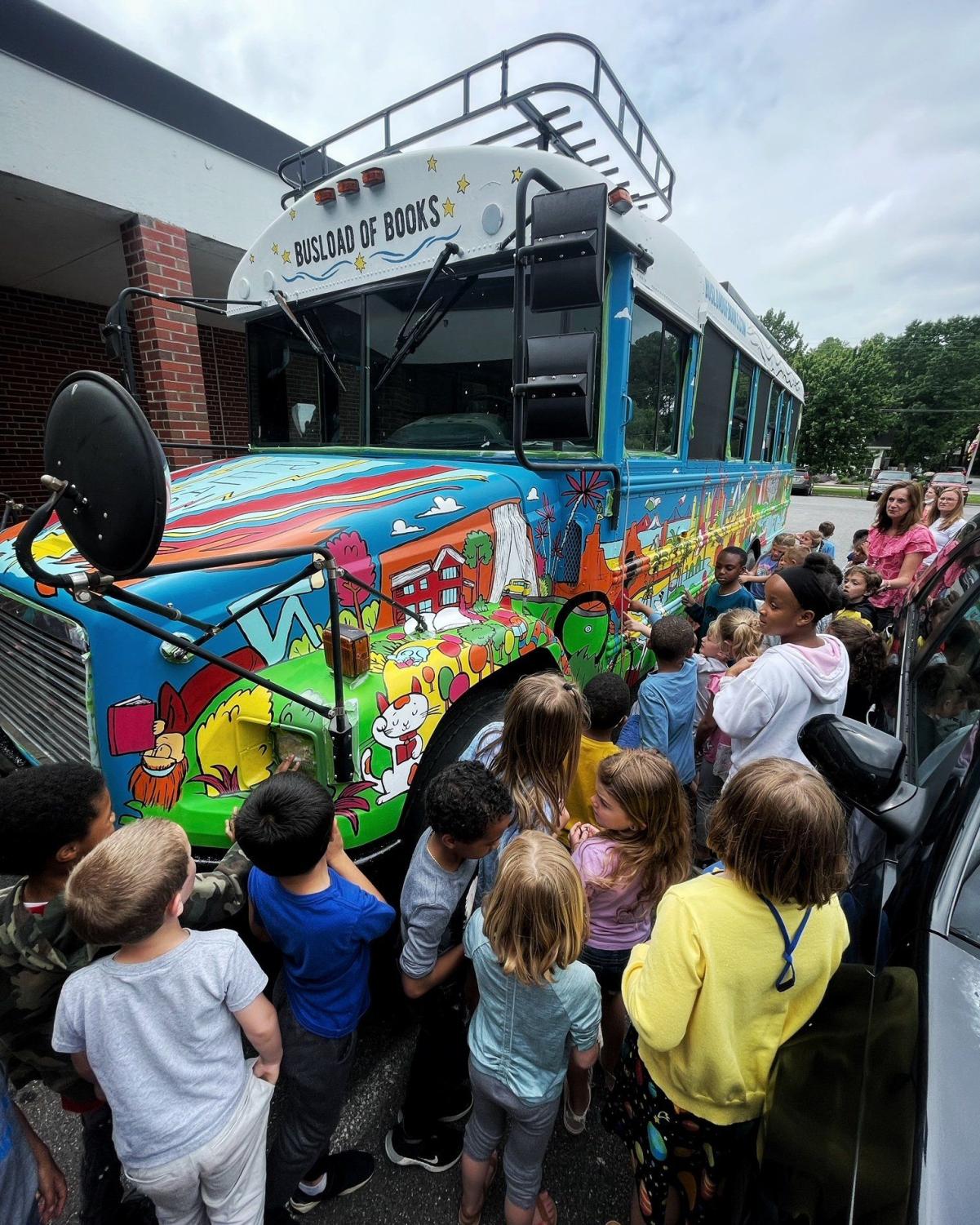 So the couple bought a bus, and by the end of this school year, Swanson and Behr will have traveled to a school in all 50 states. At each stop, they will give out free books through a partnership with the nonprofit First Book and document it on their Instagram (@robbi.and.matthew), YouTube channel, and website. 
Swanson is the family driver, which he said he has enjoyed immensely. "The pleasure of driving this bus is pulling into a gas station, having some guy in a very large truck come over and ask me what's going on, finding out his sister's a public school teacher, [then] him saying he believes in our mission and handing me $50," Swanson said. "This bus creates an opening for a conversation."
The bus is cramped and has no toilets or showers, but the Swanson-Behr family makes it work. "We're never going to be as uncomfortable as the kids who show up to school hungry," Swanson said.
The couple hopes that their children will learn from their "constantly shifting, gigantic backyard," as Behr calls it. Behr and Swanson's four kids, whose ages range from five to 13, all receive virtual school or tutoring, but the family isn't doing a formal homeschool program. "We're just taking it on faith that travel is good for you and [they'll learn] important soft skills," Swanson said.
Swanson and Behr — who met at the College in the 1990s — do appreciate formal school environments. "I've been inspired by peers I had," Swanson said. "[Professor of English] Jim Shepard was a mentor for me and is a huge reason why I am an author."
Their College connections helped raise the funds necessary for the program. "The people who gave large amounts of money, we would never have known if we had not gone to Williams," Swanson said. The College network also connected the couple with Isabel Frey Ribeiro '23, whom Swanson and Behr hired as an intern. 
"It takes more planning than you might expect," Ribeiro said of the couple's complex, 50-state route.
Ribeiro first reached out to Swanson through EphLink during her sophomore year, curious about the path Swanson took to becoming an author. Like Swanson, she was inspired by a creative writing class with Shepard. Swanson and Behr quickly became her mentors. "They make everyone they encounter feel valued and interesting," Ribeiro said. 
Social media has been important to Swanson and Behr's travels, allowing them to share their message with a broader audience. At first, they prepared for hateful comments and were careful to get students' consent before posting photos. "We have yet to have any negativity on any of the posts," Swanson said. 
Swanson and Behr are natural spokespeople. "They're just the right amount of 'mad scientist in the book world,'" Ribeiro said. "When you talk to them, it's impossible not to feel excited."
"We might take it for granted at Williams that we have too many books to read," Ribeiro said, "But [Swanson and Behr] are really good at putting things in perspective."