One in Two Thousand: Cynthia Masese '23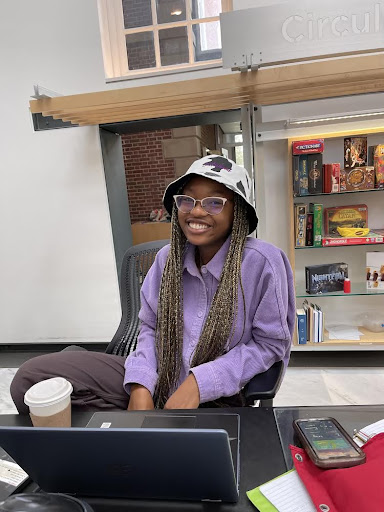 Each week, the Record (using a script in R) randomly selects a student at the College for our One in Two Thousand feature, excluding current Record board members. This week, Cynthia Masese '23 discussed her plans after graduation, favorite memories at the College, and involvement in WASO. This interview has been edited for length and clarity.
Lena Kerest (LK): You're coming to the end of your Williams career right now. How are you feeling?
Cynthia Masese (CM): I'm definitely ready to leave the workload behind. I'm so ready to not be a stressed student, but leaving is also stressful. The real world is kind of scary. I have to pay rent now. I have to feed myself and not eat dining-hall food. That's definitely nerve-wracking. And I won't be living next to my friends, which I will miss the most. So it's a little bittersweet. 
LK: Do you know where you'll be living after graduation?
CM: I don't know. I'm pre-med. I'm taking two gap years — the world is my oyster. I keep deciding and changing where I want to live. Sometimes it's Atlanta, sometimes it's Washington, D.C., lately the West Coast. And then, some days I'm just going to move to Kenya and [be] there for a little bit.
LK: What's the medical school process like?
CM: That process is yet to happen. It's such a long process, hence my two years off so that I can chill a little bit before I get back into the school grind.
LK: What made you decide that you want to go pre-med? I know it's a hard thing to do here.
CM: I should quote this in my med school application, because they definitely ask that. Short answer: I've known I wanted to be a doctor for the longest time. Long answer: I come from a really tight-knit, close community — a Kenyan community in North Carolina — and [we're] very big on showing up for each other, so I knew I wanted to show up for my community. Medicine is the best of both worlds. I'm definitely a STEM girl, but I'm also a people person. It kind of marries those two ideas.
LK: Did you find a similarly close-knit community at Williams?
CM: I think so. Williams is a small, middle-of-nowhere school, so [there's] definitely not a lot to pull from. But the people I've met here and the community that I've built make me so happy. It's also WASO [Williams African Student Organization] Heritage Week now, so we were just having a photo shoot and playing music. These are some people I've been with since freshman year, so that feels full circle. The friends I made in WASO — that's the community I love and I will miss the most. 
LK: Could you tell me about WASO?
CM: It represents students from Africa and in the diaspora, and it's a space for us to build community and have programming around our culture and traditions. 
LK: What is your role in WASO? 
CM: I've been on the board for a while. I started off as a first-year representative. Then, I co-chaired my sophomore year. Junior and senior years I've been an upperclassmen representative — kind of being that old, wise person telling people what to do.
LK: Is there a particular moment at Williams that has been a highlight?
CM: I think a really fun time was when I did SSP [Summer Science Program], which is a pre-first year summer program for the sciences. That was amazing — I got to see what college was like and met some of my closest friends. Also, I love Williamstown in the summer. I hate the cold. It's also calmer because there's not as much stress, so you get to hang out with friends [and] go get ice cream at Lickety [Split] literally every day. Those are the moments that I cherish. 
LK: If you could give a piece of advice to an incoming first year, what would you tell them?
CM: Take the extension. It doesn't have to be some serious thing. Like, if your friend's birthday is that night and you have a paper, just ask for the extension. Professors are generally nice about it. Professors, I hope you're not reading this thinking I do this all the time. It's definitely something that I learned from upperclassmen before me. They were like, "Yeah, have a seven-page paper due in a couple hours, but it's okay," and I would be so confused. But then I saw what they were doing and  realized that's the way to live. I definitely improved my time management. Freshman Cynthia was stressed all the time. Sophomore Cynthia was also stressed all the time, but then I learned to let that go a little bit. I got better at time management and better mental health.
LK: Is there a specific type of medicine that you're hoping to pursue? 
CM: I know generally that I want to go into community health. I'm also a public health concentrator. I'm interested in community health [and] child and maternal health, so probably pediatrics or OB-GYN. Something that doesn't require me to be in the hospital 24/7. I've never been the surgeon kind of gal.
LK: Is there a role model in your life who has made you want to build community?
CM: My mom is the most amazing woman. I've seen her go through school while raising kids [while] also showing up for her community. To be even a fraction of the woman she is would be amazing. But even everyday people, like my friends, make me so awestruck by all the things they're able to accomplish. 
LK: Do you think you would ever return to North Carolina?
CM: Oh, for sure. In my mind, I could definitely see myself settling down or even going to med school in North Carolina. The world is my oyster, but North Carolina is definitely home.
LK: What's your favorite thing to do here to bring joy to your daily life?
CM: My favorite thing to do is being a nomad in the sense that I just go from one place to another, and then I stop and have a conversation with someone for a while. And then I'm like, "Okay, see you later," and then I go to Sawyer and stop at the front desk and talk to someone else there. Having those chit-chats and seeing people makes me the happiest.
LK: That's awesome. My final question: What are you doing with the rest of this beautiful day?
CM: Oh my gosh, I'm doing so much. Like I said, it's WASO Heritage Week. We have a big formal event tomorrow, so I have to pick up speakers from Sawyer and decorations from Bascom and get them all to Dodd. So that's one thing. I have a problem set to finish, a paper to submit, and there's my thesis. It's all going to get done by tonight, and then we're gonna celebrate at our party.