No. 11 women's tennis beats Tufts, falls to Middlebury in NESCAC semifinals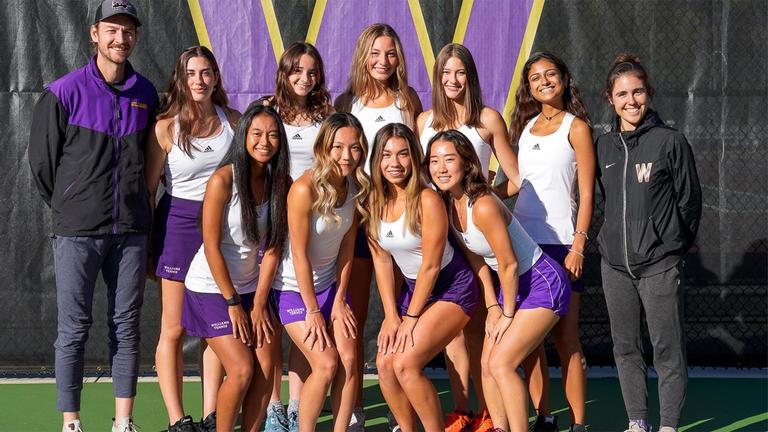 Women's tennis (12-6, 7-3 NESCAC), ranked 11th in the nation, continued its strong season by defeating No. 10-ranked Tufts (8-9, 7-3 NESCAC) 5-1 in the NESCAC Tournament Quarterfinals on Friday. The Ephs ultimately fell 5-1 to No. 4-ranked Middlebury (14-3, 9-1 NESCAC) in the semifinals on Saturday.
The team came out of the gate strong against Tufts on Friday, with all six singles players — captain Katherine Orgielewicz '23, Yuu Ishikawa '25, Mia Thomann '26, Annabelle Siegel '26, Ananya Aggarwal '24, and Jane Ladaga '26 — reporting first-set victories. These wins set the tone for the rest of the matches, according to Head Coach Anik Cepeda. "[Against] any top- 10 team, it's hard to win all first sets," Cepeda said. "That told me they were really locked in." Orgielewicz, Ishikawa, and Siegel left victorious in first, second, and fourth singles respectively, while Thomann, Aggarwal, and Ladaga delivered strong performances in their unfinished matchups due to the Ephs attaining the necessary five points for a team victory. Orgielewicz and Ishikawa squeaked out an 8-7 victory in first doubles, and Siegel and Thomann delivered a convincing 8-2 victory in their third doubles matchup.
For the Ephs, the NESCAC Quarterfinal was an opportunity to redeem themselves after falling to the Tufts Jumbos 2-7 on March 12. "It was really fortunate we got to play Tufts the second time so that [our team] could see how much they've grown," Cepeda said. 
Cepeda believes that their match against Tufts exemplifies the strides they have made towards gelling as a team. "Instead of relying on one or two individuals to carry them, they compete as a unit and lock into their respective courts," Cepeda said. "That's allowed them to trust that everyone else will do the same."
Ishikawa echoed a similar sentiment and also pointed out the lack of injuries suffered this season. "It was a big concern going into this season with such a small team," Ishikawa wrote in an email to the Record. "But it really made us take care of our bodies whenever possible."
Cepeda and Ishikawa emphasized the mental component that accompanies the individual nature of tennis. "In tennis, the biggest battle is with yourself," Cepeda said. "It sounds cliché, but it's also very true." The team went to great lengths to support each other through the individual battles, according to Ishikawa. "We support each other by celebrating every point we win and cheering on teammates playing next to us," she wrote. "We found a good balance of cheering for one another while maintaining focus on our own courts and building a really strong sense of trust in each other."
The Ephs have been able to find this support due to the team's acceptive and fun-loving team culture, she said. "Every person on this team has a completely different personality," Ishikawa wrote. "But overall, I'd say we're pretty goofy and like to have fun."
Finding a high level of confidence and trust is what separates good tennis teams from the great ones, Cepeda said. "That [confidence] is really the main difference," said Cepeda. "You look across all six courts, and there's not a moment in time where you think, 'Oh, this person is struggling.' They have their shoulders back, they're bouncing, they're supporting their teammates left and right." 
For Cepeda, that type of confidence was on display throughout the Ephs' season, especially in the team's first match against Middlebury, a 6-3 victory on April 8. "There were moments [in the second match against Middlebury] where they didn't [display that confidence]," Cepeda said. "Those are the moments that come back to bite you against some of those top five teams."
Unfortunately, the Ephs' loss to Middlebury on Saturday marks the end of the their season, with the NCAA Division III Women's Tennis Committee opting not to grant the team an at-large bid to the NCAA regional tournament.
The NCAA tournament field consists of 49 teams, 40 of whom earn their spots automatically by winning their conference tournament, and are classified as Pool A teams. The Committee selects one team from Pool B, teams who are either independent or whose conference lacks an automatic qualification bid. Finally, the Committee selects the final eight teams at large from Pool C, which is all the remaining teams from Pool B, or teams who failed to win their conference's automatic qualification.
As the NESCAC champion, Wesleyan (17-1, 9-1 NESCAC), is a part of the Pool A field, and Middlebury and Amherst (12- 4, 8-2 NESCAC) received at-large bids as a part of Pool C. "We're quite honestly still feeling the disappointment," Ishikawa wrote. "But some of us have a good chance of making it to individual nationals, so we're hopeful and excited for that."
Though the team will not get the opportunity to fulfill its goal of reaching the Elite Eight in Florida, Cepeda reflected on all the players have accomplished. "They're tough as nails… I really love this group, and they've really inspired me a lot," Cepeda said. "It's gonna be hard to pick the most improved [player] this year — that to me is the sign of a great team.