Starting men's lacrosse goalie Matt Freitas wraps up college career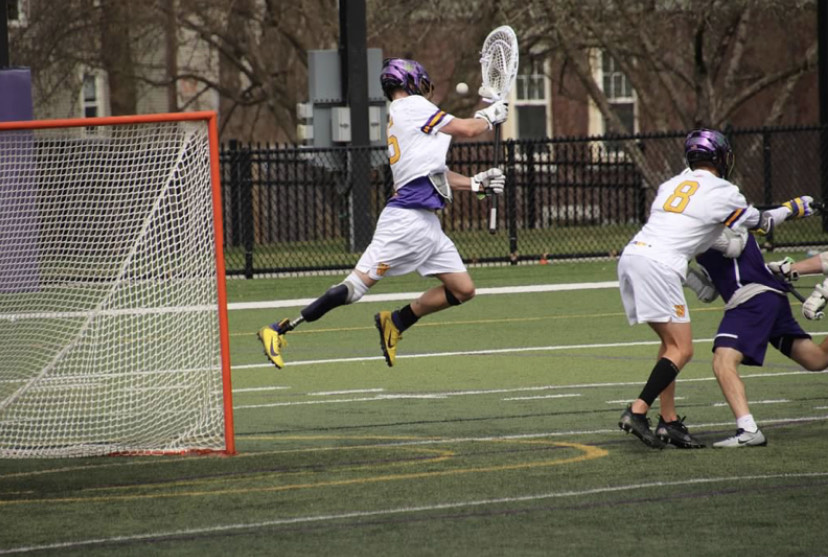 Matt Freitas '23 has already played 945 minutes in his senior spring. That is nearly every minute of every game, and the season isn't over. 
On Saturday, men's lacrosse (10-6, 6-4 NESCAC) will face Middlebury (15-1, 9-1 NESCAC) at Tufts University in the semifinals of the NESCAC Tournament. Freitas will start his seventeenth game of the season in the biggest contest of his college career. If the Ephs win, they will advance to the NESCAC Championship on Sunday for a chance to earn an automatic bid to the Div. III NCAA Tournament, which would mark their first appearance in the NCAA Tournament since 2019.
In an interview with the Record, Freitas said he hopes that the highlight of his career is still yet to come. Referencing his senior talk, a short speech each of the seniors gives to the team in the final weeks of the season, Freitas said, "There are still a lot of memories to make and we shouldn't [become complacent] and define ourselves based off of the successes we've had this year."
Freitas said his favorite memory of his college career so far was the Ephs' recent overtime victory against Amherst. "As of right now, it's the only overtime game I've played in college," he said. "We kind of blew it in the fourth quarter, but watching Jesse Shapiro ['25] score the goal in overtime was one of the most fun moments ever."
Freitas praised the attackers on their ability to close out the game for the team. As regulation time expired, though, Freitas made a big save on a challenging shot from Amherst's Tanyr Krummenacher, pushing the game to overtime. "As an individual player, that is one of my proudest moments," he said.
Despite Freitas's talent — he holds the highest save percentage in the NESCAC this year — he started playing lacrosse by coincidence. "When [my mom] signed me up [for lacrosse], she thought it was an indoor flag football league," he said. "A couple of days before the first practice, she found out it was a lacrosse league. She told me, 'You don't have a choice, we already signed you up.'" Although Freitas started as a midfielder, he soon recognized his distaste for running and began his successful career as a goalie. Little did his mom know, Freitas would be featured in Inside Lacrosse and USA Lacrosse Magazine as a standout player.
No stranger to adversity, Freitas's life and lacrosse career came to a critical juncture when he survived a car accident in 2013 that cost him his leg. Although Freitas could have stopped playing lacrosse altogether, the accident made him want to work harder. But when it came to finding a spot on a college lacrosse team, Freitas said, "Teams were a bit hesitant to look at a goalie who had a prosthetic leg."
Even though his first visit to the College was on a day thick with slush and rain, Freitas decided that Williams was the place for him after meeting Head Coach George McCormack. "The base level of belief and the way [Coach McCormack] talked to me made me feel that I was wanted here," Freitas said.
Although Freitas's first two seasons were significantly impacted by the COVID-19 pandemic, he managed to earn his spot as the team's starting goalie by playing two games in the 2021 season and fourteen in the 2022 season. In 2022, Freitas' save percentage of .575 nearly matched his current .582. 
While looking forward to his post-graduation plans in Washington D.C., Freitas reflected on the fast-approaching end to his college lacrosse career. "I'm 100% not ready to leave Williamstown," he said. "I don't want to define myself wholly on lacrosse, but it has been a huge part of my life for over a decade. One of the scary thoughts about graduating is that it won't be as important a part of my life as it has been for such a long time." 
"I'm so grateful to the sport," he added. "One of the main reasons I was able to recover after losing my leg was my very concrete goal to get back to lacrosse and be successful in games again."
In addition to encouraging his teammates to cherish their time as a team and at the College, Freitas hopes to leave a lasting impact among his underclass co-goalies, Matt Wetmore '25 and Lewis Schrock '26. "I hope that I've left them with the right way to carry themselves, and the right way to communicate with people that you're technically competing with for a position on the field — and hopefully, I set a good standard for them to destroy on the field," Freitas said. "I can't let my save percentage be too far below what Matt [Wetmore]'s is going to be next year," he joked.
Freitas also said he hopes he has helped other students learn that you're not that different when you have a disability. "There are different aspects of your life when having a disability," he said. "But, I hang out the same way other people do, I study the same way other people do, and I play sports the same way other people do."
"I hope that people can recognize that it's just a part of life for some people, and it's not the lens you have to look through to see them," he said.