Men's tennis defeats Amherst, falls to Bowdoin, looks towards NCAA Div. III Regionals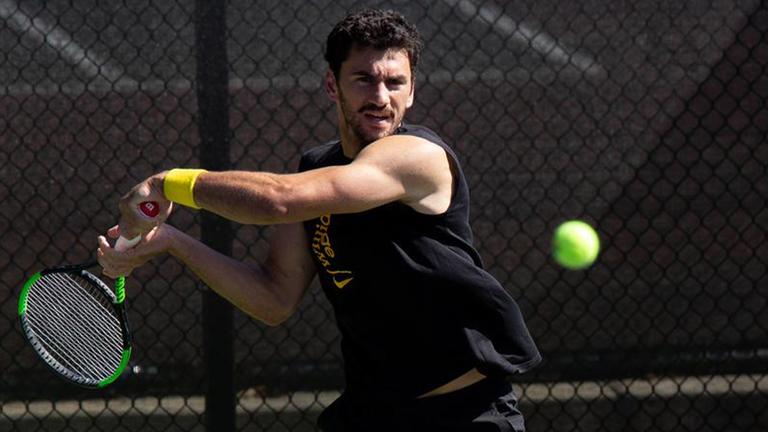 The men's tennis team (14-4, 8-2 NESCAC) suffered a 5-2 loss to Bowdoin (15-4, 8-2 NESCAC) in the NESCAC Semifinals at home on Saturday. The Ephs received a Pool C bid from the NCAA selection committee to play in the national tournament.
Heading into the NESCAC Championship weekend, the team felt confident in its matchups. In the quarterfinals, the Ephs defeated the Amherst Mammoths (10-7, 5-5 NESCAC) 5-0. The win, while anticipated, was still hard-earned, given the recency of the team's last match against Amherst. "Most of us were playing almost the same exact opponents as we did [last week] on Sunday," Karan Amin '23 said "It's definitely difficult to play the same team twice in such a short period, especially [since] the first time around was a great match for us." The Ephs bested the Mammoths 8-1 on April 23, a strong end to their regular season.
And the Ephs proceeded to do it again. The doubles matches saw the team take a 3-0 lead, with Jason Shuler '26 and Nicholas Chen '26 securing an 8-4 win, Matt Kandel '24.5 and Amin clinching an 8-6 win, and Shawn Berdia '25 and Simon Volkema '26 pulling an 8-5 victory. "I was really proud of how the guys responded … on every court," Amin said. "Once you get yourself a three-love lead after doubles, it really boosts your own team and gives you a lot of confidence go- ing into singles, because you only need to win two more matches." At the collegiate level, teams must play to five total points out of nine matches in order to win.
The singles matches also posed no problems for the Ephs. Shuler and Berdia both secured victories, earning the team a spot in the semifinals against Bowdoin. Berdia reflected on the team's mindset heading into its match against Bowdoin. "We were pretty confident going into the semifinal match because we had played Bowdoin earlier in the season, and we also had a really decisive victory over Amherst," he said. "But, we knew it was gonna be a battle because they're a really good team."
The Ephs narrowly defeated the Bowdoin Polar Bears 5-4 during their regular season matchup on April 15. "I remember the doubles points were really important that day, especially because each court was really close," Amin said, reflecting on the regular-season game. "It really could have gone either way." In the NESCAC Semifinals round, the Ephs lost 2-1 in their doubles matches. "We didn't have it go our way … even though I really think we put ourselves in the right position to go up after doubles," he added. The Polar Bears ended up pulling ahead to secure the needed three wins in singles.
"It's tough," Amin said of the NESCAC Semifinal loss against Bowdoin. "We lost a year ago, basically in a very similar match against Tufts in the semifinals… [But] I went to go watch the NESCAC Finals, and it's motivating to see [Bowdoin and Middlebury]. Both are obviously really good teams, both teams that we compete well with, and I believe that we can beat."
With the automatic conference bid going to the Middlebury Panthers (15-3, 8-2 NESCAC), NESCAC Champions for the third time in four years, the Ephs received a bid from the NCAA selection committee to play in the national tournament. One of their team goals? "Make it to the Elite Eight," Berdia said. "That's how far we made it last year, and I think that we are a stronger team [now]."
This year, the team will host regionals of the NCAA Div. III Tournament at the College. "I would just love for as many people as possible to come down," Amin said. He highlighted how college tennis in particular is filled with fun and excitement. "People are pleasantly surprised with how fun it can be to watch the sport. I still sometimes prefer to watch other sports, but college tennis? There's not many better spectacles than that."