Board of Trustees endorses finalized campus plan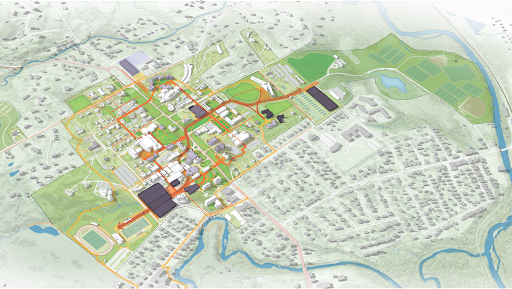 The Board of Trustees has endorsed the College's finalized campus plan, which reimagines the College's physical landscape in alignment with the priorities stated in the College's strategic plan. The endorsement marks the culmination of a two-year process led primarily by the College's Office of Planning, Design, and Construction and Sasaki, a consulting and design company.
"This campus plan serves to guide changes to the built environment at Williams over time," the plan states. The strategic plan, published in 2021, emphasizes academic excellence and expanded access to the College.
Although only proposals, physical changes that could give life to the strategic plan's mission include improvements to residential life, the dining network, and a health and wellness district.
If the campus plan is enacted, any resulting construction could call upon some or all of its nine core tenets. The conclusion of the plan, however, stresses that these changes are not guaranteed to be implemented. "Although consistent with our principles and criteria, the scenarios are meant only as tests of the process," it states. "None of them have been proposed, approved, or funded."
According to President Maud S. Mandel, the plan also lacks a timeline for implementation. "Rather, as we move forward with projects over time, it will provide a framework to help us guide decision-making around the scope and location of large capital projects," she wrote in an email to the Record.
For residential space, the plan highlights possible renovations to Dodd Circle. As for dining services, the plan suggests changes to Paresky Center and a new dining hall. A health and wellness district could include a renovated Lasell Gymnasium, co-locating services offered by Thompson Health Center and Pond House.
In order to suggest possible changes to facets of college life, the plan's architects surveyed close to 300 groups of stakeholders, ranging from students to staff and faculty to Williamstown residents to alums. "We framed it as an opportunity for people to dream: how do you envision the campus 10, 20, or 50 years from now?" Associate Vice President for Campus Planning and Operations Rita Coppola-Wallace said in an interview with the Record.
Through conversations with the College community and collaboration with Sasaki, the campus plan decided upon several priorities. The core principles of the plan are: promote multidisciplinary discovery in the liberal arts; establish a mixed-use wellness district; reimagine Route 2 as a cultural corridor; strengthen North-South connections; create a campus loop; foster a cohesive dining network; enhance the residential experience; preserve a pastoral landscape within a compact campus; embrace of the broader campus community.
The campus plan differs from a "typical master plan," according to Keenan Chenail, a project manager at the College, in that it is adaptable both to changes in the higher education landscape and to unique changes at the College. "Master plans follow a chronological order, building from building A to building B through sidewalk C," he said in an interview with the Record. "If you get off that path, often it's very difficult to recuperate. Having the ability to have [different areas of focus] in an approach that's looking at the College's collective goals, and meeting those holistically, is what sets this process apart."
The plan was also awarded the Excellence in Planning for an Existing Campus honor from the Society for College and University Planning (SCUP). According to SCUP's website, the award "honors achievement in strategic, integrated planning that results in exemplary buildings and grounds, [and] institutional success."