Cap & Bells to perform And Then There Were None as final production for academic year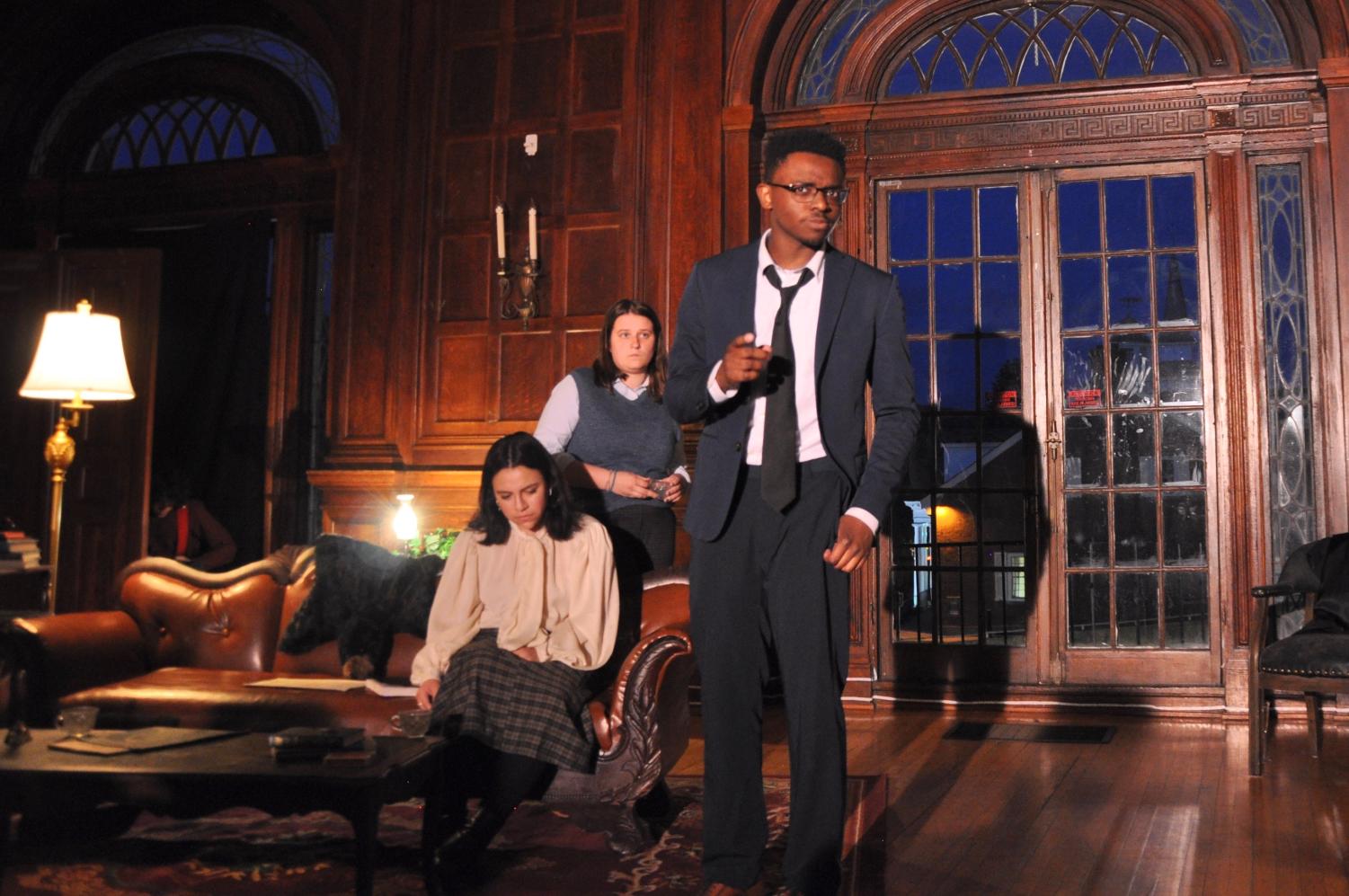 This weekend, Cap & Bells will present its seventh and final production of the year, an adaptation of Agatha Christie's classic And Then There Were None. The murder mystery chronicles a group from all walks of life who, trapped on a deserted land, begin perishing one by one. The characters attempt to find out who among them is the murderer before they all are killed.
Director Nina Kolman '23 proposed the well-known play to balance out the more experimental productions Cap & Bells and the theatre department have produced this year. "There's a tendency, I think, in Williams theatre, both in the department and in Cap & Bells, to do stuff that's high-concept," they said. "But there are also times where you as an actor or director [think], 'I just want to do something that people are going to enjoy and something that's a crowd pleaser.'"
Kolman wrote their English senior thesis on murder mystery novels and has been researching and writing about similar works for the past year. To bring the play's dark tone to life, Kolman decided to set the play in Currier Ballroom. "It's so inherently spooky in there," they said. "To do a proto-slasher in Currier Ballroom — the vibe just fits too well."
The crew proved to be equally as important in set- ting the dark mood of the play. The play has scenes which occur at both day and night, so Currier Ballroom's large windows presented unique challenges for the lighting designer, Sydney Ghorayeb '26. Without intervention, varying outside light would change the conditions inside the ballroom. "We're going to black out the windows, so there has to be some kind of artificial lighting," Ghorayeb said. "We've been playing with the use of practicals on the set — lamps, oil lamps, maybe even a fireplace. It's a lot of playing around and seeing what's going to work best."
This production is Ghorayeb's first time working on lighting design for Cap & Bells, which she characterized as a fun challenge. "It's been a little bit nerve-wracking, but it's honestly been really cool," she said. "I've learned that lighting designing is really just being creative and doing whatever you can to get the message of the show across. It can be a storytelling tool, which I think is really exciting and a cool way to be a part of a show."
Like the production team and designers, actors in the play also endeavor to create a milieu of suspense. Obi Nwako '24, who plays Captain Philip Lombard, said that maintaining an element of surprise for the audience was integral to his role. "I think a lot of [conveying the play's suspense] is through reactions and building up the tension — helping them realize something is afoot," he said.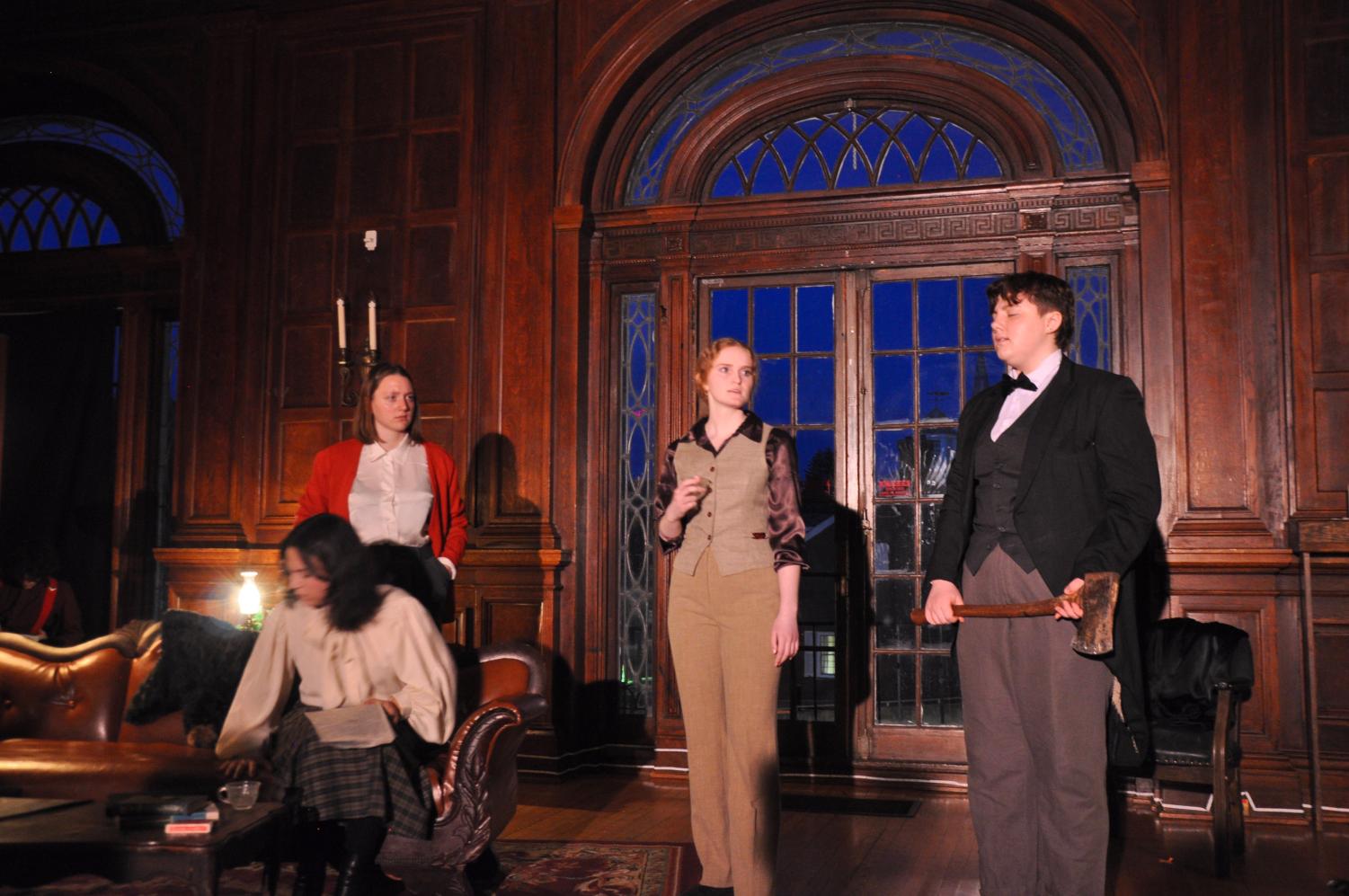 He agreed that, despite the challenges, the ballroom was an ideal choice of location for the production. "Being inside the ballroom felt very natural," he said. "When we first started working in Currier, I felt like the space was kind of calling to be used in this way."
Kolman said that another challenge they encountered was that the script for And Then There Were None, an adaptation of a novel published in 1939 and originally titled with a racial epithet, contains outdated language.
"[There's] a lot of… casual sexism and belief in British imperialism that we've been very conscious of," they said. "I've had a lot of extensive conversations with the cast and with our dramaturg, Megan Lin ['24], about how exactly we're going to make it very clear that we as the cast and as the creative team are aware of how truly despicable some of these characters are."
Megan Lin '24, a managing editor of the Record, was not involved in the writing or editing of this article.
Kolman said that, alongside Lin, they carefully considered which changes to make to the original script. "You can't just, without any thought or change, look at a piece that's this old and go, 'Oh, yeah, I just wanted to do that.' There always has to be some very conscious thought about how you're [adapting the play]," they said.
While Cap and Bells' production includes some differences from the original Christie play, Nwako said that the changes were confined to the dialogue and that the play retains the plot elements and costume styles of the original play.
Nwako said he enjoyed the clues embedded into the play's text, advising the audience to look out for them throughout the production to solve the murder mystery for themselves. "[We're trying to keep] you engaged in the mystery and [give] you clues throughout [about] what's actually going on — so, if you're watching it, try to keep an eye out for those and see if you can figure out 'who done it' before it's revealed," he said.
And Then There Were None will run April 27, 28, and 30 at 7:00pm in Currier Ballroom.
Kathryn Cloonan and Francie Brewster, who are executive editors for the Record and members of the show's cast, were not involved in the production of this article.