Sisterhood hosts fifth annual Melanin Masquerade with keynote speaker Holly Hatcher-Frazier '92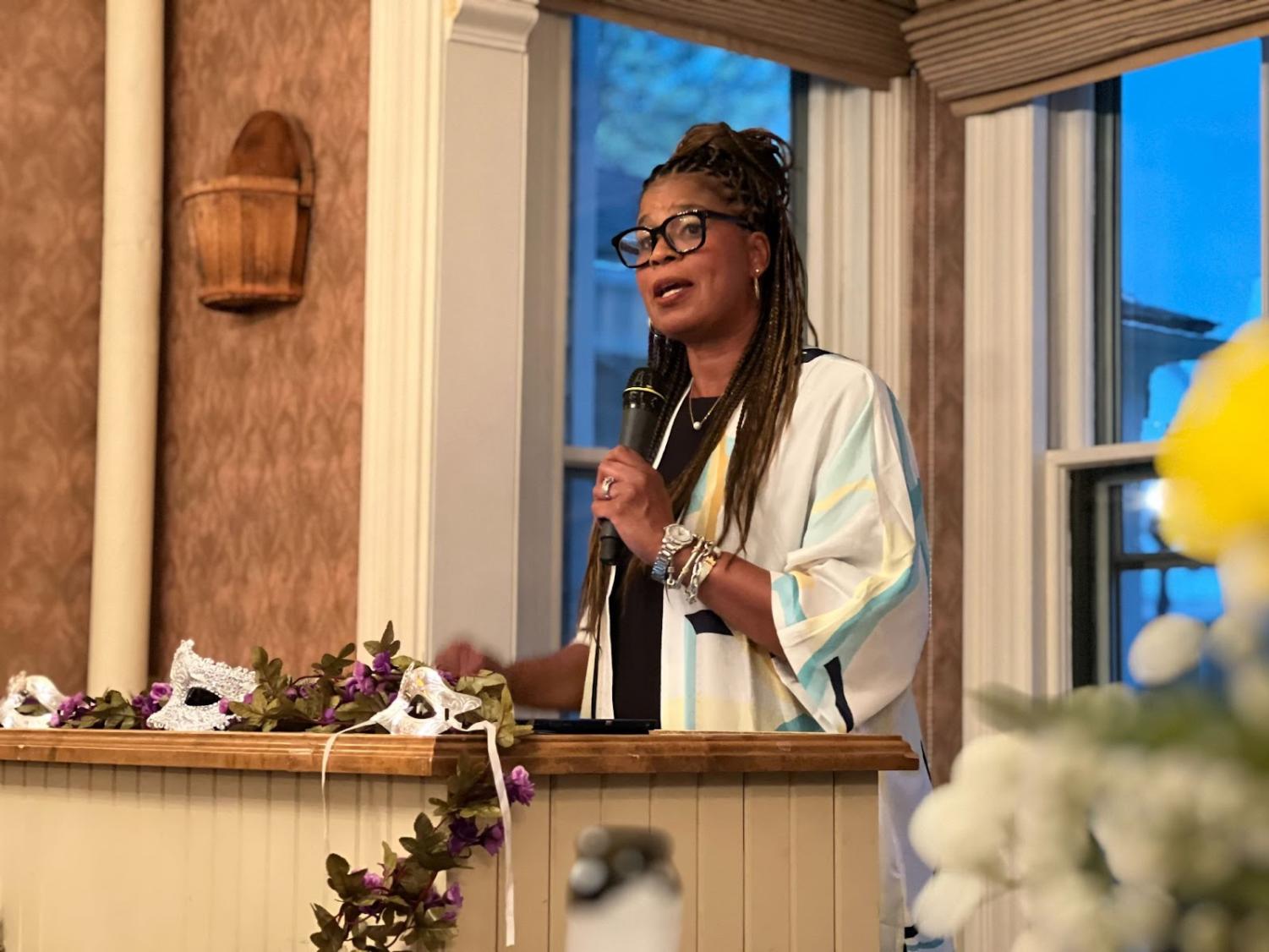 Sisterhood hosted its fifth annual Melanin Masquerade at Dodd House on Saturday. Educator, author, and original cast member of Dance Moms Holly Hatcher-Frazier '92 delivered the keynote address. 
The formal event featured a dinner catered by 413 Bistro in North Adams and remarks by Sisterhood board members. Approximately 80 people were in attendance, according to co-president Megan Groomes '24.
Melanin Masquerade has been held by Sisterhood every year since 2018, except for 2020 due to the COVID-19 pandemic. However, this year's event was the first time Sisterhood invited a keynote speaker. 
"The purpose of Sisterhood is to empower its members by instilling a sense of camaraderie amongst Black women and by supporting Black women as they navigate the world as a double minority," according to the Davis Center's website. Melanin Masquerade marked the culmination of Sisterhood's annual Heritage Week, which was held April 17–22 and consisted of daily events such as a self-care slumber party and a conversation about hair in the Black community. 
This year, Heritage Week coincided with events like Black Previews, which was held by the Black Student Union (BSU) and which many Sisterhood board members also had a hand in organizing. 
Sisterhood members emphasized the immense amount of planning that went into the event. "I called it 'Sisterhood tech week,'" Erinn McKenzie '23, PR executive of Sisterhood, said of the final week of a semester-long lead-up to the Melanin Masquerade. 
Jules Gaskin-West '24, treasurer of Sisterhood, said the process of planning the Melanin Masquerade was characterized by care from both board and club members. "I was losing my mind, scrambling … [and] I would run into a Black woman and she'd be like, 'Have you eaten today? Can I go pick you something up?'" she said. "It's so important that even in times of immense stress, we still feel all of our passion reflected back to us… It's such a light that so many of the Black women here carry, and it's such an honor and a privilege to receive that light."
According to McKenzie, Sisterhood selected Hatcher-Frazier — known to fans of Dance Moms as "Dr. Holly" —  because of her "consummate" success as a Black woman in the education and entertainment industries. "Dr. Holly, as a successful Black woman … embodied a lot of who we are," she said. "Even though Dance Moms is a very controversial show, Dr. Holly was always a mediator, and I thought that was very special to see as a Black person."
Hatcher-Frazier structured her talk around lessons she has garnered from her career in education, where she has worked as a teacher, principal, and administrator. After majoring in history and American studies at the College, Hatcher-Frazier earned an M.P.M. in Educational Leadership from Carnegie Mellon University and a doctorate in Education from the University of Pennsylvania.
Speaking at Melanin Masquerade was Hatcher-Frazier's first time returning to campus since her sister, Heather Hatcher '01, graduated from the College. On her visit to the College, Hatcher-Frazier was joined by her sister and mother. "It was not on my 2023 bingo card to return to Williams," she said in her keynote address. "However, there's no greater honor than to return to your alma mater as an invited guest. And for me, to be an invited guest of Sisterhood for Melanin Masquerade is top tier — dare I say, top of the pyramid."
As a self-described "lifelong learner," Hatcher-Frazier emphasized the value of a liberal arts education, citing applications from her experience in the education and entertainment industries. "I've always felt that a liberal arts education will take you furthest because you emerge so well-rounded and critically-thinking, and a great communicator," Hatcher-Frazier said in an interview with the Record. "The ability to know so much about the world, and to read the world… It's all about having a growth mindset and a wide canon of knowledge from which to draw."
Referencing a famous moment from Dance Moms, Hatcher-Frazier also encouraged guests to take risks: "Don't be like 'empty chair' — do your solo," she urged them. During her senior year at the College, Hatcher-Frazier took a course in African dance offered by the former chair of the dance department and Director and Senior Lecturer in Dance Sandra Burton in order to fulfill her final physical education requirement. 
According to Hatcher-Frazier, Burton's mentorship was pivotal in correcting an inadvertent slouch and instilling confidence in her. "That, for me, was a defining moment," Hatcher-Frazier said in her address. "I learned how to literally walk tall and proud as a six-foot-tall Black woman."
Hatcher-Frazier's experience in the dance class also encouraged her to join Kusika, the African dance and percussion ensemble. "Never once did I think I would truly audition for Kusika — and then I was selected, and I was so proud," she said. "That was my 'solo moment' — not necessarily because I was dancing, but because it was something I always wanted to do, and I had been too afraid to try."
For Nadia Joseph '25, the community outreach coordinator for Sisterhood, a favorite moment of the event was greeting guests at the door, who were encouraged to dress formally. "It was so amazing — seeing everyone fitted down freshly, opening the door for them, letting them know they looked good," she said.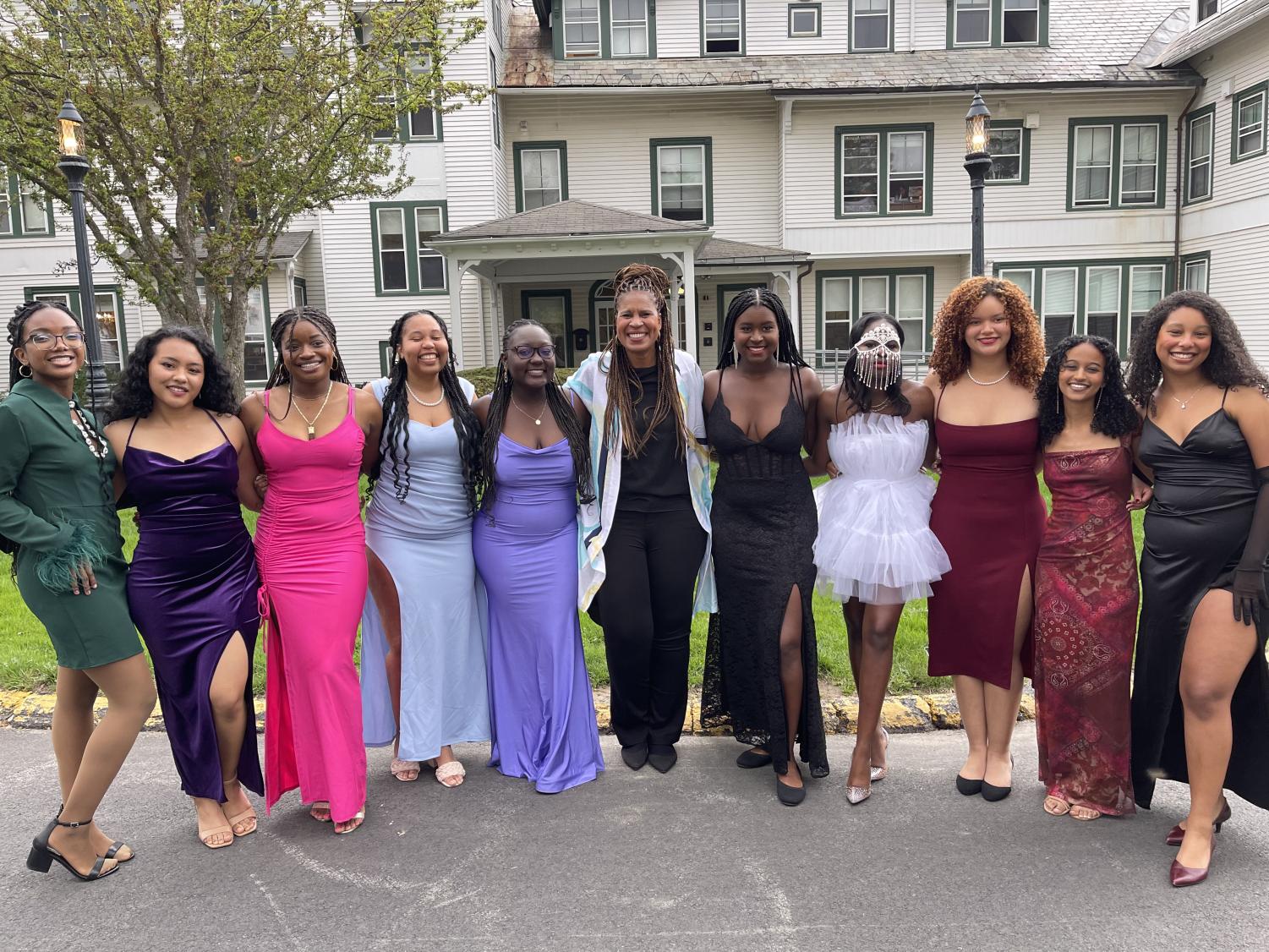 Reflecting on the night, Groomes emphasized the community that Sisterhood has fostered for her and other Black women at the College. "When I came to Williams as a freshman — especially as a freshman during COVID-19 — Sisterhood was all that I had," she said. "I think that was the biggest motivator for me: there will be no girl that comes [to Williams] and doesn't have a place to go."
"I think we built something really powerful," she continued. "We have a very strong network — there's lots of love and support. I think the school gives us a lot of resources, but without the community we'd have nothing." 
Joseph underscored the leadership of co-presidents Groomes and Shiara Pyrrhus '23, each of whom have served for three years on Sisterhood's board. "A large part of this event could not have happened without such an effective team — [Pyrrhus and Groomes] worked hours on end leading and preparing for the Masquerade," Joseph said.
McKenzie agreed, remembering the tearful closing remarks by outgoing co-president Pyrrhus. "By the end, I looked around, and there wasn't a dry eye in sight," McKenzie said.
Hatcher-Frazier described her speech  in Dodd House — where she resided during her sophomore, junior, and senior years at the College — as a "full-circle moment." 
"I am committed to creating sisterhood wherever I go — I really feel the love in this room," she said in an interview with the Record. "I look out into this room and see a bunch of little Hollys… They think I touched their lives — they touched my life."