Men's golf wins Little Three Championship, places fifth in Williams Spring Invitational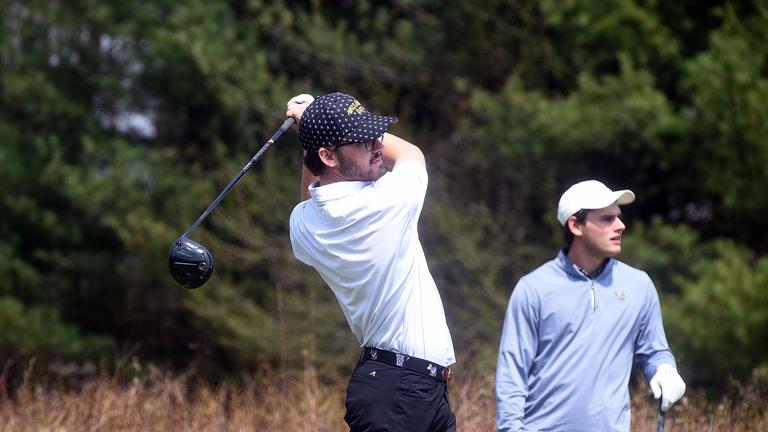 Men's golf beat Wesleyan and Amherst at Amherst in the Little Three Championship on April 18. Despite losing five of their eight matches in the first 18 holes, the Ephs — ranked fifth out of seven teams in NCAA Div. III's Region I — were able to come back in the afternoon to win the championship.
John Pagano '26, who won both of his matches against Amherst and Wesleyan, emphasized the excitement of the Ephs' comeback. "We've had a bit of a rocky start to our season, so we really wanted to do well," he said. "It was awesome. Team morale was very high."
Co-captain Tommy Coyne '23 noted an impressive performance from Toby Foehl '25 during a high-intensity moment. Foehl was the last to compete for the Ephs and was down one point with three holes left but was able to come back from the deficit and win the match for the Ephs. "Everything was riding on [him]," Coyne said. "He hit a 25 or 30 foot putt with everybody watching to win by half a point. That was probably the highest I've ever seen team morale in my four years."
The first 18 holes were alternate shot match play, meaning that two players completed the course together, using one ball and alternating order on each hole. Pagano and Ben Sapovits '25 won their matches as a pair, while Jay Callahan '23 and co-captain Ryan Savarie '23 beat their Wesleyan opponents. The second 18 holes were typical singles match play, with two points from Sapovits, 1.5 points from Will Rich '26, and a point each from Phil Clifton '25, Coyne, Foehl, and Callahan.
Last weekend, the team competed at home at the Williams Invitational held at the Taconic Golf Club, which was also a fundraiser for Walk to End Alzheimer's. "For every par that a team member makes, we hope that our donors can donate a dollar," Coyne said.
So far, the team has raised over $2,000. "This was a great opportunity for our team to give back," Savarie wrote in an email to the Record. "The cause really puts everything into perspective and helps us realize how much of an impact our team can make." According to Coyne, the team was met by challenging weather on the first day of the invitational. "The first day was really, really windy, and was probably the most difficult conditions I've seen at Taconic," Coyne said. Despite the wind, Clifton secured a top-six finish with a score of 5-over par 76. Coyne scored a 7-over par 78, Sapovits scored a 9-over par 80, and Rich ended with a score of 10-over par 81. The Hamilton Continentals were in first place after day one,with a score of 302 points, and the Ephs finished in fifth place with 315 points. Though Coyne hoped for a comeback the next day, the second day of competition was canceled due to rainy weather.
This weekend, the Ephs will compete in the NESCAC Spring Championship at Bates. For seniors Coyne and Savarie, the importance of the event — the last tournament of the season — is underscored by the fact that this marks the first genuine spring season in which Coyne and Savarie have competed due to COVID restrictions and time abroad. "This was our first and last Little Three, our first and last Williams Spring Invitational, [and] first and last spring NESCAC Championship," Coyne said.