Softball falls to Amherst, sweeps Middlebury in weekend doubleheaders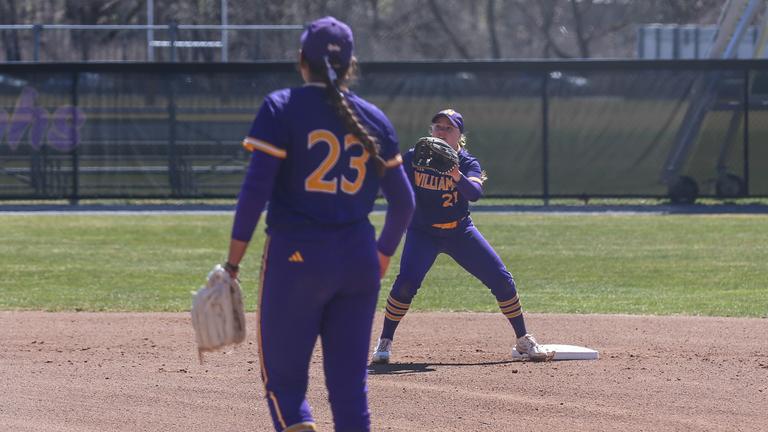 On Saturday, softball (13-13, 7-5 in the NESCAC) bounced back from Friday's two losses against Amherst (21-11, 9-5 in the NESCAC) by sweeping Middlebury (13-13, 4-8 in the NESCAC) in its doubleheader on the road. The Ephs have overcome a slow start to the season, winning nine of their last 14 games.
Head Coach Kris Herman acknowledged the difficulty the Ephs had in beginning their season with their spring break trip to southern California, where they accumulated four wins and eight losses while on the road. "We were playing teams that were 15, 20 games into their seasons," Herman said."That's a pretty big gap since we hadn't been outside yet, but we're really finding our way."
Williams fell to Amherst 4-1 in the first game of the Friday doubleheader, before losing again in the second game 7-2. The Ephs were right back at it the next day, with two more games against conference foe Middlebury. They were able to pick up two important wins, grinding out a 3-2 extra inning victory in their first game, and leaving Vermont with a resounding 10-3 victory in the second game. Adhya Tandon '23 emphasized the team's resilience when they have had to face adversity. "Every time something goes down for us, we find a way to get back up," Tandon said.
Herman agreed, noting that some of the best teams she has coached in the past had the ability to recover. "Williams softball teams are known for coming back and having that, 'It's never over until it's over' mentality," Herman said. "We have this belief that we can win at any time, and I think that translates to games and the [outlook for] the season as well."
Though the team is approaching the end of its regular season schedule, there is still the chance for more competition. "We have the potential to play for six more weeks, which is already more than we've played so far," Herman said. "We have six more conference games, all of which are extremely important."
From here on out, the Ephs have their sights set squarely on advancing to the NESCAC Championship for the first time since 2019, when a 3-2 loss to Tufts halted their three-year reign as conference champions and their record-breaking 22-game win streak. "I think everyone wants to see us play as long as we can into June," Tandon said. 
Before they can achieve their goal, Herman believes the Ephs have work to do. "To win consistently, you have to have great pitching, great defense, and great offense," Herman said. "We have the potential to have all of those things — we're just working to put them together on the same day, every day."
Tandon also highlighted the strength of the pitching staff, led by Sadie Leonard '26 and Elyse Chan '25. In particular, Leonard has emerged as one of the top pitchers in the NESCAC, leading the league with 126 strikeouts in 82 1⁄3 innings, with her 0.85 ERA good for second best in the league. On April 3, the first-year standout earned her second NESCAC Pitcher of the Week honor for allowing two earned runs in 19.2 innings to claim the doubleheader over Bowdoin (18-16, 8-6 in the NESCAC). "[Leonard] is a great pitcher and a wonderful teammate, which makes a big difference," Herman said. "She's obviously helped us win … and it's just one piece of the puzzle of a really strong pitching staff, which is really exciting."
Herman praised the team's two seniors, Tandon and Bailey Burger-Moore '23, for leading the team despite the fact that their first season was canceled entirely and their next few seasons remained altered by the COVID-19 pandemic. "As a result of COVID, our upperclassmen haven't had a lot of modeling of team leadership," Herman said. "But … our two seniors have done a really great job of providing guidance and energy… We also have four juniors [Madison Mok '24, Ronni Ramos '24, Kelly McGuigan '24, and Tayler Wise '24] who have done the same."
Leonard also credited the guidance of the team's older members. "The upperclassmen have done such a wonderful job supporting us and welcoming us into this environment," Leonard said.
Tandon added that the upperclassmen's relative lack of experience means that their roles look a little bit different than those of a traditional team leader. "This is a team we're building together across all classes," she said.