Men's lacrosse holds fundraiser with Amherst team for suicide prevention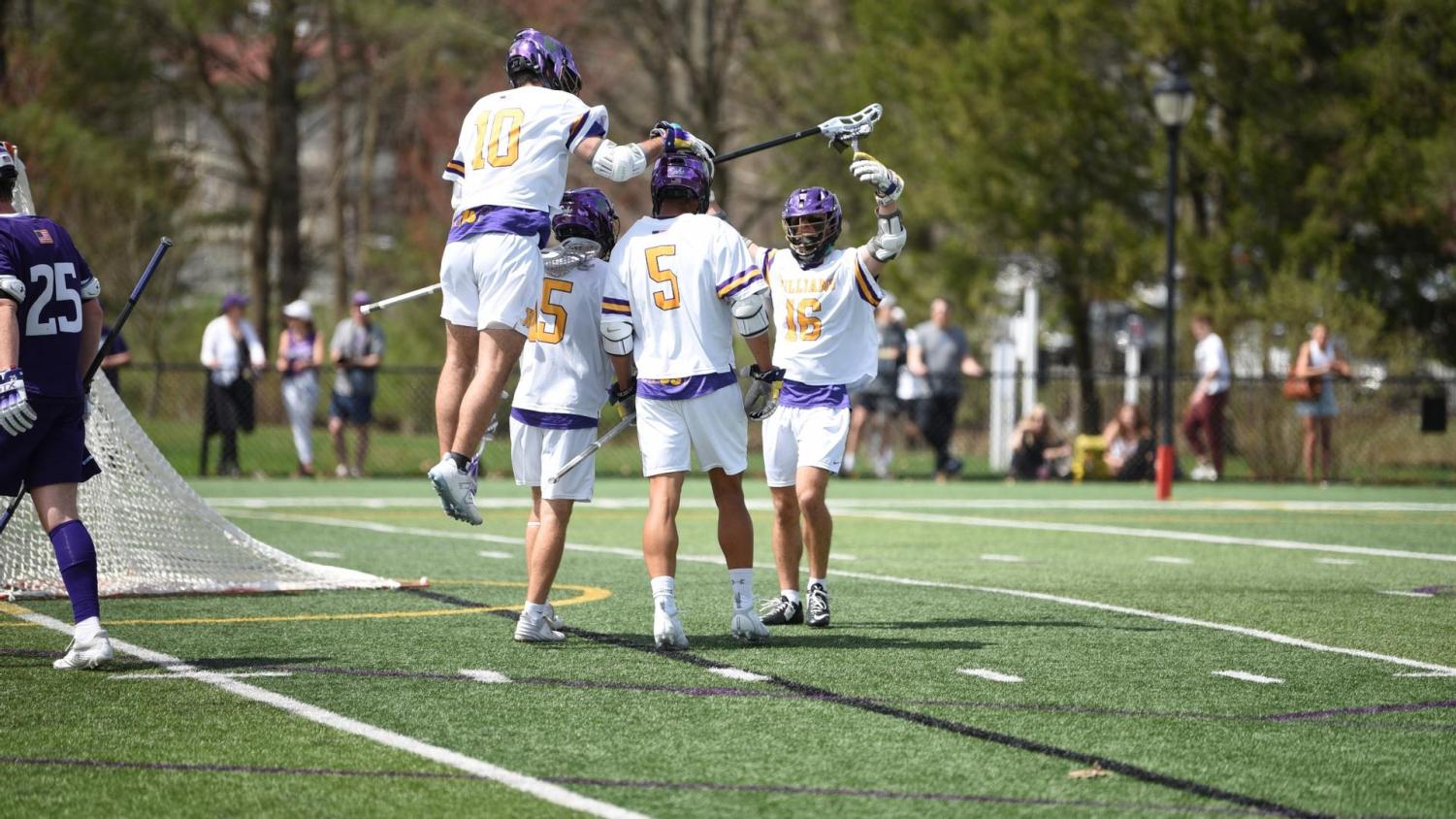 On April 15, men's lacrosse (8-5, 5-3 in the NESCAC) hosted the Amherst Mammoths (9-3, 5-3 in the NESCAC) for one of the last games of the regular season. In a tense match that went into overtime, the Ephs bested the Mammoths 11-10, leaving the Ephs with a 7-5 overall record. Ryan Johnson '26 and Finlay MacKnight '24 led the Ephs on the offensive end with three goals apiece, and goalie Matt Freitas '23 held down the defense with 15 saves.
The focus of the day was to fundraise for the American Foundation for Suicide Prevention (AFSP). Ronan O'Connor '23, along with Carter Jones and Thompson Lau of the Amherst men's lacrosse team, organized the fundraiser, called Face-Off Against Suicide. AFSP works toward a cause that is close to O'Connor's heart.
In 2013, O'Connor's brother died by suicide, which inspired his original fundraiser in high school. "Ever since [my brother's death] my family has been involved with the AFSP," he said. "It's a great organization." In 2019, O'Connor's high school lacrosse team and local community raised $35,000 for the AFSP. Now, he hopes to achieve a similar goal at the College — starting with the event held at Farley-Lamb Field this past Saturday.
Both teams are fundraising through an AFSP event page and social media outreach. In addition, eight local businesses sponsored the event, such as Spring Street Market and the Log by Ramuntos. As of Monday, Face-Off Against Suicide raised $10,000 for AFSP, O'Connor said. Today, the team will also host a phone-a-thon, calling friends, family, and alums to request donations.
O'Connor emphasized the importance of having open dialogues in order to reduce the stigma around struggles with mental health. "If you don't have an open conversation before you're having a tough time in your life, then it's hard to have it then," he said. "With my friends, we talk about mental health pretty regularly, which is awesome."
Reflecting on the game, Chandler Dula '23 expressed pride in the team's perseverance. "The team is very pleased with the way we battled through to finish the game," he wrote in an email to the Record. Entering the fourth quarter, the Ephs led the Mammoths 9-4. However, Amherst found an offensive streak in the fourth quarter and scored six goals to the Ephs' one, forcing the game into overtime.
"We definitely know there were moments where we had lapses and allowed Amherst to close the gap, but at the end of the day, we truly were able to fall back on our team motto (TRUST) — to trust our gameplan, our skills, and our will to win," Dula continued. Jesse Shapiro '25 scored the game-winner for the Ephs in overtime, cementing the 11-10 win.
According to Dula, the team is gearing up to face NESCAC rivals Wesleyan and Middlebury (12-1, 7-1 in the NESCAC) in the final two games of the regular season — wins that would bring home the Little Three Championship and Thomsen Trophy, which remain "major season goals."
"We are really challenging ourselves to string together complete quarters and finish games decisively like we know we are capable of doing," he said. "To do that, we are placing an emphasis on our stickwork and mental toughness to not only withstand scoring runs by the other team, but to neutralize them."