Last in the housing lottery, first in OCL's heart: The history of the Cawamayday Award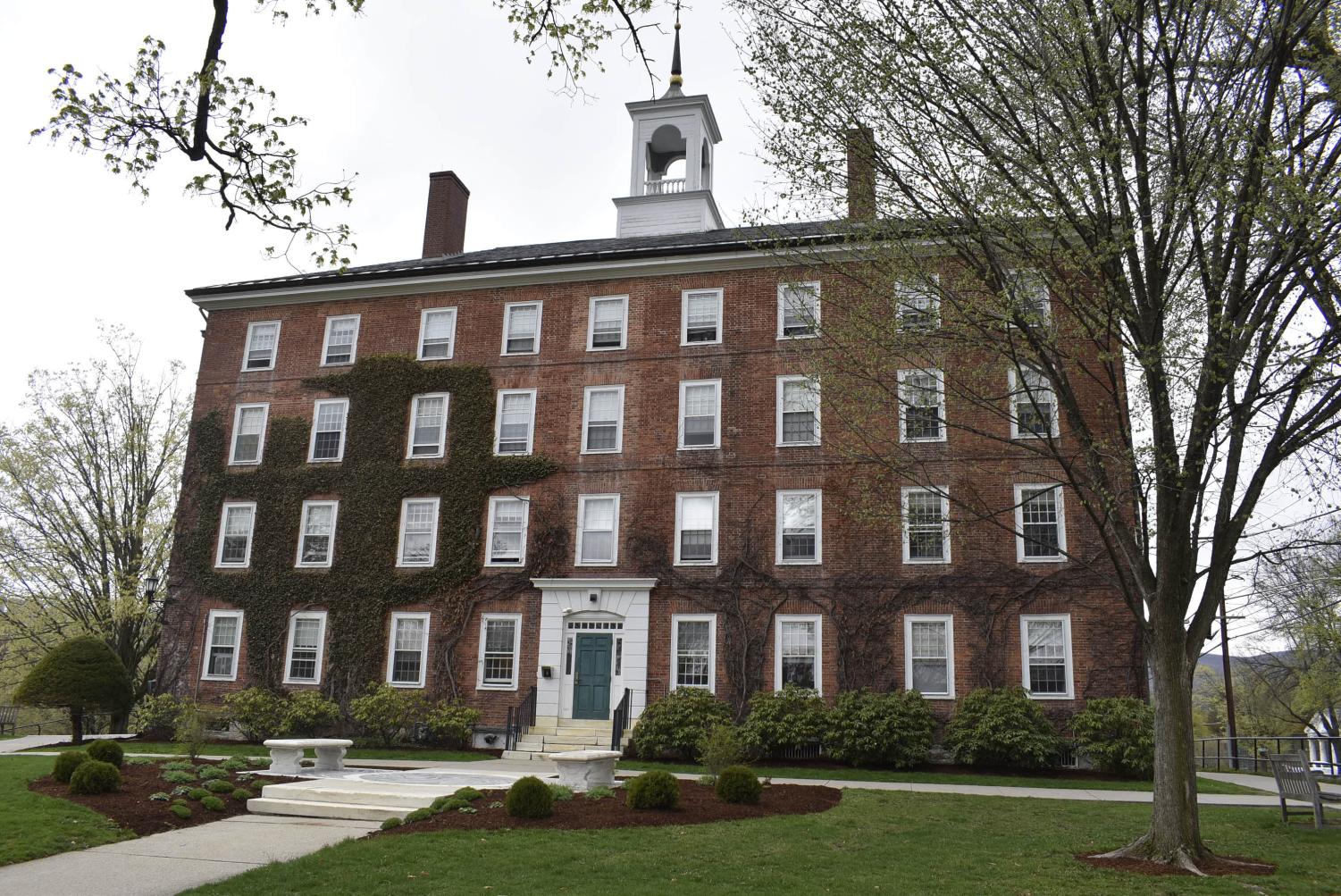 In the spring before their sophomore year, Eric Dayton '03 and his housing groupmates Rob Carroll '03, Craig Wadman '03, and Ned May '03 drew the final pick number in the housing lottery. They were understandably disappointed.
The housemates were assigned to live in the last rooms that were left, which were in Fitch House, Dayton said in an interview with the Record. To their luck, however, a group of their closest friends had also received a very late number in the lottery and picked into Fitch as well. 
"It ended up being a fun thing, and we all became much closer friends as sophomores living together," Dayton said. "The three guys in my group are still my closest friends from my time at Williams." 
When Dayton, Carroll, Wadman, and May graduated in 2003, they asked the Office of Campus Life (OCL) about creating an award for those who received the final pick number. "We were like, 'Hey, we became super close friends out of living together and this shared experience, so what if we made a lasting tradition?'" Dayton said.
The award consisted of pizza, T-shirts, and the inscription of winners' names on the "Cawamayday Cup" — a trophy dubbed after a combination of the four founders' last names and held in OCL. The four alums funded the award for its first few years before OCL took over, Director of Residential Life and Housing Patricia Leahey-Hays wrote in an email to the Record.
The Cawamayday Cup was just one of many efforts by OCL to enliven the housing pick process, which occurred in-person back then. "It was quite a campus-wide event," Leahey-Hays wrote. "There were many aspects of picking housing in-person that OCL tried to make exciting and fun, knowing how stressful and also exciting it was for students." Students would receive snacks, candy, and swag for their dorms provided by OCL.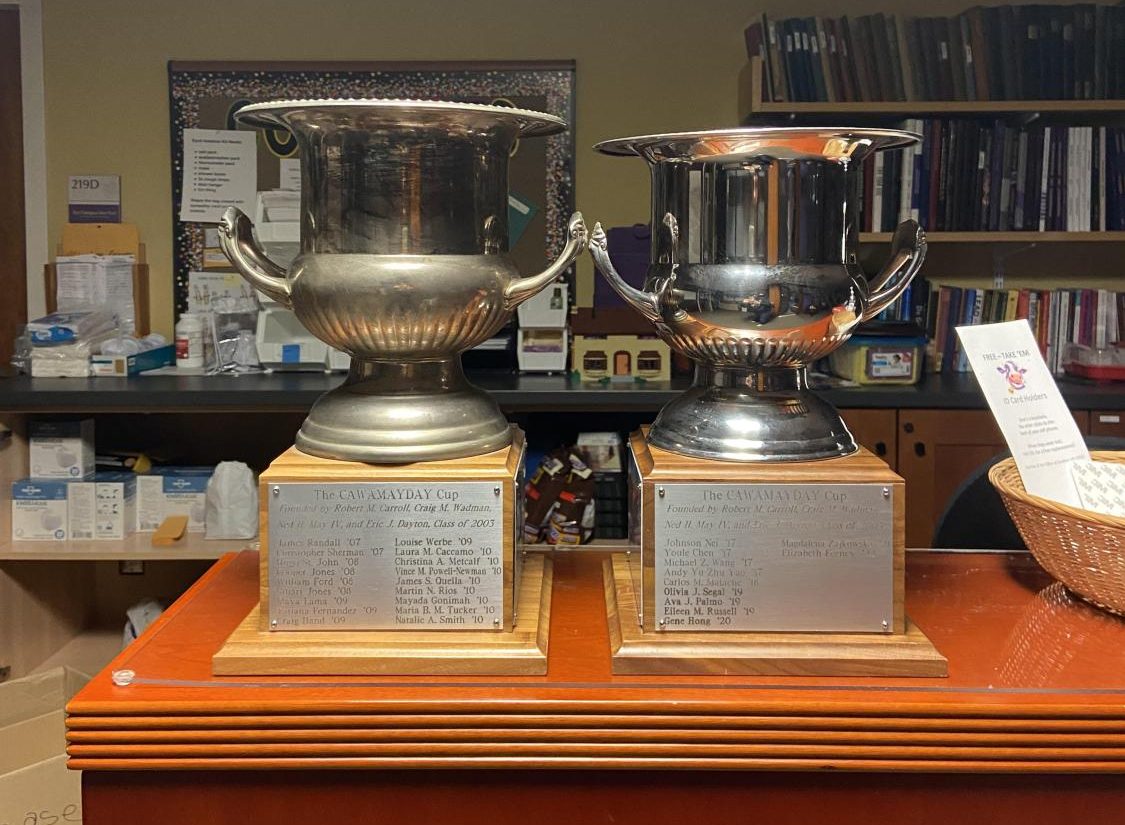 Andrew Kung '12 and his housing group won the prize in 2009. "It felt very 'woe is us' at the time, but looking back, it's a funny memory," he wrote in an email to the Record. "We won T-shirts that said something like, 'I might as well have a room at Amherst,' and a gift card for a Hot Tomatoes pie, which I remember we ate together outside by the Green River on a lovely Williamstown spring afternoon."
The prize didn't necessarily make up for being last pick, though Kung's groupmates remained in close proximity to each other, split into doubles across Currier and Fayerweather Halls. "I guess we appreciated the prize, but obviously would have rather had a better spot in the lottery," Kung wrote. "We still hung out regularly throughout the year, armed with a silly story about our living situation [and] something to commiserate over."
Karyn Moss '12 and her pick group also received the prize in 2009. "We all really wanted to live in Greylock because that was where the sophomores lived," she said. "I remember my friends were all really lovely and passive, but we were like, 'No, we don't want a pizza. We want a room, and we want a room together.'" They ended up living in Tyler Annex that year.
"It was a kind of funny bonding experience, because that ended up being one of our favorite years at Williams," Moss said. Her pick group — Lisa Gluckstein '12, Carolyn Kaemmer '12, Lauren Mykrantz '12, and Pamela Summers '12 — went on to live together for their next two years at the College and are still best friends to this day.
OCL stopped the Cawamayday tradition during the pandemic due to the housing-process changes that came with it. "With the pandemic and lockdown, staff were not on campus or in person with students for the most part for over a year," Leahey-Hays wrote. She also added that, because the housing process is no longer in person, the nature of the process has become less interactive.
Will Schnall '25, who received pick number 377, was last in the spring 2022 housing lottery. But EB Diallo '25, who had pick number 375, was the last student to select his dorm, since his original time slot occurred during his performance in the orchestra of Fun Home. Thus, both of them claim to own the "last pick" title for last year's lottery — but neither received a prize.
Schnall and Diallo were initially supposed to be pulled in to live in Garfield House by the building's incoming Housing Coordinator — until the HC-to-be made plans to go abroad. Left without their pull-in rooms, the pair were told by Assistant Director of Housing Operations Heather McCarthy that their housing pick times would have to come at the very end of the General Housing Lottery. 
"[OCL] told us they had already drawn the numbers, and they couldn't redraw them," Schnall said. "They said it wouldn't be fair, even though they hadn't told anyone what their number would be. The computer had already picked."
Schnall and Diallo were not happy. "We were really salty, but not really rightfully since someone's got to be last," Diallo said. "We were so stupid. We emailed [President] Maud [S. Mandel] and complained and whined like little babies, and she didn't do anything. [She just] forwarded our email to the housing team."
The pair split up in hopes that one of them would have a chance at a single dorm, Schnall explained. But by the time Schnall picked, there were still several open doubles that had not been claimed, so in the end, both Schnall and Diallo were able to select flex "dingles" — the colloquial name given to double rooms with only one occupant — in East College. 
Ultimately, Schnall and Diallo agreed that their chaotic housing selection process worked out for the best. "For the last pick, I think I probably have a top-50 living situation of the sophomores," Schnall said. "If we had actually gotten screwed over, we still would be upset… But let's not dwell on the past."
"As the last actual pick, I would say the same," Diallo said.
Schnall had heard about the Cawamayday Award, and he is still hoping to receive it. "I knew about it because a lot of seniors and my JAs told me, 'You're gonna get the prize,'" he said. "So I was very excited. I checked my mailbox every single day. I was waiting to get a shirt, and it never showed up."
"He was not doing that," Diallo said. Diallo hadn't known about the prize, but said he thought that he deserved it because he was technically the last to pick. In fact, he added that when Schnall convinced him to split up their group, it may have been an act of sabotage so that only he would receive the prize.
"If it has petered out, we'd love to see it revitalized," Dayton, one of the tradition's founders, wrote. "I feel like traditions are what makes the college experience special, and we were excited to add a new one."
"I think Williams College campus culture died in some way post-pandemic," Schnall speculated. "By giving me a shirt and bringing back this tradition, I really think they [would be] taking just one small step to make this campus a happier place, rather than just letting whoever gets the last pick wallow in sadness without anything to look forward to."
OCL said they were receptive to this feedback. "The Office of Campus Life would be more than happy to restart the tradition if it is something the students would like to continue," Leahey-Hays wrote.
Schnall offered advice to this year's last housing pick in the upcoming lottery. "It's gonna be really scary at first, but really, there's nothing you can do," he said. "Trust me, we exhausted every option. We emailed everyone in the school, but maybe it will all work out."
Dayton shared this sentiment. "Maybe it won't be the end of the world after all," he said. "It certainly proved to be a fun, positive thing for those of us who went through it in my year."