Prof. Aldarondo revisits adolescence in documentary You Were My First Boyfriend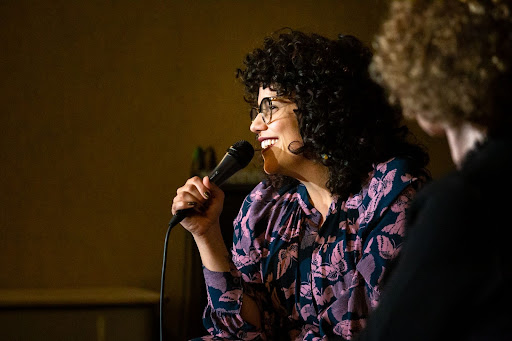 "Imagine you had a nightmare where you had to relieve your adolescence," Assistant Professor of Art Cecilia Aldarondo narrates in the opening scene of her feature-length documentary You Were My First Boyfriend. The film's 97 minutes considered precisely that proposition.
You Were My First Boyfriend, Aldarondo's third documentary — which premiered at South by Southwest in March — was screened for its second-ever live audience at Images Cinema on Thursday, April 6, as a part of Mirrored Interiors, an exhibition of Aldarondo's films by the Williams College Museum of Art (WCMA). The film will continue to play at film festivals until late fall, at which point Aldarondo anticipates it will have a one-week theatrical run in Los Angeles and New York City before airing on HBO.
Aldarondo's previous films have interrogated unexplored family histories and environmental disasters, but they are all products of her academic interests. She wrote her PhD dissertation, for instance, about relations of material objects and memory. "My work in many ways is about memory, and my films are all pretty different from one another, but [memory] is definitely a reoccuring theme," Aldarondo said in an interview with the Record. You Were My First Boyfriend differs from her other films, however, in its inward focus: Aldarondo is the primary subject. Some of the film's earliest scenes follow Aldarondo as she attends a high school reunion in Winter Park, her Floridian hometown. We quickly realize the city contains a treasure trove of memories to unpack from her upbringing as her interactions with her former classmates reveal years of her being the outsider.
But the documentary is most unconventional in its incorporation of reenactment as a staging technique — both to portray the foundational stories from Aldarondo's childhood and to catalyze her own healing process.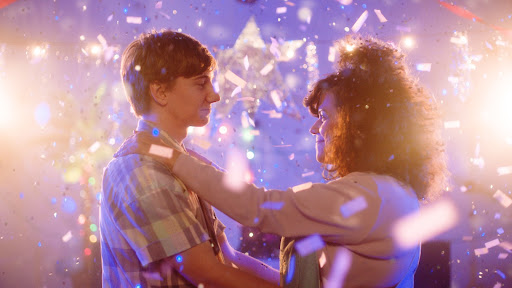 You Were My First Boyfriend evades a traditional narrative structure. Rather, it compliments present-day documentary footage with these reenactments where Aldarondo plays herself in recreations of instances from her childhood — school dances, confrontations with bullies, high school parties — to unpack the desire and embarrassment of her teenage years.
"I was interested in performance practices that were working to cross the threshold between past and present," she said, explaining that the inclusion of reenactment was a fundamental creative element in her initial vision for the film. "I had this hypothesis that by reenacting these unresolved events there would be a kind of embodied time travel that would happen — a feeling of the past resurfacing in an intense way."
The story it charts is simultaneously hyper-specific, filmed in many of the same locations where Aldarondo's memories originated, and yet, speaks more generally to the tumultuousness of female adolescence.
"We don't take teenagers seriously enough, and we certainly don't take teenage girls seriously enough," Aldarondo said. "That adage 'the personal is political' has always been resonate for me. It was important for me to fight for a kind of legitimacy for experiences that are too often dismissed as no big deal."
To pull off a film with both documentary and fictional elements, Aldarondo brought on two separate film crews, one for her reenactments and the other to film the process of creating the reenactments as well as other present-day experiences like her high school reunion.
"It was dizzying at times," Aldarondo said. She explained that her background in documentary filmmaking meant she mostly had experience working with crews of two or three people. "The fiction side alone — the recreations that we were doing — was on an exponentially different scale than I was used to."
To complicate things further, the "fiction crew," as Aldarondo dubbed the reenactment production team, wasn't accustomed to being the subject of a documentary.
"I think it was really a learning curve for everybody," she said. "I don't think that it was until we premiered the finished film at South by Southwest that the crew who worked on it could actually see what we were doing and understood the hybridity of the project."
Beyond the intricacies of production, the filming of You Were My First Boyfriend generated an array of complex emotions, both for Aldarondo and for figures from her childhood that she reunited with on camera.
At a reenactment of a school dance, for instance, actors playing teenagers cruelly tease her in the presence of her crush. In the midst of this reenactment, however, the documentary footage finds Aldarondo in tears between takes. "I was basically asking these teenage kids to humiliate me all over again, and it was really shocking to me how overwhelming that was," she said. "It was really painful."
But, Aldarondo said, it was also cathartic to revisit these traumatic childhood experiences through film. "What made it healing for me was that I had the autonomy throughout to determine how I wanted to relive these moments," she said. "I had agency over my own history in a way that was really healing."
Mirrored Interiors, which will continue to screen Aldarondo's previous films on April 14, 18, and 21, was curated by Jordan Horton Grad Art '23, a Mellon Curatorial Fellow at WCMA and one of Aldarondo's former students. In addition to Aldarondo's films, the exhibition includes essays by Ade Omotosho Grad Art '22, another one of Aldarondo's students, and Sally Berger, who is the curator of Performing Past-Present: Transforming Reenactment for Haverford College's Cantor Fitzgerald Gallery. Berger facilitated a conversation with Aldarondo after the film screened at Images.
Ahead of the Williamstown screening, Aldarondo said that she was nervous to share her work in a community of peers and students. "This is definitely the most vulnerable I've ever been — probably in my whole life about anything," she said. "It was a little bit of a head-spinning experience."
She said she is even more nervous, however, for the film's "hometown screening" at the opening night of the Florida Film Festival on Friday, where she anticipates that figures from her childhood may be in attendance.
Nonetheless, Aldarondo explained, she is trying not to dwell on how the "villains" of the film — her childhood bullies — will react. "One of the biggest lessons I learned making this film is that if you spend your life focusing on people that have harmed you, you could end up wasting a lot of energy, and so that's something I'm trying to take with me in this phase of exhibition," she said.
"The film is not a crusade to get justice," Aldarondo said. "The biggest lesson of the film is actually to say that perhaps the best thing we can do is find the people who love us and really accept us for being who we are."