Cap & Bells presents its first production on '62 MainStage: Pippin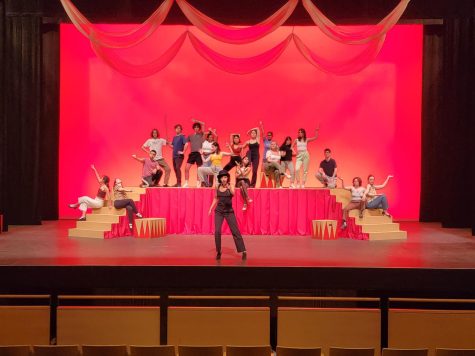 This weekend, Cap & Bells will present Pippin: a performance of colorful circus choreography, royal scandals, romance, and self-discovery. Pippin will be the first-ever Cap & Bells performance on the '62 Center's MainStage. With a book by Roger O. Hirson, and music and lyrics by Stephen Schwartz, Pippin centers around a performance troupe of players telling the story of Pippin, a young prince searching for an extraordinary life.
When selecting the musical, Director Tim Gore '24 searched for a production that would bring large audiences to the MainStage. "We also wanted to pick a show that we felt would shine on the MainStage and Pippin, of course, is one of the bigger, flashier shows out there," he said. "It's fun, it's flashy, it's exciting. It's circus!"
Although Gore cited the large scale of the production as a challenge, he expressed excitement about having the opportunity to work with a larger team. "The reason why I love doing theatre is because of the people," he said. "Doing a show brings together a bunch of different people. You're all doing something completely different, at the same time, working together to create this big piece of art." In addition to the cast, Gore has coordinated a team of intimacy coordinators, fight choreographers, a pit band, and more to bring the circus to life.
He added that the extravagant circus theme of Pippin allows for creative freedom. "I love shows like Pippin where you can do very interesting theatrical things on stage that are not necessarily in the script," he said. "That communicates something to the audience, whether that's a little staging choice or a set piece, or a costume piece that sends a message that ties in with the show. Finding moments to do that has been really fun."
Gore also said that incorporating the vibrant dance style of famous choreographer Bob Fosse allowed the production team to cater to students with dance-focused backgrounds. "We were looking for a show with a lot of big, fun dancing because we wanted to provide an opportunity for people who love to dance to do that in a theatrical context," he said.
To maximize the choreographic potential of the show, the show highlights featured dancers who do not sing and instead showcase more elaborate Fosse moves. One featured dancer, Sadie Fernandez '25, said she has enjoyed learning new dance styles and building off of her previous dance training in Pippin.
"The dancing I've done in other [Cap & Bells] shows has been a mix of contemporary and jazz, but I've never done anything as specific as Fosse — with the hand placement and where your body has to be," she said. "This has been a learning and growing experience that I'm glad I've had because now I feel like a more well rounded performer."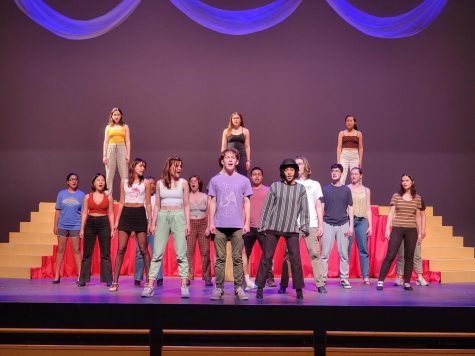 Aidan McMahon '26, who is playing the titular character, similarly noted how working on Pippin has allowed him to build off of his previous performance training. While balancing choir rehearsals, practicing for Pippin, and creating his own music, McMahon has adjusted his singing technique to fit his role. He said one of the biggest challenges and successes of playing Pippin has been learning a tenor part as a baritone. "I didn't worry too much because I knew I had plenty of people who would help me with the proper technique, and it's been so rewarding to hear my growth," he said.
Yona Kruger '25 also said that she worked to change her singing technique to fit her role of Berthe, an alto part. Classically trained in opera, she has had to focus on fitting her voice to her older, more comedic character.
"I remember early on in rehearsals, Leo [Marburg '24], who is music directing, would tell me to sing less," she said, referring to how Marburg asked her to play into the comedic aspect of her character. "I've never played a grandma before so I've spent a lot of time channeling my actual grandma. [Berthe] is funny, feisty — she's old, but she's young at heart. Singing differently [to fit her character] was a challenge that turned into my biggest success."
When describing why audiences should come see the show, Kruger discussed its exciting, joyful content and meta aspect. "It's such a fun show, it's so happy, but I think it's supposed to make you feel uncomfortable at the end," she said. "That feeling is important. People sometimes forget that musical theatre isn't just about the colorful, fun, circus — it can really make you think, which is such a powerful experience."
Fernandez added that the College community should attend Pippin because of its message of learning self-fulfillment. "It's a story about finding joy in your life and learning that what fulfills you doesn't have to be what fulfills someone else," she said. "It's okay to be happy with an ordinary life."
Beyond the idea of accepting the ordinary, McMahon said that the joyful central themes of the show will appeal to audiences. "Pippin is just a very fun show that will bring the mood up a little," he added. "At the end of the semester where finals and midterms are ramping up, it's good to have two hours where you can leave your worries or struggles at the door and watch everyone having fun on stage."
Gore hopes that audiences attend the show to experience the fun of the production along with the cast onstage. "I really think people are going to enjoy not only the show and the message and the music, but also seeing their friends on stage having the time of their lives," he said. "At the end of my day, my goal with any show I do is to bring that joy to the audience. I hope they walk out with a smile on their face, humming the songs from the show."