Author Tracy Kidder, Dr. Jim O'Connell discuss new book, homelessness and healthcare in Boston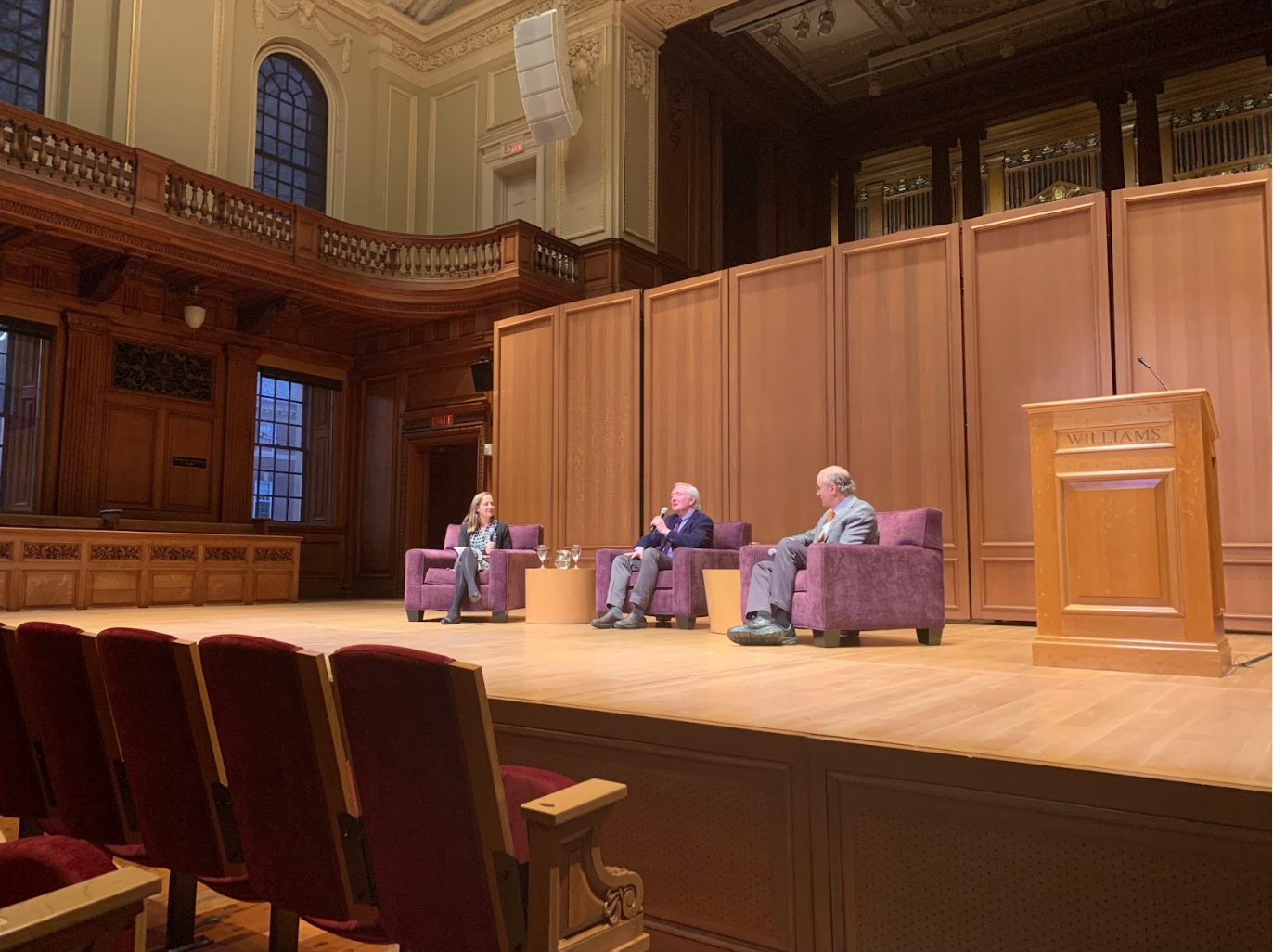 Nonfiction author Tracy Kidder joined Dr. Jim O'Connell, the president of Boston Health Care for the Homeless Program, an assistant professor of medicine at Harvard Medical School , and the subject of Kidder's newest book, and Professor of Economics Sara LaLumia for a talk at the College on April 7. The talk was the third in this year's Cohan Family Forum series on Mental Health and Trauma and was co-sponsored by the Class of '71 Public Affairs Forum, the Lecture Committee, the Davis Center, and the psychology department.
Kidder's most recent book, Rough Sleepers: Dr. Jim O'Connell's Urgent Mission to Bring Healing to Homeless People, became a bestseller shortly after its publication in January 2023. The book discusses O'Connell's experience founding and leading Boston Health Care for the Homeless Program. Today, the program serves nearly 10,000 unhoused people across Boston through clinic sites in homeless shelters and hospitals.
Rough Sleepers focuses on the portion of the homeless population that sleeps outside rather than in shelters. The book's title comes from a 19th-century British term that describes such people. In addition to running clinics around Boston, O'Connell and his team operate a van that provides on-the-go healthcare and food to the "rough sleepers."
Writing in narrative nonfiction, Kidder focuses on stories of the "rough sleepers" he encountered while riding in the van with O'Connell, detailing many of their experiences being unhoused in Boston.
"When I tagged along on a trip, I was struck by the relationship between this Harvard-educated Dr. Jim and his patients," Kidder said during the talk. Quoting from his book, Kidder recalled a moment in which one healthcare worker on the team called out to a homeless person for a wellness check and was met with an angry response. When O'Connell approached the individual, however, the man greeted him like an old friend and was receptive to his advice to stop by one of the nearby clinics. Throughout the talk, Kidder emphasized O'Connell's ability to humanize unhoused individuals who are often disregarded by society and the importance of greater recognition that unhoused individuals are deserving of empathy.
In closing, when asked by LaLumia for possible policy recommendations to support unhoused individuals , O'Connell emphasized the need for a multifaceted approach. Additional housing, he said, is not enough to solve homelessness. "It does a disservice to the people who are struggling the most, whatever brought them to the streets in the first place, to think that when they get into housing their problems will disappear," he said. "Those problems, such as childhood trauma, addiction, and poverty, might feel bigger when they're alone in a unit. In addition to housing, we need to help people cope with these issues."