Women's crew returns from spring break, wins two of three races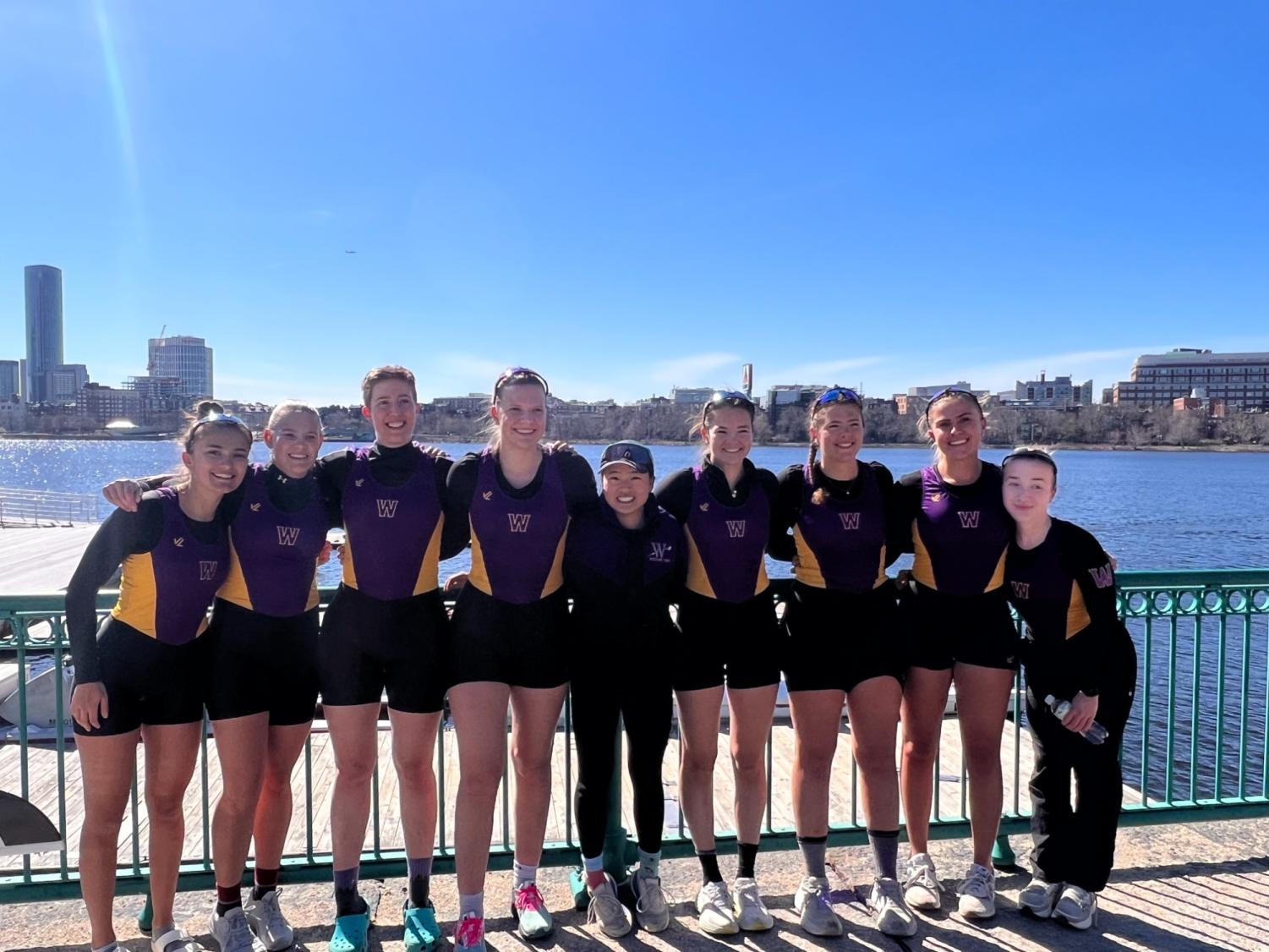 Following a 10-day-long spring break training trip at Clemson University, the women's crew team raced against Ithaca College and Washington College at Ithaca on April 1, and against Wellesley this past weekend on the Charles River on April 8. The women swept at Ithaca, with all four boats winning their respective races. Seven days later, their 1v and 3v boats beat Wellesley. The Ephs are now ranked fourth by the Collegiate Rowing Coaches Association (CRCA).
The team's training trip at Clemson was the first time this year that it was able to get on the water for the spring season because the Ephs' home lake, Lake Onota, was still frozen when the team left. The team took advantage of Clemson's warmer weather, with most days consisting of two practices each day — one in the morning and one in the afternoon. Maya Tait '26 noted that the training plan fostered more camaraderie within the team. "It was some of the most productive training I've ever done," she said. "We made immense improvements across the entire team in terms of how we were rowing. We came back from Clemson a more unified team than when we started."
Immediately after their trip, the team swept against Washington College and Ithaca at the Cayuga Duals regatta. Ithaca provided a closer competition than Washington College, with lead exchanges in the 4v race and a strong comeback in the 1v. "We were behind for probably the first 1000m, but we were able to stay calm and consistent," co-captain Emily Hugo '23 said. "By the end of the race, we were ahead, which, mentally, I think was the best we've ever performed. Last year, we probably would have seen them pass us and fallen apart, but I think that our trajectory looks really good."
Last weekend, the team raced against No. 1 Wellesley. Like its race against Ithaca, the 1v boat was about half a seat behind for the first 1000m of the race, but it was able to defeat Wellesley by four seconds, finishing with a time of 7:18.5 to Wellesley's time of 7:22.3. Tait, who stroked the 1v boat, highlighted the rowers' strength in the middle of the race. "We stay pretty relentless in the middle," she said. "That sets us apart, because then when other teams see us sticking with them and starting to get closer and closer to them when they're ahead, that causes them to lose focus and steam and fall behind." The 3v boat had a similar comeback experience, pulling past Wellesley with 800m left as it neared the 250m sprint, finishing with a time of 7:54.5 to best Wellesley's 7:57.7.
The Ephs have seen their success grow under head coach Paula Thoms, who was named head coach of women's crew last summer. Previously, Thoms worked as the associate head coach of women's rowing at Cornell University. Co-captain Julia Lim '23 said that she has already felt the positive effect of Thoms's coaching on the program. "Her training is very intentional," she said. "That was one thing that was also great about being with her on spring break. It felt like every stroke we were taking had a purpose behind it."
As the season continues, the Ephs are dedicated to building strength and team cohesion. Lim mentioned the selflessness required to propel the team to the success they hope to achieve for the rest of the season. "Our goal is to put out the four fastest 2ks in the four fastest boats we can," she said. "Everybody has to want the team to be the fastest, whether or not that means they're in the boat. We want to set ourselves up to continue the success. We don't want it to be a one hit wonder this year, and I think the training plan that we've been following really sets us up to [do that]."