'Inside-outside' class with Berkshire House of Correction students turns perceptions of carceral system inside out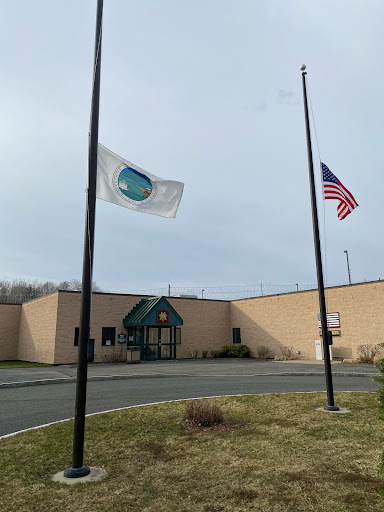 Every week, nine students at the College board a bus and ride for 45 minutes to the Berkshire County Jail and House of Correction. They follow guards through layers of security to a windowless room, where they are joined by a group of inmates. Then they all sit down, and they have a conversation about freedom.
"PSCI 234: Freedom" follows an "inside-outside" model, where a class is taught to students from a college and a nearby prison at the same time. "The premise is that everybody has something to learn from everybody else," Professor of Political Science Mark Reinhardt, the course's instructor, told the Record in an interview. "​​There's a wildly different range of experiences in that class, and that has led to all kinds of interesting takes on things."
When Dan Davis '24, who is now a Teaching Assistant (TA) for the course, registered for the class for spring 2022, he was intrigued by the nontraditional classroom structure and the chance to gain a new understanding of the American carceral system. "I have a ton of family in law enforcement," Davis said. "I've only ever seen the other side of the prison system when they're going in." This was a perspective he was eager to challenge. 
Every week, Davis and his classmates — both "inside" and "outside" the prison — read a set of articles and papers about an element of freedom (examples include wealth and capitalism, and sexual freedom) and spend most of the class in small-group discussions. 
That seemingly simple structure is an important part of the inside-outside model, Reinhardt said. "[The course's] core fundamental pedagogical commitment is to put everyone on a plane of equality," he said. That means a lighter reading load than a typical 200-level political science course at the College and a strong emphasis on small discussions rather than full-group conversations. "Participation gets lopsided, with Williams students much more comfortable talking when we're in a full group," he added. 
The class is shaped by the mixed backgrounds of its students. "Not everybody has the same level of skills," Reinhardt said. "If you've been at Williams for a bit … it's intuitively obvious and natural to you to do a really careful reading of text that is quite foreign to the experience of many of the inside students." Thus, the class instead takes a more philosophical angle, Reinhardt said. "The basic approach is to ask large questions which you have to draw on your life experiences in order to answer." 
Those perspectives and life experiences were not quite what Davis expected. "I thought the [inside students'] answer was going to be as simple as, 'No, obviously, I'm not free. I'm in jail,'" he said. "And yet, every single week, they would surprise me with something else." 
Davis's initial surprise came in the first week of class, after the group read a chapter from Dostoyevsky's The Brothers Karamazov. Dostoyevsky's thesis, Davis explained, is that humans don't want to be free. Davis expected the incarcerated students to strongly push back against that notion.
Instead, he said an inside student  pushed back against the rigidity of College students' idea of freedom. "He said, 'You have to pay taxes, you have to put gas in your car, you have to worry about where your next meal is coming from,'" Davis said. The inside student pointed out that, by contrast, his meal, clothes, and material needs were all provided for within the House of Correction. 
The course gave Davis a far deeper understanding of freedom and incarceration, he said, one that motivated him to return this semester as a TA. A similar view was echoed by  Emma Nathanson '25, who is taking the course this semester  and  volunteers for the College's House of Correction tutoring program.
Nathanson signed up to tutor and enrolled in the course for political reasons. "I [thought] the prison system was cruel, and I wanted to see what it actually was doing to people and what it actually looked like," she said.
After taking the course, her understanding has shifted. "It's so much more complicated than that," she said. 
Nathanson has  certainly gained a closer view of the structure of a prison, she said. The House of Correction is governed by an intricate system of explicit rules and collectively understood social dynamics — a system she said that she now recognizes she doesn't fully understand. 
"It feels really scary that you could say the wrong thing," Nathanson said. If the House of Correction believes an inside student has broken certain rules, they could be sent to solitary confinement. "[Those are] not the normal stakes of a Williams class."
The inner workings of the House of Correction remain somewhat mysterious even to Reinhardt. "There was a very sharp student who just disappeared from my class last year, and I never really knew why," he said. "The notion of the privacy and protection of the incarcerated people makes a certain kind of sense, but the opacity of that is an odd feature of the class."
Reinhardt hopes to someday abandon the inside-outside model altogether, for a class taught entirely inside the House of Correction. It would be simpler from a pedagogical standpoint, he said. "I think [inside students] would benefit from something where we could say, 'Let's break this paragraph down for an hour' at a pace and in a way that might not be fruitful in a mixed context." 
"I hope to contribute to making it possible for a school as wealthy as Williams to devote just a tiny bit of resources [to inside education]," he added. 
Davis said he has learned to see the faces and experiences behind his relatives' stories about their law enforcement work. "Behind every [prison] statistic there is a person, and they're not defined by what got them there," he said.
"We're all just people," Nathanson said of her classmates, inside and out.