'For students, by students': Free Store serves student needs through item exchange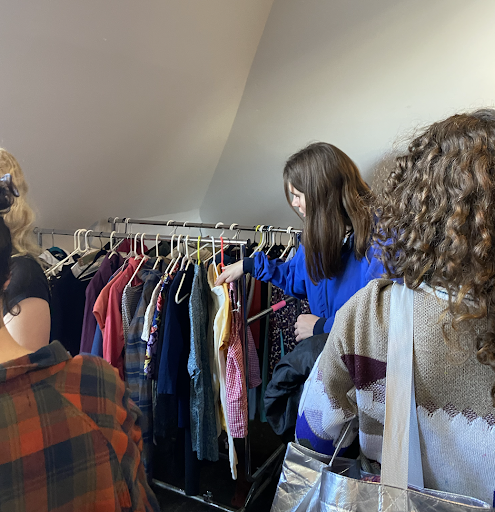 This past Saturday, the College's Free Store officially opened for business. The student-run store will provide clothing, school supplies, and household items free of charge to those who visit the cozy Wightman Room on the second floor of Goodrich Hall during the coffee bar's open hours.
Organized and maintained by the College's chapter of Young Democratic Socialists of America (yDSA) with support from Williams Mutual Aid and the Center for Learning in Action (CLiA), the Free Store accepts donations from members of the College community to support student needs. 
"All of the stuff that you see in here is stuff that the community has given us — clothing, racks, and all of the different organizational tools," Nahier Tafere '26, one of the student organizers and a member of both yDSA and Mutual Aid, told the Record in an interview. "It's for students, by students."
Tafere's emphasis on community and togetherness was evident at Saturday's opening: Soft music and exclamations of joy scored the scene as students perused the community-donated clothing and supplies. 
Coco Rhum '24, an organizer for both yDSA and Williams Mutual Aid and a Zero Waste Policy Intern at the Zilkha Center, also brought the idea to life. "Conversations about making a space like this have been happening for a really long time," she said. The Free Store concept was proposed in the Zero Waste Action Plan, a subset of the College's 2021 Strategic Plan. 
The store's mission is to support the plan's goal to achieve increased campus sustainability through the redistribution of student resources. "There are large needs that exist on campus that we think students can meet for each other," Rhum said.
"A lot of this is for [unexpected situations] in which the [College] can't really be of assistance," Tafere said. "Life happens all the time. There has to be something that kind of mends that."
In addition to used clothes, school supplies, and household items, the store has a budget reserved specifically for personal hygiene, including deodorant and menstrual products, as well as gender-affirming products such as binders, Rhum said. In the future, Rhum hopes to expand components of the Free Store — to include a free fridge or food pantry, for example — and also the accessibility of the space to the larger off-campus community.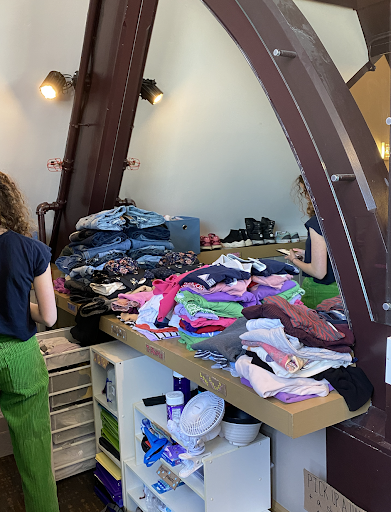 Although it is managed by a group of students including Tafere and Rhum, the Free Store is self-supporting and reliant upon the honor system. Rhum said she wasn't worried about running out of clothing. "That is more reflective of student need," Rhum said, and therefore would serve as an important piece of data about gaps in student access to these items.
Myla Dougherty '26, a co-organizer in both yDSA and Mutual Aid, said she was inspired by community spaces in her hometown when helping put together the store. "I live in a really small town, and one of the things that I love so much about it is the yard sale, free-exchange economy," she said. "You don't get your garbage picked up — everybody has to bring their garbage to the dump, and at the dump, there's this place called 'the goodie pile.' It's really a community space." 
In Williamstown, the spirit of the "goodie pile" exists in the form of clothing swaps, where students can build community with their peers by exchanging personal items like clothing.
"You're going to get stuff from your classmates who you know are awesome," Dougherty said. "Someone came and brought something, and I was like, 'Yes! Now I have a piece of her clothing!'"
"It's really lovely to look around and be like, 'Oh, I can tell you where I got [this outfit] from, and it's not a store,'" Tafere added. 
Ultimately, organizers of the Free Store hope to inspire community engagement while supporting urgent student needs. "I think we're trying to learn how to be better neighbors, because we see that there is a need to be better," Tafere said. 
"We want to be stewards of the community," Rhum said.