Captains' Corner: Omar Ahmad '23 and Ryan Cass '24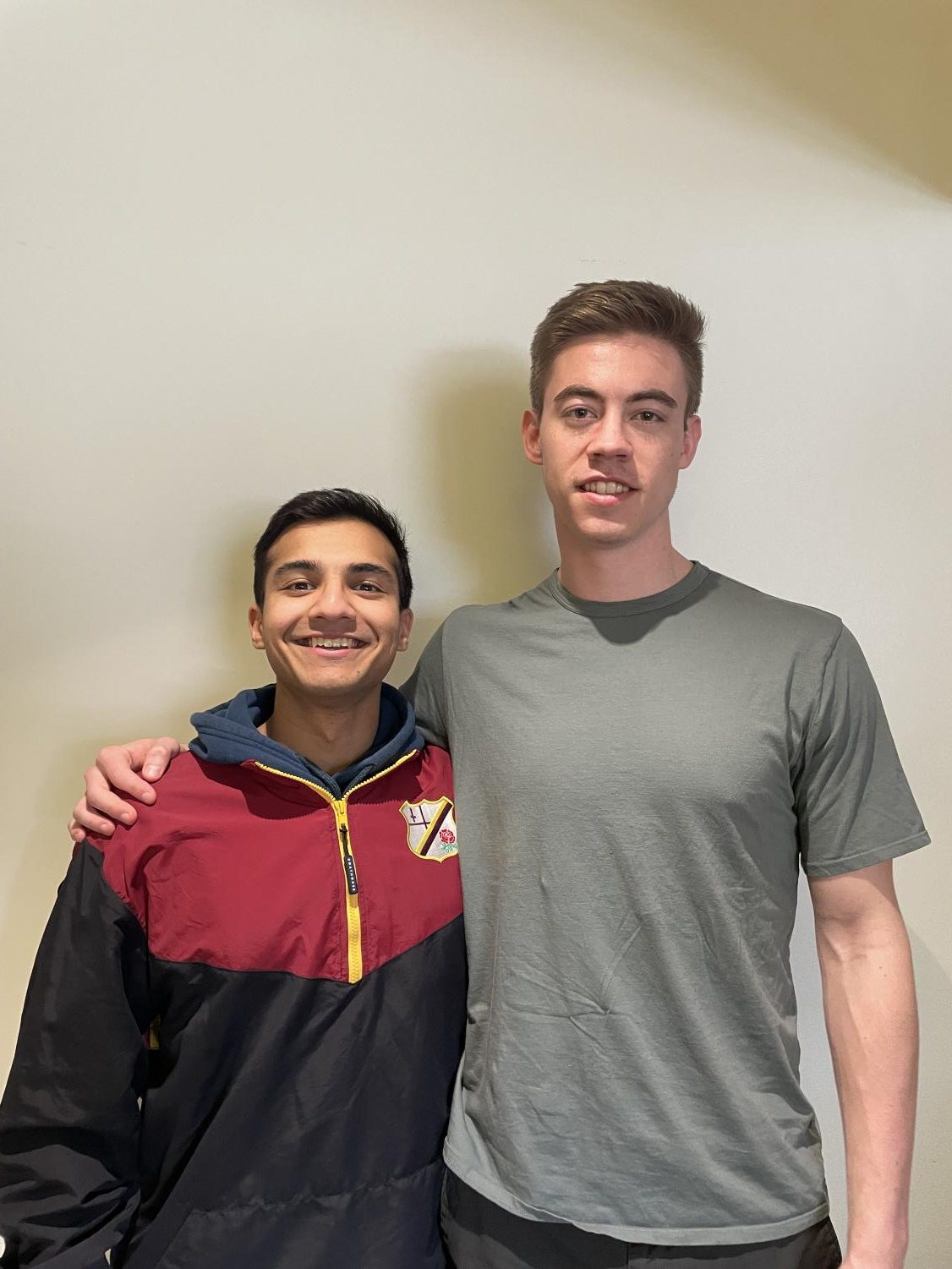 Team:
Men's rugby 
Hometowns: 
Bethesda, Md. (Ahmad) 
and Topsfield, Mass. (Cass)
Majors: 
Economics and 
Political Science (Ahmad) 
and Physics (Cass)
Soraya Katzev (SK): How did you initially get involved in rugby, and what do you enjoy most about the sport?
Omar Ahmad (OA): I started playing in high school. During my sophomore year, one of my really good friends in high school asked me to come out because I didn't have a sport to play in the spring and I really enjoyed the fast-paced part of it. I played soccer, so it was a cool transition. I'd never played a full-contact sport, so I really enjoyed the contact, intensity, and adrenaline you get.
Ryan Cass (RC): I'm a junior, so my fall was during [the College's] COVID shutdown. I was looking for a good group of guys, a good group of friends to be a part of, and a reason to stay fit. I met someone in the lunch line, they added me to the rugby chat, and that was it. 
SK: Do you have a favorite memory from being on the rugby team?
RC: When we play Amherst, I feel like that's a special time for the team. Especially because the last few times we've played them, we've won, and that feeling of adrenaline you get during the game — [that's] the peak of the season for us. It's a really great feeling. 
OA: A bunch of alums come back to watch [the Amherst game] from more recent years, but also some from way back, and they're always really excited to see the team and meet the newer guys. One of the other really fun things we do is host a charity tournament every spring, which brings a lot of different teams together. We do a fundraiser for a mental health organization in the area and alums put together a team and we get to play against them, which is also super fun.
SK: Do you have any pre-game rituals or a favorite team tradition?
OA: Before the game our warmup is usually the same, but we will always sing our team song before the game, at halftime, and at the end of each game.
SK: What's one word you would use to describe the rugby team and why?
OA: One word that comes to me is dependable. We're just a really close, tight-knit group, and on the field you can always depend on your guys. It's such a team sport — you have to rely on everyone around you. You're constantly depending on the guys to put their all into the game and into each play. But what speaks to me more is how close we are off the field. No matter what year you're in, [the] guys always have your back, which I think is a really special thing. That helped me a lot since freshman year all [the way until] senior year.
SK: What are you most excited about for the rest of the season? 
RC: We usually play rugby as 15 guys on the field for each team.  Another [version] of rugby is sevens, and we're gonna play that in the spring. It's much more fast paced — a lot more ball handling that everyone has to do. Typically it's broken up into forwards and backs where forwards don't really tend to hold the ball that much, but then in sevens, everyone's a ball carrier. Everyone gets to make big stops, so I'm excited to try that.
OA: A lot of the new guys have grown a lot throughout the fall. They were getting their bearings and picked it up really fast. It will be really cool to see them play in the spring.